I love to plan, so much in fact that I've called myself an OCD, over the top planner.  My husband is the exact opposite and loves to live life unplanned. Being married to the polar opposite has been challenging as a homeschool mom, so last year I made a huge change to my life.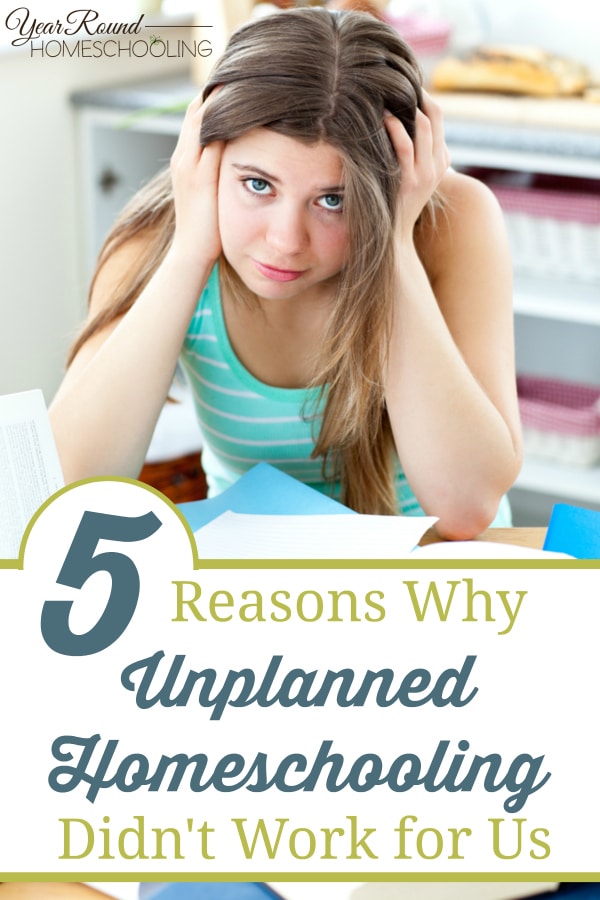 I lived unplanned for all of 2015 and through most of 2016. It has been an amazing journey and I've learned to live life outside of lesson plans, but I've also discovered that there are reasons why I can't continue not planning our homeschool journey.
This is probably the biggest issue we had with unplanned homeschool days. While there are studies that can just continue into the next year, I want my kids to finish their textbooks (Math and English) before the new homeschool year begins in September. This summer we've had to double up math lessons to ensure that we finish before September 1st.
My kids don't handle unplanned days well
Since my children are in middle school they are at the age that they want to know what they need to accomplish for school each day. Combine that fact with me not being a morning person and you'll discover frustration on both the student and the teacher's side.
Sadly, this is true. When I don't plan our homeschool days I get lazy and homeschooling my children is not a priority. Instead, I end up frustrated that they need my attention when I'm trying to get work done or clean the house.
With high school only one year away for my oldest this is an issue. I can't afford to not track or grade my kids' lessons in high school because they'll need a transcript to graduate, to go to college and for some job applications as well.
We missed covering topics my kids picked out
As child led homeschoolers this was a big problem. At the beginning of the year my kids pick out topics that they want to study and because we didn't have homeschool plans for the year we forgot what they picked out. Thus, we didn't end up covering everything they wanted to learn about throughout the year.
While unplanned homeschooling didn't work for us, I'm not going to become an over the top, OCD planner again. I've learned a lot about myself, my family and our business through this unplanned journey. So, I will be doing a combination of weekly and monthly homeschool planning for the upcoming homeschool year. This will enable me to ensure that we cover everything, help me to keep track and grade our homeschool lessons like I need to and balance my online and family business needs as well.
My family and I have created lots of memories over the last year and a half, so I will be striving to balance both homeschooling plans and making memories to last a lifetime.
Do you plan or not plan your homeschool year?