"Every child is an artist. The problem is how to remain an artist once he grows up."  ~ Pablo Picasso
Isn't that the truth? I have always loved art, I appreciate the many different forms. What a method of self expression. And the history!  Yet, I find as I get older, my idea of what art is, has to be recreated. We get older and somehow our definition and expectation, it changes. I watch and sometimes draw with my three children (who are 8, 4 and 2) and I have to stop myself some days, from correcting their work. They are so expressive and free in their drawings. There is no hesitation; my oldest will let me know when my suggestions are becoming a clanging cymbal in his ears.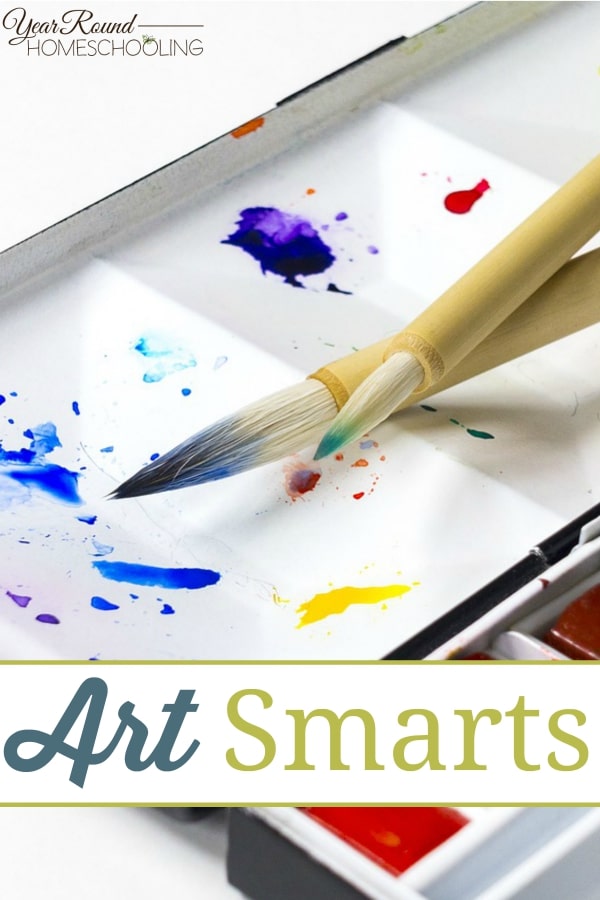 Art Smarts
I do so love art and yet, I have zero talent. I can barely draw a stick figure. The last time my son and I drew together, he was kind enough to let me know that, "The sun isn't a square, but it's good that you tried Mom." That very boy is extremely talented, with such an imagination. He has been taking a summer cartooning class at a local craft shop in town and they are so very impressed with all that he is able to do. I admit I am too! Seeing the talent within these littles, it always makes me more aware of the need to encourage and inspire, all the more as they get older. Since I am not an artist though, how can I?
Not that long ago we were so very blessed with the opportunity to use Artistic Pursuits: The Curricula for Creativity  — (K – 12). This is a complete instructional curriculum  covering three or four years in each volume and teaching both expressive and technical aspects of art in many different forms.
We only had the chance to use the one volume of this so far, but we are hooked. We are actually very soon going to start from the first book and work our way through each volume. It should be exciting. Don't worry – I will surely be sharing what we do as well as the how and why right here for you to see!
Then there is Meet the Masters — this is a complete art curriculum in itself. It has a  CD-ROM, that has a teacher's guide and complete lesson plans; each lesson features a different artist and  element their style of art. This is project based too so as children learn they also complete a project in the style of the featured artist. How cool is that?

In case you need some encouragement and like me, need to get YOUR creative juices flowing here are a few of my favorite reads!
Art with Toddlers and Two? Face Your Fears
Enhancing Literacy Through Process Art
There is also the Come Look with Me Series with books like:
Exploring Landscape Art with Children
These are excellent tools for any homeschool; full of amazing images and lots of thought-provoking questions to encourage discussion and interaction. As you study and see the many pieces of art within each volume, you will not only learn the history of the piece and the artist, but children are also encouraged to go that much deeper. What were their thoughts? How does it inspire you? What feelings or stories do you imagine from looking at this work of art? It's a great way to encourage and fan the creative spirit in our children.
In Conclusion, I do believe that, as Picasso says, all children are artists. In our youth we are free and creative; there are no limits. We are learning and exploring. Everything is new and exciting. May we keep that spark alive in our children, feeding their creative minds. We need to give them opportunities to create; to think in a different way.  There is something beautiful about the designs of children. Their sidewalk chalk art and watercolor paintings show a heart and spirit that is as ours should be. In the messy and fun, creative and sometimes crazy world of art, we can all have eyes that see things anew.
As my son says too, how else can we feel a bit of the joy of creation? Maybe not as big and amazing as God, but still…
You can find more homeschool art ideas by following our Pinterest board below.
Follow Misty Leask's board Homeschool: Art on Pinterest.



The following two tabs change content below.
Latest posts by Jennifer K (see all)