Spring is in the air! Well, not quite, but it's almost here and that means it's almost time for bees! We have a lot of bees down here in the South and, instead of worrying about getting stung, I wanted the kids to learn more about these amazing animals. So, we're sharing a Bees Unit Study that can help little ones learn more about these busy, buzzing insects!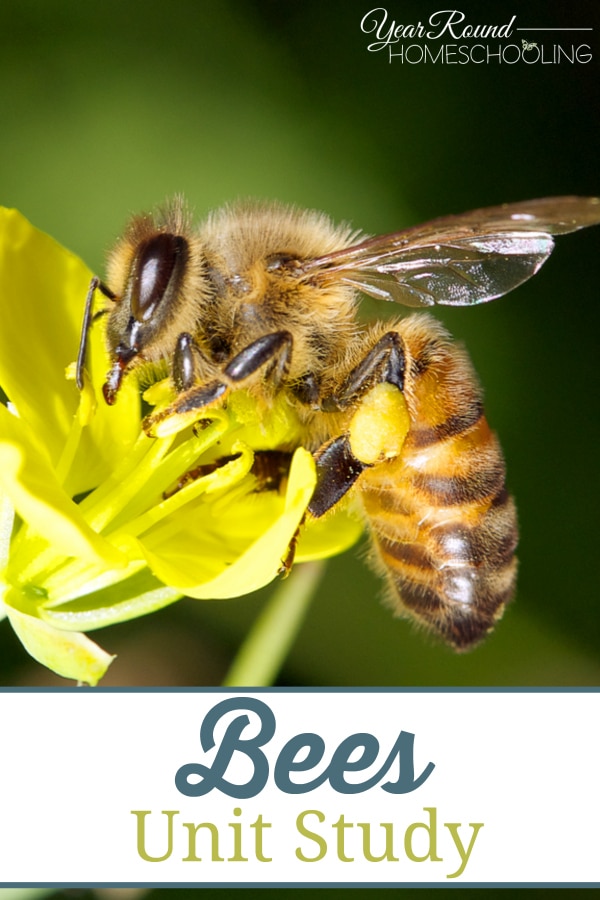 Kids' Videos about Bees
Watch the following videos and then answer the questions with your kids!
1. Which bee is the most important in the hive? Answer: The Queen Bee
2. What does the Queen Bee do that's so important? Answer: She lays the eggs to make new bees.
3. What do the other bees do to help the queen? Answer: They wash and groom her.
4. How does the beekeeper track the age of the queen bees? Answer: He marks them with different colors.
1. How many eggs does the queen lay per day? Answer: Up to 2500 eggs
2. How many bees are inside a typical hive? Answer: 30,000 bees
3. What are male bees called? Answer: Drones
4. How long do worker bees live during the summer? Answer: 30 days
5. How far away do bees fly searching for nectar? Answer: Up to 3 miles
6. How do worker bees communicate with one another? Answer: By dancing
1. How do bees help make food for people? Answer: They pollinate 1/3 of food for humans.
2. How much has the honey bee population decreased since 1950? Answer: 50 percent
3. What is the reason for so many honeybee deaths? Answer: Colony Collapse Disorder
4. Where did honeybees originate? Answer: In Germany
Bee Crafts for Kids
To add art to your unit study, make these super cute bee crafts with kids of all ages, even toddlers!
Bubble Wrap Print Beehive Craft – This adorable bee craft from Crafty Morning is super easy to do!
Pom Pom Craft Bee – MollyMoo explains how to make a cute bumblebee from yarn pom poms!
Yarn Wrapped Bee Craft – Learn how to make easy bees from cardboard and yarn at Housing a Forest!
Children's Books about Bees
For even more facts about bees, check out these kids' books!
1. Are You a Bee? by Judy Allen and Tudor Humphries
2. Flight of the Honeybee by Raymond Huber and Brian Lovelock
3. Bee & Me by Elle J. McGuinness
4. Buzzbee's School Day by Penguin Random House
Keep the busy bee learning going with our free Bee Scissor Skills Printable Pack and 10 Children's Books about Bees over at Look! We're Learning!
What have your kids enjoyed most about learning about bees?