As the weather warms, we're seeing more and more insects near our home! Since we've already covered bees, it's time to move on to my personal favorite: butterflies!
I love butterflies. They're so graceful and elegant, but they are also involved in one of the most dramatic transformations known to man. Scientists still haven't quite figured out how they do it. So, I thought they'd make a great unit study!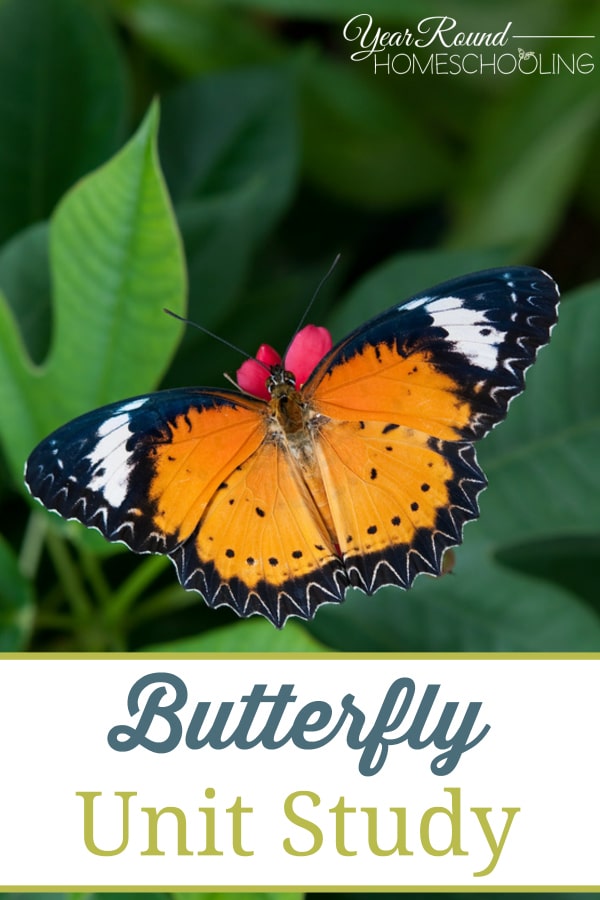 Lifecycles
The lifecycle of a butterfly is one of the most amazing processes in the animal kingdom. Maybe THE most amazing of all. These videos can help kids (and adults) understand more about this incredible event.
Watch the following video with your kids and then answer the questions below:
1. How many stages are there in metamorphosis? (Answer: 4)
2. What is stage 1? (Answer: Egg)
3. What is stage 2? (Answer: Caterpillar/Larva)
4. What does the caterpillar do to its skin? (Answer: It molts – shedding its skin.)
5. What is stage 3? (Answer: Cocoon/Pupa)
6. What is stage 4? (Answer: Butterfly)
For an even more in-depth look at the butterfly's metamorphosis, watch this video and then ask your kids to answer the questions:
1. How big is the initial egg? (Answer: About the size of a sesame seed)
2. How does the caterpillar hatch? (Answer: It chews a hole in the side of the egg and crawls out.)
3. How big is the baby caterpillar after hatching? (Answer: Two millimeters)
4. What does the caterpillar eat? (Answer: Milkweed leaves)
5. Why does the pupa look like a plant? (Answer: To help protect it from predators)
6. How long does the caterpillar stay inside the pupa? (Answer: One and a half weeks)
7. How does the Monarch's wings expand to full size? (Answer: Fluid is pumped into the wings)
Activities and Crafts
Free Butterfly Identification Cards – These identification cards from Look! We're Learning! are great for helping kids learn how to identify butterfly species.
Butterfly Life Cycle Craft Necklace – Fun-A-Day has an adorable necklace craft that features all of the lifecycle stages of a butterfly.
Free Butterfly Emergent Readers – Annette at In All You Do shares an adorable set of printable emergent readers!
Tropical Blue Morpho Butterfly Craft – Learn how to make a paper plate Blue Morpho Butterfly at Kid World Citizen!
Kids' Books
Spend time reading with your kids using these beautiful illustrated children's books!
1. Monarch Butterfly by Gail Gibbons
2. From Caterpillar to Butterfly by Deborah Heiligman and Bari Weissman
3. My Oh My! A Butterfly!: All About Butterflies by Tish Rabe, Aristides Ruiz, and Joe Mathieu