I should begin by admitting that I'm a homeschooling graduate, so my husband and I always intended to educate our kids at home. We came to year-round homeschooling, though, a bit later in our journey. To be honest, it really happened naturally.
How We Ended Up Schooling Year Round
Our oldest daughter started to show some signs of attention issues around first grade. We would be in the middle of a lesson and she would suddenly space out, begin rocking in her seat or start chewing on her pencil. (She eventually graduated to chewing her hair.) I had no idea what was going on, so I, unfortunately, reacted emotionally. "Why can't you pay attention?" "What's wrong with you?" "We just went over this yesterday, so why are you acting like you never seen it before?"
At the time, we didn't suspect ADHD or SPD. We just thought that she was disinterested in the lesson. I found that I would have to drop a particular topic for a couple of months and return to it later in the year. For some reason, it would "click" better the second time around. As a result, we ended up doing some subjects in the fall, taking a break, and then coming back to them in the late spring or summer. Before I knew it, we were schooling the whole year through.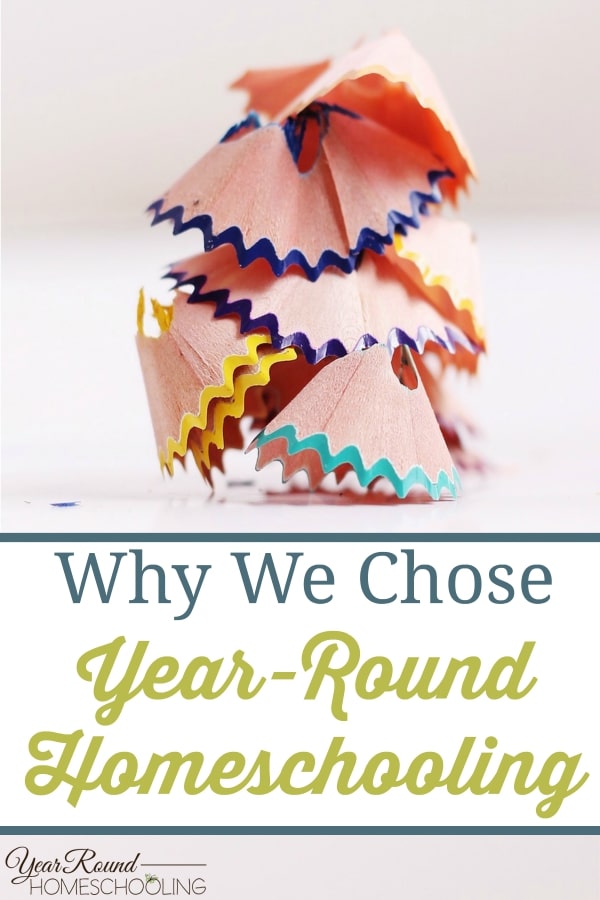 Why Year-Round Homeschooling is a Good Fit for Us 
Our daughter was eventually diagnosed with ADHD, which prevents her from concentrating on one topic for a sustained period of time. It also makes it difficult for her to retain what she learns. When we stopped schooling entirely for a month or more, she had a very hard time returning to the schedule of learning and schoolwork.
Keeping the learning going all year seems to help her maintain a daily routine. She also has less time to forget or lose interest in what we've already covered. In most public schools, the first month of the school year is spent reviewing. Since we school year round, we can skip that part!
What Year-Round Homeschooling Looks Like in Our Family
When I say that we school year round, though, I don't mean that we hold to the exact same schedule all year. We generally follow our regular school schedule from October to May. The months of May and September we take "off", though we continue with reading, crafts, and educational videos related to what we've been covering. We deliberately plan our "off" months when school is still in session in our area. That way, we can visit attractions or take vacations without the huge crowds.
In June and July, we have a relaxed schedule. We still have the kids get up, eat, and play at the same times, but we read about history, foreign language, world cultures and other topics that we don't get to spend as much time with during the other months. I generally spend the latter half of July planning for the next year, so that's a vacation time as well.
For us, year-round homeschooling feels more natural than holding to the traditional public school schedule. And, so far, it seems to be working!
Follow all our encouraging year round homeschooling stories by visiting our Pinterest board below.
Follow Misty Leask's board Homeschooling Year Round Stories on Pinterest.