Kids of all ages love to color and these Colorado coloring pages are a fun quiet time or art activity for your Colorado study.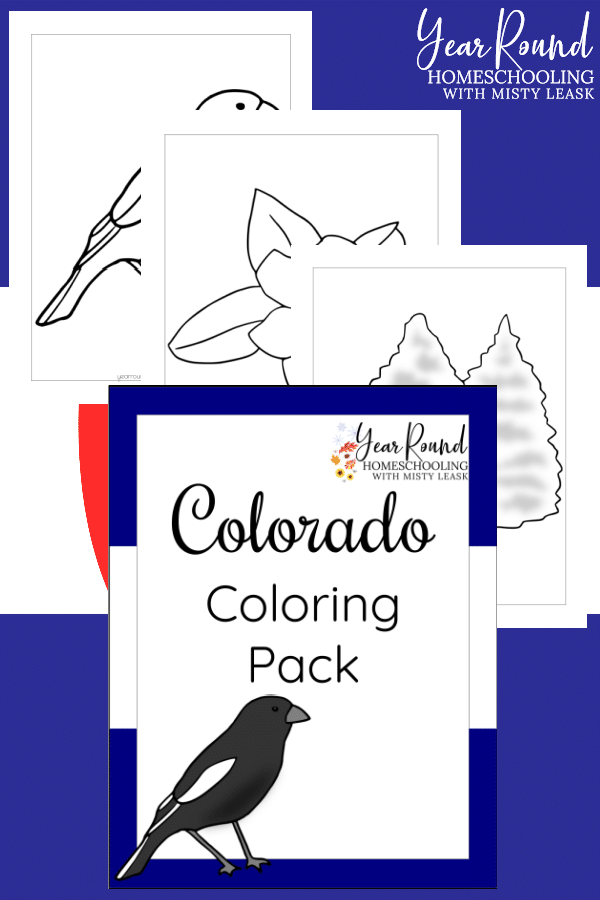 There are moments in the midst of my busyness that I enjoy pulling out the crayons. My teenage daughter often joins me and we sit in silence creating our own masterpieces.
My children have always enjoyed coloring. When they were younger, I never told them that they needed to stay within the lines.
I knew that that particular skill would come in time. Instead, I really enjoyed watching their design come to life.
What others might see as a mess or colored chaos, I saw beauty. Some things only a mother sees.
While coloring might not be an activity that you naturally add to your homeschooling day, it can be relaxing and fun for everyone.
A few ways that I've used coloring pages over the years include quiet time, to entertain my children while I cleaned, for art class or just for family fun.
When studying the United States, kids often enjoy learning about the difference between each state.
Across the US there are so many different types of trees, birds, flowers, animals, etc. Teaching your children about the unique things in each state can be fascinating.
These Colorado Coloring Pages include the state flag, tree, bird, flower and much more to make learning about "The Centennial State" fun!