Heading out to see the Rocky Mountains? This Colorado Road Trip Journal will educate your kids while they have fun learning about 'The Centennial State'!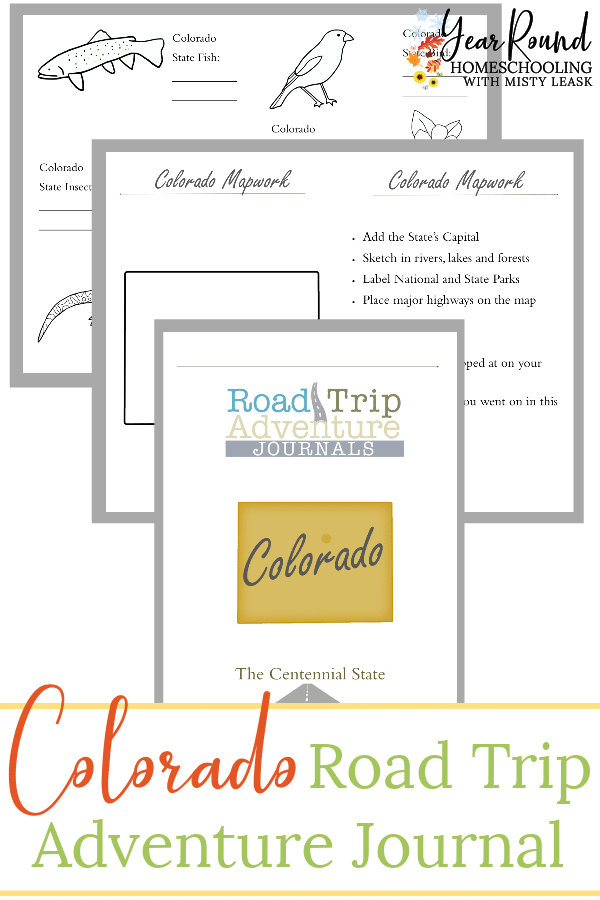 I love road trips. In fact, other than a cruise ship visiting the Caribbean, they are the only way I like to travel.
If you have never hit the open road, I encourage you to plan your first family road trip soon! It doesn't have to be a long trip, just outside of the norm for you and yours.
Before you head out or start to virtually explore the state of Colorado, make sure your kids have learned all about Colorado. This Colorado State Study is a great place to start! There are also notebooking pages and a coloring pack that are fun additions to a study of the state of Colorado.
Whether you make plans for field trips in Colorado or are just driving through the state there are so many things to see along the way! My Colorado Field Trip Guide can help find just the right places on your route.
Next time you have a road trip planned grab a copy of this Colorado Road Trip Adventure Journal to keep your kids busy and learning while you're on the road! Inside you'll find writing prompts, Colorado state fact information pages, coloring pages, map activities and more!
You can print this as a booklet using your double-sided printing option or as a single page journal!