My kids and I love to watch movies together. If they could watch movies and read books and it count for all of their homeschooling they'd be thrilled! I am still trying to figure out how to make that work for all of our homeschooling 10 years later.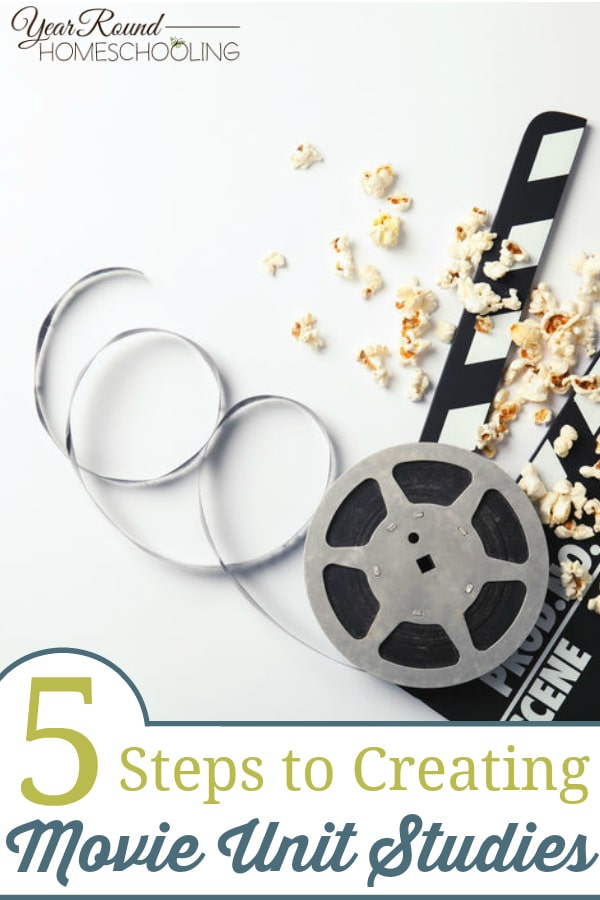 In the winter we use books and movies to homeschool through our busy cottage rental months. This really helps to eliminate some of the pressure of homeschool planning for me. Plus, it gives my kids time to learn doing things they enjoy. Winning child led homeschooling moment! 
If you're not ready to put your full homeschool schedule to the side for a bit like we do in the winter. There is a way you can use movies to cover any and/or all of the subjects in your homeschool – Movie Unit Studies!
A quick search online will bring up several ready to go movie unit study options. However, this didn't work well for us in the past because I tend to be a bit on the picky side when it comes to movies I let my children watch. There weren't many movie unit studies that were a fit for our family.
So, I created my own. It took a bit of time, but it was well worth it!
Whether you're unable to find movies that are right for your family or just can't find one for a particular movie, I have a few tips to help you create your own movie unit study!
How to Create Movie Unit Studies for Your Homeschool
I try to alternate between just for fun movies and character building movies. Character is the most important quality that I want my children to have, so it is a big part of our homeschool. I love that movie unit studies makes character training fun – my kids don't even realize that it is happening!
Make a list of subjects or topics in the movie that you want to cover
There is always some way to cover every subject in a movie unit study. However, it is not necessary to do so every time. If a particular movie has a strong science theme, but history is a bit lacking, skip history this time and choose a movie with a strong history background next time. Planning movie unit studies should be fun for you and the end result fun for your kids!
Locate activities online that fit those subjects and topics
I learned a long time ago to not recreate the wheel unless I absolutely have to. My plates are already overflowing, I don't need to add more to them just because. Before you start designing your own activities for movie unit studies, do a quick search online to see if someone else has already done the work for you! Lord of the Rings fans would have fun creating this DIY wood rack, your Moana princesses can have fun with this slime and Lightning McQueen racers will enjoy this craft.
Come up with additional fun learning ideas based on the movie
Sometimes the activity that you're looking for just isn't out there. That is the beauty of creating your own movie unit studies. You can customize it and make it all your own! From fun backyard games to indoor activities for rainy, cold or blazing hot days – the sky is the limit. Think outside of the box and design activities that your kids will enjoy!
Plan a final project to complete the unit study
When my children were young they loved show and tell, so at the completion of a project, they showed their dad what they had created and told him what they had learned. Now that my children are teenagers, I have them compile their activities into a folder showcasing all of their projects. If the movie unit study activities included crafts or recipes, we include pictures of the processes and final creation. You could also have your children put on a play or plan a party with the movie theme!
If you need a more specific example for any of the steps above, we love the movie "The Greatest Showman". So, we took that movie and created The Greatest Showman Unit Study!
I've learned that sometimes making a change to our homeschool is just what we need to get through the long winter days. Kids love movies and homeschool moms want their kids to learn. Take the two and put them together to make fun, homeschool memories with your kids this winter by creating your own movie unit studies!
What about creating movie unit studies do you find the most challenging and/or fun?