The downside of unschooling, plain and simple, is that you don't get to shelter your child. You get to have very frank conversations much earlier than you thought possible. You get to have conversations about suicide, deceit, war, and don't forget the birds and the bees. In essence, you get to talk about how things really work.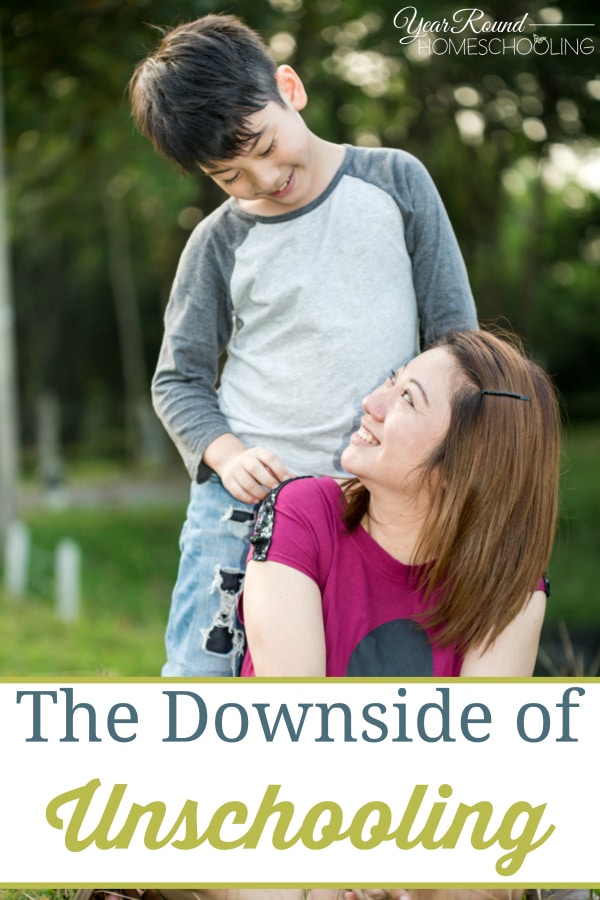 One day, I remember my son holding a LEGO® mini figurine against Chile on an inflatable globe. We have a good friend who lives there, and my son suddenly asked, "Wait a minute! Why doesn't he fall down if he's way down THERE?" Ahem. A great time for a science lesson!
If you use worksheets, you get to see if they can follow instructions and it gives them an opportunity to prove on paper that they have a certain working knowledge of the material. (Please keep in mind that what your child knows probably goes beyond what's on the page or is comprised of different things.)
A few months ago, my son had dental surgery, and my heart ached as he cried and whimpered during the procedure. He had demonstrated so much understanding at the initial appointment that the surgeon felt he could go through the process while conscious like an adult. I agreed, since I'd had an oral surgery and could tell him what to expect. Instead, we had to reschedule the remainder of the surgery because my son became unmanageable during the procedure. Later, my son told me he had pain, and he was trying to communicate that, but could only cry and swing his arm.
 It goes against my convergent-thinking style to disbelieve a physician's perspective, but when the surgeon said my son couldn't possibly have felt pain, I investigated. I told my son how noisy the procedure was, and talked about how the pressure must have felt as they worked in his mouth. I knew from personal experience how that feels. He insisted that it HURT and felt like BURNING. I know that feeling. I've had it. When an adult raises his hand during a dental procedure, the question will be asked, "Do you have pain?" At least that was my experience. Because my son was crying, it was automatically assumed that he was simply scared and unreasonable. I'm sure he was, but he was really hurting! That doesn't mean he was incapable.
When we returned to complete his procedure, I was told about side effects of the drug most commonly used, and that another type could be used instead, but that inserting an IV would be necessary. Whoa! Hold the phone. This could be a problem, or so the doctor thought. I knew that my son could be told what to expect and that he would do fine. The reason he had a hard time during the first session was that he was experiencing something beyond what he'd been told and was trying to communicate the only way he knew how! (Even I was too distraught about the procedure in the heat of the moment to see that.) He DID do fine with the insertion of the needle (even when the nurse dropped the catheter and extra blood came pouring out!), but the doctor had to give him an adult dose of the knock-out potion!
A certain level of respect should be afforded children. I respected my son enough to tell him what to expect to the best of my ability. He KNEW he was going to get a needle.
It seems to me that our American culture puts fear in children where there might not have been naturally, and disrespects children's capacity for understanding. Maybe it's a "postwar" epidemic of fearfulness among us as parents.
Meanwhile, little girls in another country I am thinking of survive nightly while living in the city dump and children who have lost their parents in countries the world over adapt and learn to be smart as whips.
I've told my son about orphans and that many boys his age have less-than-loving parents. This may seem like a dark, scary place. It is for him, when hailstones are coming down, or tornado sirens are going off. Yet, he has seen the devastation the storms cause and he knows that God has spared his house while that of others has been destroyed. He is learning more about the real world. I am glad that I can ARM him for the battle. I am most glad that as the Bible says, "Perfect love casteth out fear!"
Do you feel there is a downside to unschooling? If so, what do you believe it is?