We're big Dr. Seuss fans and I know many of you are as well. So, a Dr. Seuss challenge was a must. The best part? You can use it to celebrate his birthday or for fun throughout the year!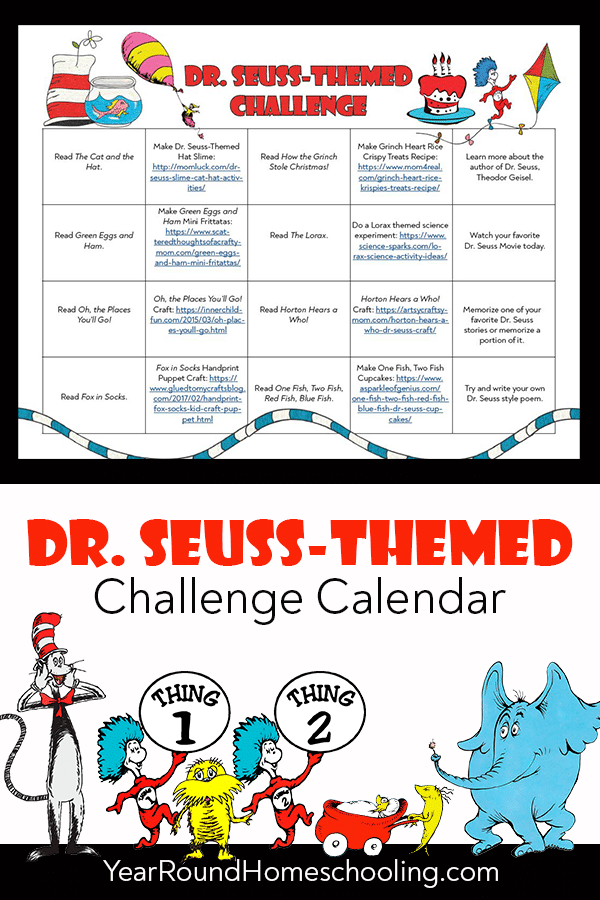 Reading aloud to my children is my favorite motherhood memory. I learned to love reading from my mom and am so thankful that I was able to pass that love onto my children.
I can not tell you how many times I've read our Dr. Seuss collection to my kids. Honestly, I miss reading it to them. It really is too bad that our kids have to grow up…
From The Lorax to And to Think That I Saw It on Mulberry Street, from Mr. Brown Can Moo! Can You? to Oh, the Places You'll Go! Dr. Seuss has been an integral part of my family's life and I'm thankful for the memories he helped us create.
This Dr. Seuss-themed challenge includes crafts, recipes, writing assignments, science experiments and much more!
It is my hope that you and your kids will have a wonderful time creating Dr. Seuss-themed memories just as my kids and I have over the years.
For even more monthly challenges to use throughout the coming year, be sure to check out my store page here.