Dragons are everywhere it seems! There is the Lord of the Rings trilogy; How to Train Your Dragon (a huge favorite in this house), Eragon and my favorite, the classic, Puff the Magic Dragon. Of course there are tons more out there, but these are the ones that have just captivated our house as of late. So, my oldest son has offered to help you learn how to draw a dragon. I admit I was rather impressed with him and his sister (who is three) creating the video of how to draw a dragon.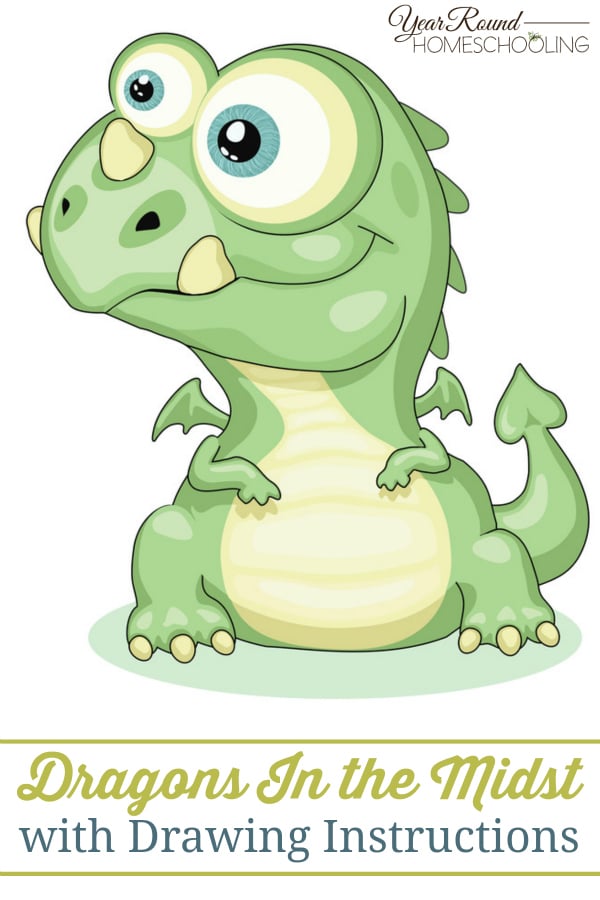 It is interesting that nearly every major ancient culture has myths and legends about giant reptiles. How would so many, so far apart in time and space, all come up with legends of these giant creatures?
The Bible mentions two creatures that seem quite similar to the dinosaurs, these are referred to as the leviathan and the behemoth. (see Job chapters 40-41) According to many creation scientists these "dragon" myths came from actual contact between humans and dinosaurs. In fact the Bible even refers to the creation of these creatures and that they existed, in peace with man. Can you imagine—actually seeing them!?
The "fire-breathing" dragon is said to be, quite likely, a myth (although there have been some interesting discoveries), but the worldwide legends of these giant reptiles point to a true experience between man and beast, long ago. And not one of danger and evil at all as some may presume, but as large, albeit, gentle beasts created by God, along with so many others.
My son loves dragons, he creates many large and small, both scary and silly. He has such fun in the process, and he sure is hopeful that one day he will get to have one as a pet!
Would your kids like to learn how to draw one? It is very simple by following my son's instructions. This is his first attempt at teaching others, but I think it was so cute and had to share his efforts with all of you!
That's the first part, he continues his video here. Please forgive the craziness in the background, we must learn how to edit these in the future.
I love his attempt to do something new. To take one of his favorite things, art, and share it with others out there like this. Perhaps one day he will have quite the career in art education or perhaps we shall see one of his creations hanging in the local art museum. Wherever he may go with this I am just enjoying watching his journey.
If your kids love dragons, they will love the books below!
What do your kids love to create in art class?
You can find more homeschool art ideas by following our Pinterest board below.
Follow Misty Leask's board Homeschool: Art on Pinterest.