P.E. is often a subject that most homeschool moms aren't sure how to fit in with everything else she has to get done. Often homeschool kids spend a lot more time outside playing, running and having fun than other kids, so P.E. isn't something that we worry about as homeschoolers. However, many states require that your children be involved in a P.E. class as part of their homeschooling guidelines.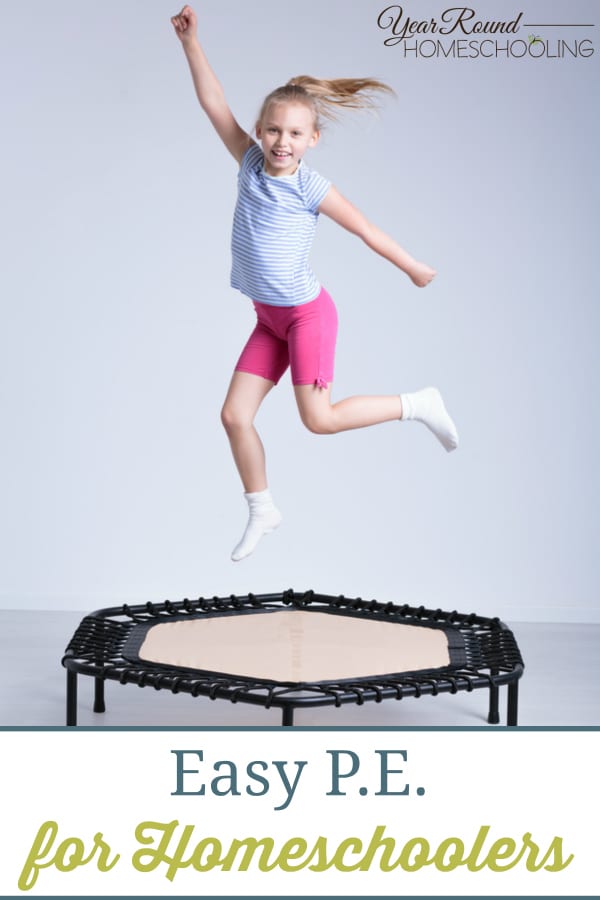 There are a few easy options for ensuring your children have the P.E. time that most homeschool states allow and you do not have to try to teach your kids how to play a sport that doesn't interest you, time them while they run track, etc.
Almost every town has a recreational department and they often have sports programs during 3 if not all 4 seasons. Often there are several sport choices for each season and they don't require crazy weekend travel schedules.
Most states allow homeschoolers to play for public school sports teams. It may not be something that is spoken of, but if your children are interested in playing for the public school sports teams, I recommend that you take time to look into your state's laws regarding this topic before you write it off.
Some private schools will give homeschoolers the opportunity to play for the sports teams, especially if it your home church's private school. If you have a private school that will allow your children to play for them, I would highly recommend that you consider this option above public school sports teams.
[Tweet "Ensuring our children get enough exercise and keeping them healthy is important to all moms. #YRHTips"]
My kids have played tennis, soccer, baseball and basketball as part of our local Rec. Dept. In doing so they not only fulfilled the P.E. requirement for our state's homeschooling laws, but they also made friends in our community that they otherwise may not have met. They also have learned how to accept instruction from a coach and learned how to play as a team.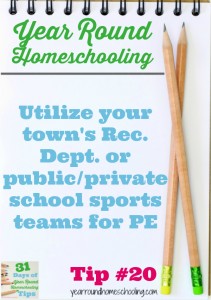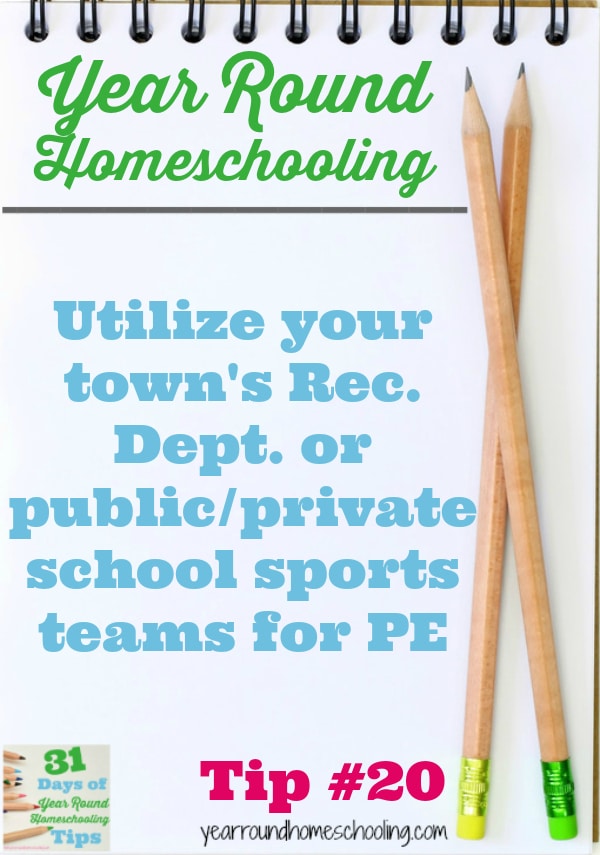 Ensuring our children get enough exercise and keeping them healthy is important to all moms. P.E. offers both to our children, so it is important that we give them the opportunities they need to keep their bodies strong.

You can find the rest of the Year Round Homeschooling Tips from this 31 day series here.
Are you looking for more tips beside what is being shared in the 31 Days of Homeschooling Tips for Moms?
I would love to invite you the community inspired by this series, as we strive to inspire, encourage and empower our readers in everything homeschooling.