This year marks our second year homeschooling, with a "first grader," preschooler, and toddler. Last year our schedule—at least for the first half of the year—consisted of 6 weeks on, 1 week off, meaning I prepared lesson plans for 6 weeks of school. Then, we took off for a week so I could plan for the next 6 weeks and everyone could take a break.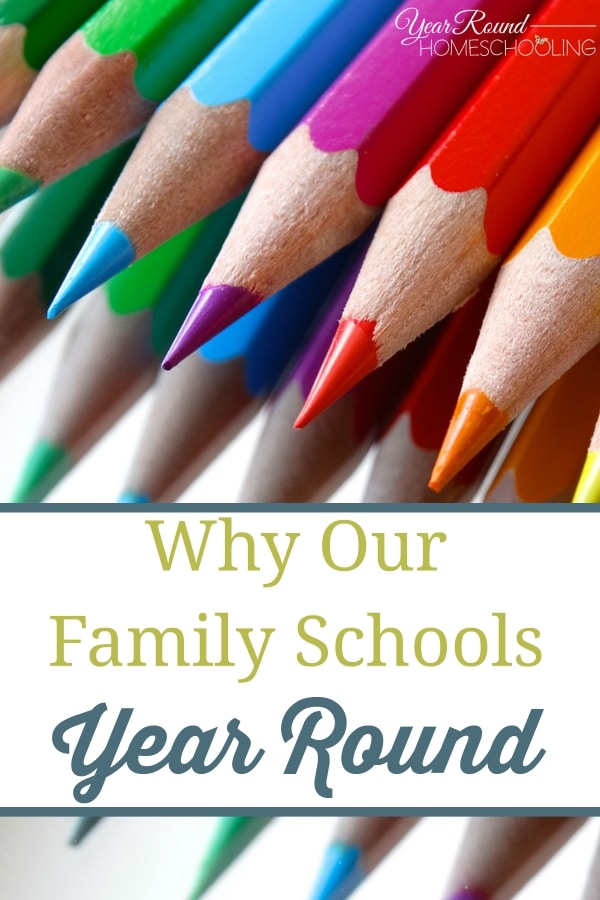 Initially, I thought this set-up would be ideal. As beginning homeschoolers, I figured we might need a breather and was fearful of burning out fast.
The 6 weeks-on, 1 week-off schedule worked fine at first, but then I discovered that we didn't need an entire week off from our school. In fact, life actually became chaotic and unruly without the structure school provided. So, around Thanksgiving, we moved into schooling year round. My only caveat was that we would stop at the first sign of a needed break.
We schooled through the holidays, only breaking as needed to visit a friend, make Christmas cookies, go for an appointment or just rest. Then, within a day or two, we were right back in the saddle. No complaints.
When April rolled around, we had finished all of the Kindergarten curriculum, so I thought we'd take a nice long break and pick back up in July or August. I was exhausted; the kids were worn out. I thought we could all use a vacation from school. Well, by the end of April, I realized that the days were very long without the structure and routine of school to fill them. However, I also noticed during that time, that my girls needed to work on some serious character flaws that were creating problems in our home, and since I was also grappling with morning sickness, I needed more help in the housework department. So, instead of school work, we spent the month of May learning new chores and working on character. My plan was to restart school June 2 and school year round and that is exactly what we've done.
Now, at the end of July, we are well under way in our new curriculum. At least during the summer months, we're being more lax about our schedule and take off a day here and there to play, visit and enjoy summer activities. However, we resume our school work before boredom begins to set in.
The flexibility and structure of homeschooling year round is what most appeals to me. As long as we fulfill our state's requirements, we can take off when we like — no worries. I like that my children don't have to go to school on their birthdays, and we can school through the summer, the hottest months of the year in our state, and take off for a month at Christmas time, if we want, without a problem.
While we are new to homeschooling, year round schooling is, so far, working very well for our family. However, I know that may not always be the case. We'll simply take one year at a time and assess what's best for our family.
Follow all our encouraging year round homeschooling stories by visiting our Pinterest board below.
Follow Misty Leask's board Homeschooling Year Round Stories on Pinterest.