If you have a camping trip planned for this summer, your middle schoolers will enjoy getting ready for the fun with this free camping unit study!
Below you'll find resources for a free unit study, exclusive camping printables and other camping resources for your middle schooler. We've compiled various online resources including; camping safety and hazard articles, videos, activities and more.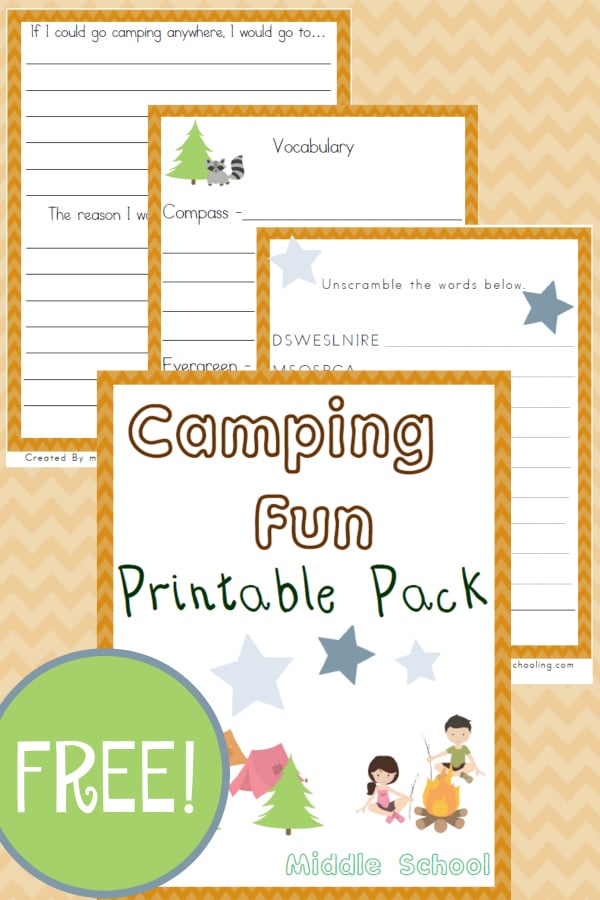 To get you started in planning your middle schoolers camping unit study, be sure to sign up below to receive our free camping printables. Inside you'll find notebooking pages, vocabulary worksheets, games and more.
To receive this Free Camping Fun Printable Pack you MUST sign up to receive our emails below.
Be sure to check your spam for the freebie. It will be coming from [email protected]

Camping and Woods Safety (Online Article)
Camping Safety and Rules for Kids (Online Article)
10 Must Have Camping First Aid Items for Kids (Online Article)
Bad Weather Survival Kids (Online Article with Shopping Links)

How to Identify Poison Ivy, Oak and Sumac (Online Article)
Recognizing, How to Treat and Detecting the Symptoms of Poisonous Plants (Online Article)
9 Camping Dangers (Online Article)
Top 5 Common Dangers When Camping (Online Article)

Pick the Right Gear for Kids (Online Article with Reviews and Shopping Links)
How to Choose & Use a Backpack (Online Article)
How to Build a Survival Shelter (Online Article)
How to Build a Debris Shelter (You Tube Video)
Building a Debris Hut (You Tube Video)

10 Easy Camping Food and Recipes for Kids (Online Article & Recipes)
Campfire French Toast (Recipe)
Campfire Cones (Recipe)

Hiking and Camping Activities (Online Article with Games and Printables)
Campfire Stories (Online Article)
Clean Jokes for Kids (Online Article)
Short Camp Stories (Online Article)

Woodcraft Projects (Online Article with Project Directions)
Pine Cone Weather Station (Online Article)
Eggs-tra Special Campfire Starter (Instructions)
Make a Mold of Animal Tracks (Online Article and Instructions)

Easy Camping Activities for Kids (Online Article with Game Directions)
5 Campfire Games to Play (Online Article)
10 Fun Camping Games for Kids (Online Article)
10 Campfire Games You Have to Play (Online Article with Game Directions)

20 Outdoor Facts to Impress Your Friends (Online Article)

Classic Campfire Songs (Chords and Lyrics)
Traditional and Silly Songs (Lyrics and Clips)

Free Printable Nature Scavenger Hunt
Free Printable Camping Checklist
Free Printable Camping Charades
Free Printable Camping Bingo Cards


Forestry/Natural Resources Lesson Plans
Learning from the Forest Lesson Plans

Free Printable Arbor Day Learning Pack
Free Leaves and Needles Identification Sheet
Free Leaf Identification Cards

Free Printable Tree Bark Identification Sheet
Free How a Tree Eats, Drinks and Breathes Sheet
Free Reading a Tree's Rings Sheet
Free Seeds Identification Sheet
Free Vintage Tree Identification Pages

Free Online What Tree is That Quiz
Free Online Tree Identification Quiz

How to Track Animals (You Tube Video)
Identifying Animal Tracks in the Mud (You Tube Video)
Identifying Animal Tracks in the Snow (You Tube Video)

Free Printable Animal Tracks Match Up
Free Printable Animal Tracks Flash Cards
Free Printable I Spy Animal Clues
Free Printable Animal Track ID Cards

Free Wildlife Crosswords 1 and 2

Free Constellation Lessons (Online Articles)
What are Constellations Anyway? (Online Article)
Navigating the North Star Lessons and Printables

Free Printable Sky Tour Infographic
Free Printable Constellation Cards, Sky Maps & Star Gazing Diary
Free Printable Constellation Flash Cards

Make a Star Finder (Online Article with Directions)
Constellation Geoboards (Online Article with Directions)
Constellation Art (Online Article with Directions)
Constellation Craft Ideas (Online Article with Directions)

Free Online Constellation Picture Quiz
Free Online Constellations Quiz
Free Online Space Hopper Constellation Game
Free Online Constellation Games