Learning all about farm animals can be a wonderful learning experience both online and outdoors! Below you'll find resources for a free unit study, exclusive farm animals printables and other farm animal themed resources for your middle schooler. A great activity for your farm animal unit study is a field trip to a farm where your student can see and learn from the farm animals themselves!
We've compiled various online resources including; videos, tests and more. You'll also find free printables and lapbooks below.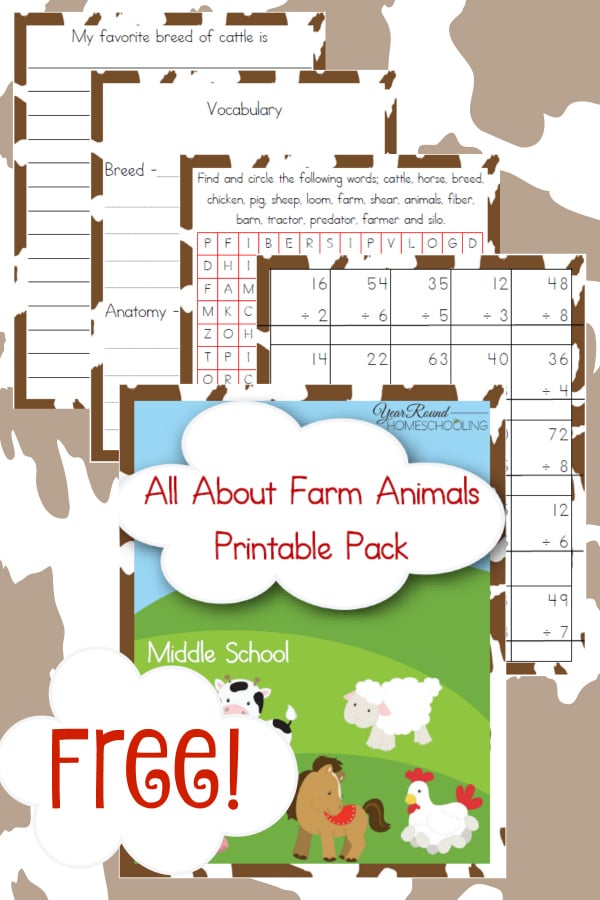 To get you started in planning your middle schoolers farm animals unit study, be sure to sign up below to receive our free middle school farm animals printables. Inside you'll find notebooking pages, vocabulary worksheets, games and more.
To receive our Free Middle School Farm Animals Printables you MUST sign up to receive our emails below.
Be sure to check your spam for the freebie. It will be coming from [email protected]

Growing Our Grain: The Science of Farming Lesson Plans & Video
Following the 'Grain Chain': From Field to Fork Lesson Plans & Video
Exploring the Variety of Flour and Grains Lesson Plans & Video
The Farming Business: Today and Tomorrow Lesson Plans

Songs About Farm Animals

Agricultural Book Lists

Fun Farm Animals Facts (You Tube Video)

Growing Seeds in a Plastic Bag Experiment

Free Down on the Farm Notebooking Pages

Clucking Chickens Craft and Lesson Plan

Egg Drop Experiment (Video)
Unbreakable Egg Experiment (Article)
Eggs and Air Pressure Experiment (Article & Video)
Dissolving Eggshell Experiment (Article)
Folding Egg Experiment (Article & Video)
Egg Hatching (You Tube Video)
Egg in a Bottle (Video)
Egg in a Bottle Upside Down Twist (Video)


Horse Poetry (Online Resource)
American Quarter Horse Color & Markings Reference Chart (Online Resource)
Horse Care (Article)
Complete Guide to Horse Blanketing (Article)

Horse Digestive System (You Tube Video)

Fun Horse Facts (Online Resource)
Western Saddle Chart (Online Resource)

Free Horse Notebooking Pages
Free Horse Color Identification Chart Printable

Horse Drawing Tutorial (Online Resource)

Free Cattle Lapbook and Unit Study
Virtual Dairy Farm Tour (Article)
How to Dry Off a Cow (Article)
How Do Cows Eat Grass (Article)
Making Cheese the Old Fashioned Way (You Tube Video)
Cow Painting Tutorial (Article)
Longhorn Cattle Drawing Tutorial (Article)
Cow Watercolor, Pen and Ink Drawing Tutorial (Article)


Cow Eye Dissection Video and Printable Tutorial
Cow Eye Dissection Photograph Tutorial
Beef Cow Anatomy (Online Resource)
A Cow's Digestive System (You Tube Video)
Making Cheese the Old Fashioned Way (You Tube Video)
How to Milk a Cow By Hand (You Tube Video)
How to Make Butter (Article)

Free Pig Unit Study and Lapbook
Breeds of Pigs (Online Resource)
Popular US Pig Breeds (Online Resource)
Everything But the Oink (Article & Printables)
The Birthing Process of Piglets (You Tube Video)
How Do You Care for Pigs (You Tube Video)
What Do Pigs Eat? (You Tube Video)

Pig Heart Dissection (You Tube Video)
Fetal Pig External Anatomy & Dissection Worksheets
Fetal Pig Dissection Tutorial & Worksheets

Pig Drawing Tutorial (Online Resource)
Pig Paint Collage Tutorial (Online Resource)


Do Sheep Only Obey Their Master's Voice? (You Tube Video)
Sheep Breeds (Online Resource)
All About Sheep (Article)
Sheep 101 (Article)
Sheep Predators Facts (Article)
How to Shear a Sheep (You Tube Video)
The Difference Between Sheep and Goats (Article)
Wool Properties (Article)
All Natural Wool Properties (Article)
Processing Wool Fact Sheet (Article)
Wool Fabric Fact Sheet (Article)

Fiber Activity (Article)
Insulation Test of Natural Wool (Article)
Sheep Heart Dissection Tutorial & Worksheets


Fuzzy Lamb Drawing Worksheet and Lesson
Using Hand Carders with Wool (You Tube Video)
Spinning Wool by Hand (You Tube Video)