Studying Antarctica in geography class or do you have a child that is interested in one of the coldest places on the planet? All kids are sure to be amazed by these fun facts about Antarctica!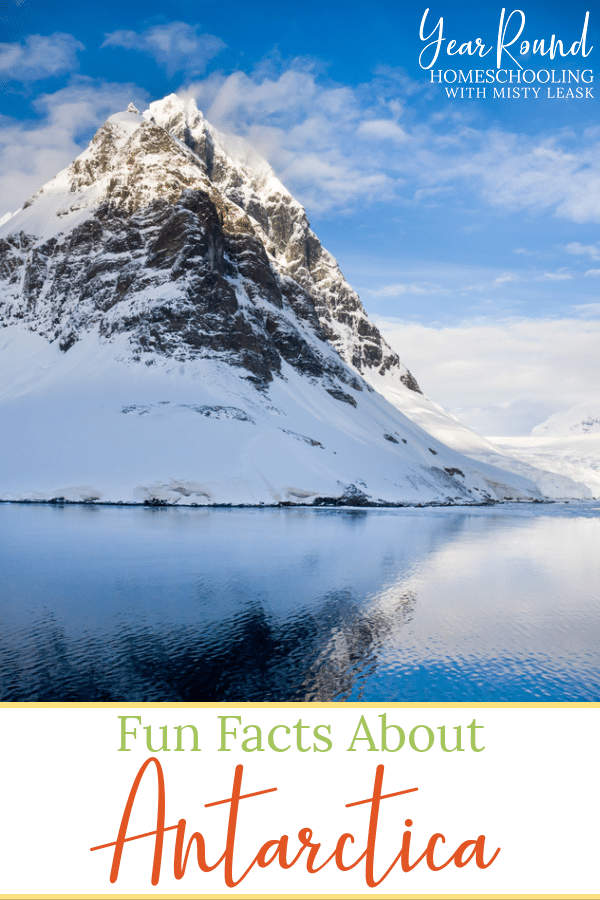 Why in the world would one want to discuss Antarctica? Short answer: It is fun to discuss polar regions with your children in the wintertime.
We live in the southeastern US and snow is a rarity at our home. My kiddos love to learn about cold environments since they do not experience them firsthand.
Fun Facts About Antarctica
That being said, today I would like to share some fun facts about Antarctica with you!
Antarctica was first sighted in 1820, but the first actual landing happened about a year later. American John Davis was the first person to step onto the ice, and the first team to reach the South Pole was led by Norwegian Roald Amundsen.
Up to 90% of the earth's ice is found in the Antarctic ice cap. There are sub-glacial lakes below the ice surface. Lake Vostok is the largest sub-glacial freshwater lake…it is 1,300 feet below the ice!
Antarctica is governed by the Antarctic Treaty System and is not a sovereign country.
Antarctica is preserved to be a place of scientific study. Around 30 countries have research stations on Antarctica.
About 4,400 people live in Antarctica in the summer months, and about 1,000 live there in the winter. They live in Antarctica to work in research stations.
Mount Vinson is the highest mountain on the continent of Antarctica. It is 16,050 feet tall.
The first successful ascent of Mount Vinson was in 1966, and it can take anywhere from two to four weeks to summit.
The coldest temperature ever recorded on earth was recorded in Antarctica in July of 1983. What was this temperature? -128.6 degrees F!
Emperor penguins are the largest flightless birds in the world, and they live in Antarctica! They can grow to nearly four feet tall.
There is a permanent church on Antarctica! Trinity church resides on the largest of the South Shetland Islands. Following it's construction elsewhere, it was taken apart and shipped to it's location. It is a small Russian Orthodox church and it holds about 30 worshippers.
I hope that your children will enjoy learning a few new things about Antarctica!
Which fun fact about Antarctica was your children's favorite?