George Handel is most known for his oratorio, Messiah. Your kids will learn (and hear!) this and more through this George Handel Unit Study.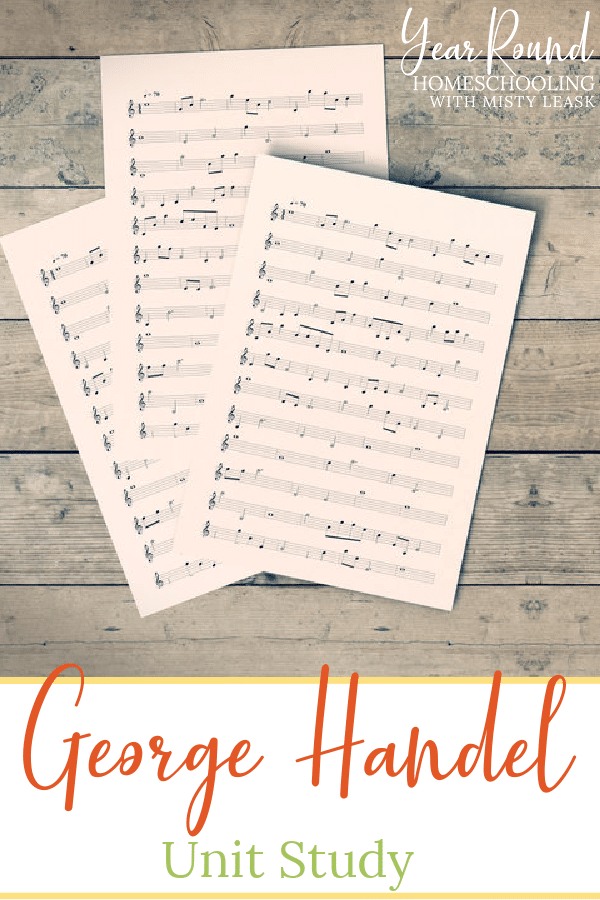 Take a trip back in time, to the Baroque Era, and learn about the composer, Geroge Handel.
George Frideric Handel Biography
George Frideric Handel was born on February 23, 1685, in Halle, Germany to barber-surgeon, Georg Handel and minister's daughter, Dorothea Taust.
Handel showed a natural disposition for music and composing at a very early age to which his father was so extremely opposed that he forbade any musical instrument to be brought into their home and forbade Handel to enter any home where there was a musical instrument present!
It is said that as a small child Handel somehow contrived to have a small clavichord delivered to a small attic room in his home where he practiced when other members of his family were sleeping. His mother was supportive of his musical passion and helped to keep his secret.
Handel's father was opposed to Handel devoting his life to music because he saw no future for him in music. Handel was reportedly removed by his father from gymnasium (elementary school) in Halle because his professor was a proficient musician.
However, at one point between the ages of 7 and 9, Handel accompanied his father to the court at Weissenfels where he had the opportunity to play the organ and surprised everyone present. Duke Johann Adolf I was so impressed that a child of his age could play with such accomplishment that he convinced Handel's father to allow him formal musical instruction.
Handel's first and only music teacher was the organist of the Halle parish church, Fredrich Wilhelm Zachow. He introduced Handel not only to the organ but also to the harpsichord, violin, and oboe (the latter became a personal favorite). Zachow instructed Handel in the art of composing and introduced him to old and new musical styles from across Europe and the world.
When Handel was 11 years old, his father passed away. His higher education, however, was provided for as his father desired, and Handel began studying law at the University of Halle in 1702 while also employed as organist at the Calvinist Cathedral. The law studies lasted only a year. As soon as Handel was offered a position in the orchestra at the Oper am Gansemarkt in Hamburg a year later, he accepted.
Travel and Professional Career
Two years later while still at the Oper am Gansemarkt Handel had already composed his first opera, Almira and a second, Nero. The very next year, 1706 he was invited by Ferdinando de Medici to come to Italy where he travelled extensively and composed several operas for various theaters.
His first opera in Italian, Rodrigo was performed in Florence the very next year and Agrippina, just two years later, was a huge success running for 27 consecutive days.
Italian opera was widely popular in England during this time and because of his talent and ability to compose, in 1710 Handel was invited to England by German Prince George (later George I) to serve as "Master of the Chapel Choir". During this time, he composed what is considered his most highly acclaimed work and breakthrough, Rinaldo.
Two years later he won his way into royal favor by composing Ode for the Queen's Birthday and later to celebrate the treaties of Utrecht, Utrecht Te Deum and Jubilate. Thus he was granted a yearly income by Queen Anne and was received well by English aristocracy.
In 1719 Handel took a position with the Royal Academy of Music and it was during his time with the Royal Academy that he became an English citizen and moved into his house at 25 Brook Street (where he lived until his death and is now Handel House Museum).
During this time, he wrote many Italian operas including Floridante, Giulio Cesare, and Scipione. In 1727 Handel was commissioned to write for the coronation of King George II. One of the anthems he wrote for that ceremony, Zadok the Priest, has been used in every British coronation ceremony since!
Toward the end of the 1720's England became increasingly tired of Italian opera and oratorio (long compositions usually written on a Biblical theme) became increasingly popular. Handel took many Italian operas he'd written, translated them into English, adapted the stories, and turned them into oratorios that were famously popular. During Lent of 1735 he produced 14 concerts made up of oratorios.
In 1741 Handel was commissioned by Lord Lieutenant of Dublin to write a new oratorio. The result was Handel's most renowned musical piece, Messiah. It made it's debut in the New Music Hall in Dublin the very next year.
Handel suffered from several physical ailments. In 1737, he suffered from a stroke which left his right hand immobile. His fans feared that he would never compose again, but he surprised his public by recovering fully after a mere six weeks. Six years later, in 1743, he suffered a second stroke from which he once again recovered quickly.
Seven years later he had lost sight completely in one eye, yet he continued to compose and by 1752, Handel had lost sight in both of his eyes. Despite his blindness, he continued to remain actively involved in his productions, relying on his memory instead of sight to perform and compose.
On April 14, 1759, Handel died in his home on Brook Street at the age of 74. He was buried in Westminster Abbey and given full state honors for his contribution to British life and culture.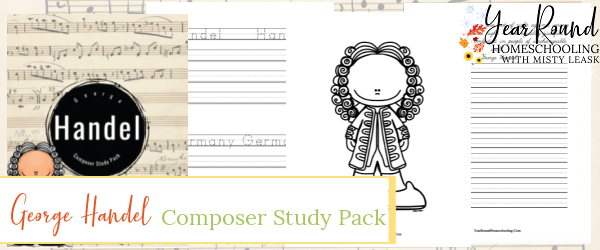 George Handel's Most Famous Works
Messiah's Hallelujah Chorus
Handel composed Messiah in 1741 and was his 6th oratorio. It was first performed in Dublin in 1742 and was moderately received at the time. Messiah gained in popularity over the years, it is now considered one of his most well-known pieces of work.
Handel composed this piece for the coronation of King George II in 1727 along with three other compositions for that day: The King Shall Rejoice, My Heart is Inditing, and Let Thy Hand Be Strengthened. Zadok the Priest became a tradition and has been sung at the coronation of every British monarch since its composition.
Handel wrote Water Music as entertainment for a royal cruise on the River Thames which was hosted by King George I in 1717. However, it wasn't until after his death that the entire collection was published.
Dixit Dominus is one of Handel's earlier works. It was written in 1707, while living in Italy at the age of 22 and was inspired by Psalms 109.
Lascia ch'io pianga (Rinaldo)
The opera, Rinaldo, was composed in 1710. Lascia ch'io pianga is an aria sung by Almirena, the love of Rinaldo's life. She has been abducted by Armida the friend and ally of Argante, enemy of Rinaldo.
Arrival of the Queen of Sheba
This piece is a sinfonia written as part of the oratorio Solomon, one of Handel's last oratorios. The Arrival of the Queen of Sheba has been often played at weddings and was performed at the opening ceremonies of the London 2012 Olympics.
Additional Activities
Language Arts/ Research Project:
Handel supposedly learned to play music on a clavichord that was hidden in his attic. Later, he learned to play the organ and harpsichord. Have your child research the differences between a harpsichord, clavichord, piano, and organ. They can write up their findings in a report, and create a PowerPoint presentation to go along with it.
Print out this map of Europe. Handel was born in Germany in 1685 and left in 1706. Write those years in the country of Germany on your map and draw a RED line from Germany to Italy. He lived in Italy from 1706- 1710. Write those dates in the country of Italy on your map and draw a GREEN line from Italy to England. He moved to England in 1710 and died in England in 1759. Write those dates in England on your map.
Handel had two strokes as he grew older. The first one left his right arm disabled at first. Why did this happen? Could it have been prevented? How do strokes work?
Learn to play a song by Handel.
A Skoove Tutorial (no note reading necessary)
Music Appreciation- Movie: God Rot Turnbridge Wells!
Try making these potato pancakes as a family and enjoy something popularly eaten for breakfast in Germany. Perhaps, Handel enjoyed them as a child, too!
Books are a great way to add to your children's study of George Handel. You can add reading time easily during your homeschool quiet time or use them as read-alouds.