We're reading the book Geronimo Stilton and The Race Across America with the kids. In one of the chapters, Geronimo rides through the Grand Canyon in Arizona. After doing some research about the canyon, we came away with a new appreciation for this natural wonder.
It's highly doubtful that we'll ever take a road trip to see the Grand Canyon in person. So, I put together a quick Grand Canyon Unit Study with facts about the canyon, an overview of the National Park, and a book list! Feel free to use the resources below to introduce your kids to this geological marvel!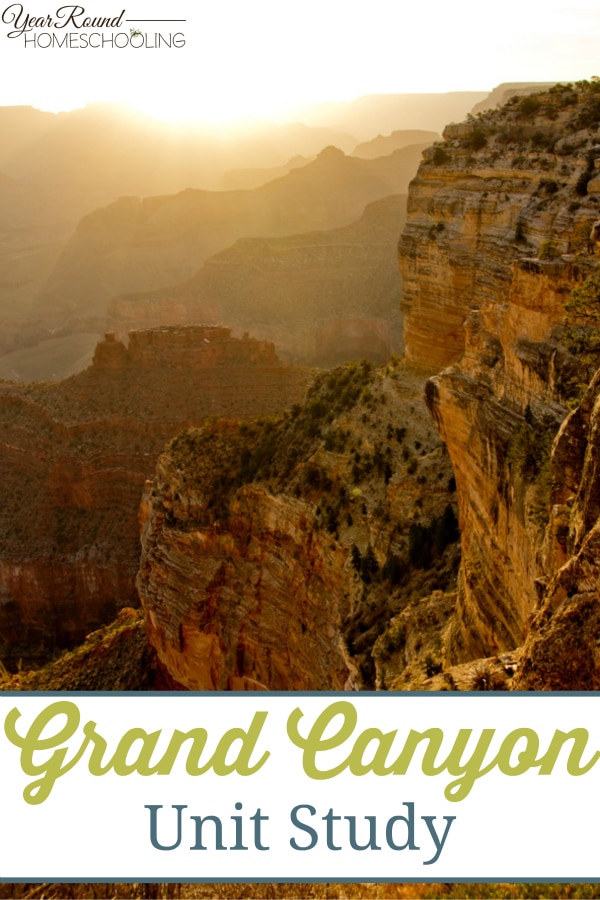 Grand Canyon Unit Study
The History of the Grand Canyon
Watch this video about the Grand Canyon and then have your kids answer the following questions:
https://www.youtube.com/watch?v=ezpqDi42pRM
1. How old do geologists think the Grand Canyon is? (Answer: 1 1/2 billion years old)
2. How was the Grand Canyon formed? (Answer: By the erosion of the Colorado River)
3. How far across is the Grand Canyon at its furthest point? (Answer: 18 miles)
4. What is the name of the Grand Canyon's highest peak? (Answer: The Tower of Ra)
Grand Canyon National Park
For even more information about the canyon, read the overview of Grand Canyon National Park at National Geographic and then answer the following questions:
1. How many acres does Grand Canyon National Park cover? (Answer: 1,217,403)
2. How long does the Grand Canyon stretch? (Answer: 277 miles)
3. How many people visit Grand Canyon National Park each year? (Answer: 5 million)
4. When was Grand Canyon National Park established? (Answer: February 26, 1919)
Books about the Grand Canyon
If you'd like to read about the Grand Canyon with your kids, try these great books about the canyon for kids of all ages!
1. Puzzler's Guide to the Grand Canyon by Kristy McGowan and Karen Richards
2. Grand Canyon National Park by David Petersen
3. A Grand Canyon Journey: Tracing Time in Stone by Peter Anderson
4. The Grand Canyon by Marion Dane Bauer and John Wallace
5. Zachary Z. Packrat Backpacks the Grand Canyon by Brooke Bessesen and Jenny Campbell
Have you ever visited the Grand Canyon either in person or virtually for your homeschool?