Growing up I didn't care for dolls or toys at all really. Give me a book and I was the happiest kid on the block. I vividly remember the Christmas my aunt gave me Little Women, unabridged. I was in middle school and felt so proud to have such a big book all for myself. Another special Christmas gift was when I received The Complete Works of William Shakespeare from my cousin. If you're thinking, NERD, then you're right, but there's something magical about receiving a great book.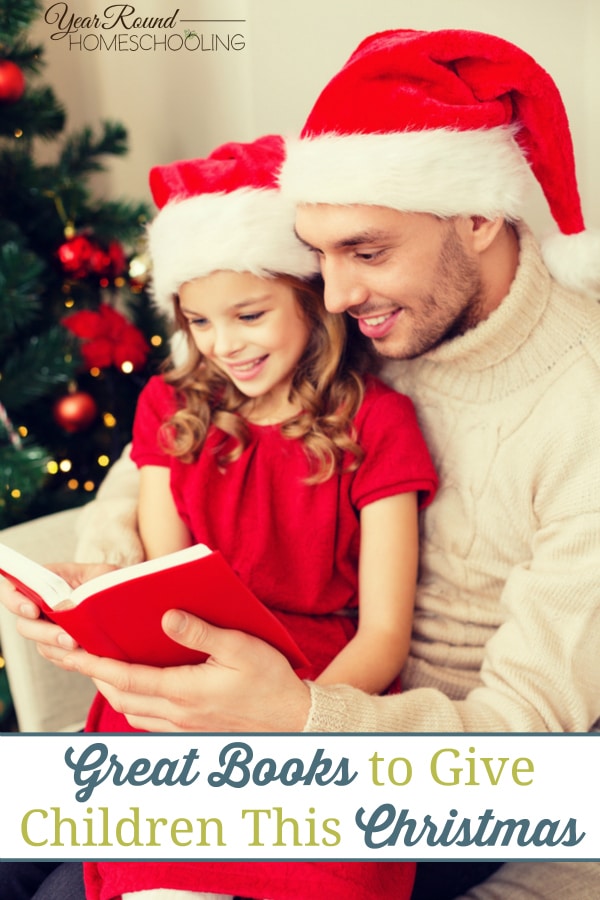 In our home we have a Christmas tradition. Each child receives five presents, one of which is a new book. A nice hardback is the perfect keepsake for a child of any age, especially one that is a classic. I am especially in love with these beautiful Puffin in Bloom books.
If you have a bookworm in your family or if you want to cultivate a greater love of reading in your child, here are several suggestions of great books to give this Christmas, organized by age.
Baby/Toddler
Goodnight Moon by Margaret Wise Brown  This book is the perfect gift for a new baby. The bright colors and simple rhyme appeal to little eyes. Try to find the mouse on every page.
The Very Hungry Caterpillar by Eric Carle  Another classic book for littles that not only teaches the days of the week, but also presents the metamorphosis of the caterpillar to a butterfly. The illustrations alone are gold.
Brown Bear, Brown Bear, What Do You See? by Eric Carle  Another Carle classic that you must have in your at-home library. We've gone through multiple copies over the years. Maybe it's the repetition or the animal pictures, but little people adore this book.
Chicka Chicka Boom Boom by Bill Martin Jr. & John Archambault  Children love the rhythm and beat in this book. Added bonus: they can learn their ABCs.
Good Night, Gorilla by Peggy Rathmann  A fun read with plenty of opportunity for embellishment and added narration. My kids really like to follow the mouse in this story, too.
Preschooler
The Real Mother Goose by Blanche Fisher Wright  My mom read this book to me when I was a little girl, and I started reading it to my oldest when she was 3. She still has them all memorized, and so do I! This book is definitely a favorite and will produce lots of memories for you and your child.
A Beatrix Potter Treasury (Peter Rabbit) by Beatrix Potter  This hardback edition includes 10 Beatrix Potter classics including the tales of Peter Rabbit, Jemima Puddle-Duck, Benjamin Bunny, and the Flopsy Bunnies. Children adore hearing about the antics of these animals, and the lessons the animals learn along the way are a great teaching tool.
Corduroy by Don Freeman  This story fills my heart with joy every time I read it. Children can identify with a stuffed animal or doll that they've loved and felt connected to, so it's interesting to view the relationship from the stuffed animal's point of view to see that they, too, are looking for friendship.
Madeline by Ludgwig Bemelmans  Oh, Madeline, we love you so. Your antics keep us laughing, and we love your fearlessness. This is a favorite of my girls.
James Herriot's Treasury for Children: Warm & Joyful Tales by the Author of All Creatures Great & Small   This book is a collection of 8 short animal stories with lovely illustrations. Set in Yorkshire, England, the stories are told by the country veterinarian and introduce young readers to life in the rural countryside and farmyard. We love this book and its lovely illustrations.
Elementary
Charlotte's Web by E.B. White  A sweet story of the friendship between a pig and a spider that exemplifies what true friendship should be: one of love, service, and even sacrifice. This Newbery Award winning novel is filled with endearing illustrations, and children love the amusing behavior of the talking farmyard animals.
Dr. Seuss's Beginner Book Collection  This collection includes the most popular Dr. Seuss works: Cat in the Hat, One Fish Two Fish, Green Eggs & Ham, Hop on Pop, & Fox in Socks. 
The Wind in the Willows by Kenneth Grahame  The classic tale of 4 animal friends — Mole, Rat, Badger, & Toad — and their adventures. My girls have loved reading this book where the themes of friendship and loyalty have led to some great discussions about "what is a good friend" and how to be one.
Where the Sidewalk Ends: The Poems & Drawings of Shel Silverstein  An excellent way to introduce a child to poetry in a fun, nonthreatening way. Every child should have this collection.
Roald Dahl's 5-Book Box Set  This hardcover collection includes Charlie & the Chocolate Factory, Charlie & the Glass Elevator, Danny the Champion of the World, James & the Giant Peach, and Fantastic Mr. Fox.
Middle School
Harry Potter Paperback Box Set (Books 1-7) by J.K. Rowling   Get the complete set of Harry Potter books for your mature middle schooler. These books are not just page-turners but quality literature filled with universal themes of friendship and good versus evil. Middle school might be too young for some kids, so consider the maturity level and content of the books and use your own discretion.
Little House Nine-Book Box Set by Laura Ingalls Wilder  A perfect collection for girls, the Little House series is set during Pioneer times in America and chronicles the author's life growing up on the Western frontier.
Favorite Thornton Burgess Animal Stories Boxed Set  For the animal and/or nature lover, six of Thornton Burgess's best-loved animal tales are included in one convenient storage case. Stories feature the beloved Burgess characters: Peter Cottontail, Reddy the Fox, Happy Jack, Grandfather Fox and more.
The Chronicles of Narnia Box Set by C.S. Lewis  Follow the adventures of Lucy, Edmund, Peter and Susan as they enter the wardrobe and are taken to the magical realm of Narnia where children become kings and queens and animals talk. This set includes all 7 books and is sure to delight readers who enjoy fantasy literature.
High School
The Lord of the Rings Four-Book Series by J.R.R. Tolkien   This enchanting series by Tolkien traces the journey of one hobbit as he battles, with the help of other fantastic characters, forces of evil including the dragon Smaug, greedy Gollum, and the dark lord Sauron as well as Orcs and other horrific monsters. Action, adventure, allegory, fantasy, and science fiction all find their place in Tolkien's classic works. This collection is a keepsake to be passed on.
Anne of Green Gables by L.M. Montgomery  You can't help but fall in love with Anne, the little redheaded orphan girl inadvertently adopted by a woman and her brother who were actually looking for a boy. Anne is witty, adventurous, and prone to accidents, but her stories will make you laugh. This is just the first in Montgomery's 8-book series but a great starting place.
Little Women by Louisa May Alcott  This beautiful edition of Alcott's classic set during the Civil War features four sisters, Meg, Jo, Beth, and Amy. The looming question is whether father will come home safely from the war, and the sisters unite in familial love to keep strong and provide for themselves and others in the midst of poverty.
Fahrenheit 451 by Ray Bradbury  Set in the future, this dystopian novel presents a vivid picture of what life would look like if books, with all their troublesome ideas, were burned and mindless television became boss. Follow the protagonist Guy Montag, a fireman who is responsible for burning books, as he uncovers truth and faces danger as a result.
To Kill a Mockingbird by Harper Lee  An American classic set in Alabama during the Depression, To Kill a Mockingbird is a story told from the perspective of an 8-year-old girl whose father is a lawyer defending a black man accused of raping a white woman. Issues of race, justice, and class and the struggles of growing up make this a novel with universal appeal. Winner of the Pulitzer Prize in 1961.
Unlike toys that break and lose their appeal after a few days, a great book will stay with a child from the cradle to the grave.
Have you ever received a really good book for Christmas? What was it? What book(s) would you add to my list?

Reading can be fun, but it can also be challenging for some students. We have a reading Pinterest board where you're sure to find some great ideas for your readers!
Follow Misty Leask's board Homeschool : Reading on Pinterest.