Christmas is right around the corner. I am one of those parents who love getting educational gifts for their children. So, with the Christmas season on its way and many bustling around finishing up their Christmas list gift buying, here is a list with great educational gifts that will help reinforce any child's history studies.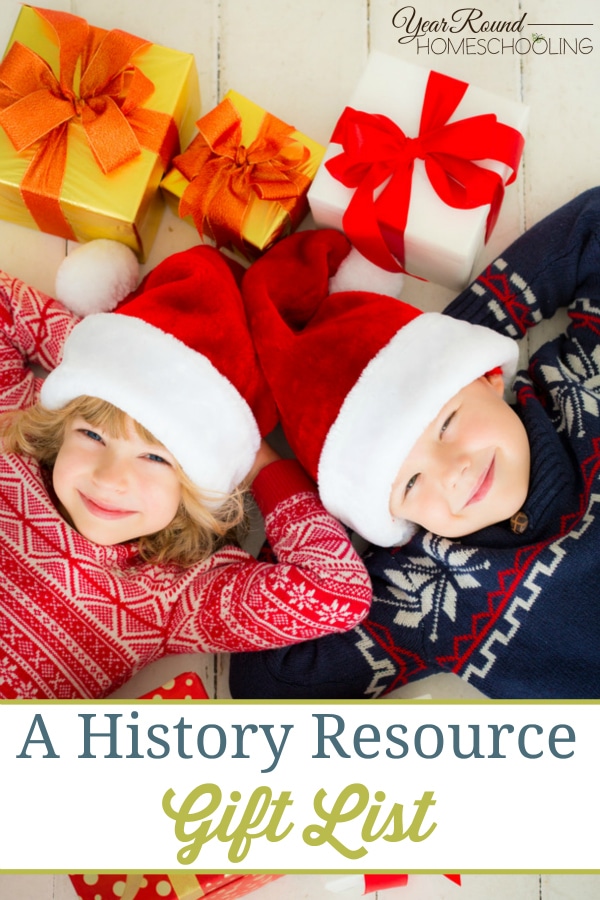 1)   A membership to a museum – We have been members to a couple of museums in the past and these have been wonderful to have. It is is such a great way to make history come alive. An added benefit of these memberships is that with just one membership you can have access to other similar museums all around North America (Canada included). This gift is definitely worth the cost.
2)  A gift card to a bookstore, such as Amazon, or Barnes and Nobles. History resources are gifts that you can never have too many of. By gifting someone with a gift card to a bookstore, the child or the parent can get books they need when they need it, plus they can wait for a sale to make the most of your gift.
3) Online memberships to websites that offer history resources. One of my favorite is Brain Pop, this particular site offers a tons of resources on other topics as well.
4) Maps and atlases – This is an easy one but we use our maps A LOT. The following maps are essential; world map, map of Europe (especially as these borders keep changing), Africa and South America. Maps are always welcome in a homeschooling home and talking globes make great gifts!
5) History magazine membership – My son has been enjoying the Quest Magazine put out by Knowledge Quest. It is colorful and full of relevant history and interesting historical content.
6). Historical DVD series – PBS has entire collections available such has the Empires Collection and the History Channel and National Geographic have some as well. That said, I would be amiss not to mention The Horrible History DVD set. My boys have really enjoyed watching these, they are extremely funny and full of history facts (the books are also available for purchase).
7) History Board games. I wrote a post earlier this year on 15 History Games worth checking out and there are more educational board game ideas here.
What educational gifts have you purchased for your kids so far this year?