Each year when the Build Your Bundle Sale arrives I hear from homeschool moms like you that it is both exciting and overwhelming. You only have one week to scour through over 200 amazing digital homeschool curriculum resources and that puts a lot of pressure on you during your already busy days. I completely understand. That's why I decided to share a few tips and a brief synopsis of ALL 20 bundles, the memberships and courses included in this year's Build Your Bundle Sale.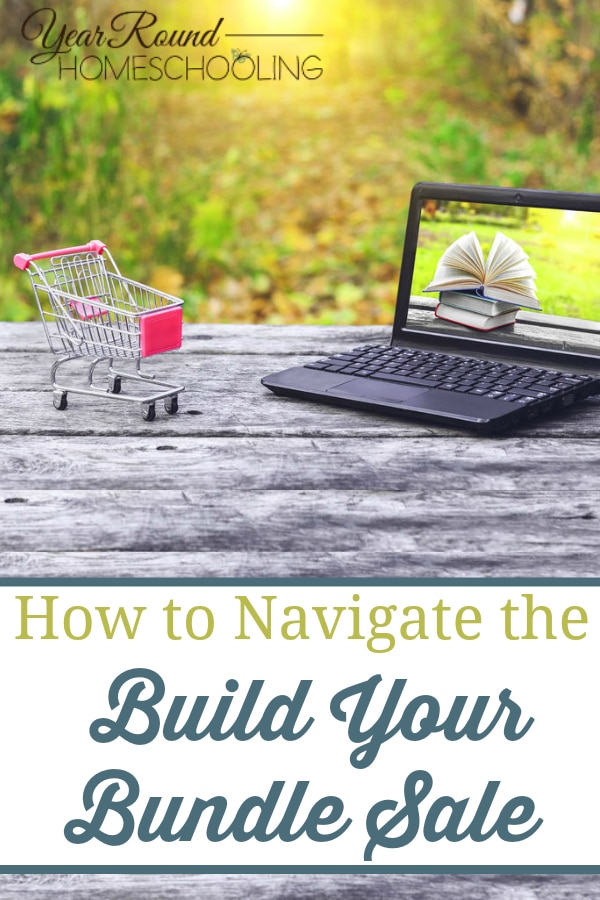 I truly believe in this sale, that's why I continue to participate and share it with you year after year. As a frugal homeschool mom, I've found that I'm able to provide my kids with an amazing education while following a child led homeschooling method and save money while doing so by shopping the Build Your Bundle Sale.
Our children's education is in our hands, but we don't have to do it all on our own. Take time to ask the Lord to guide and direct you as you begin shopping for your digital homeschool curriculum.
These will help you create a list of digital homeschool curriculum you need and want from this year's BYB sale. They will also help you keep track of your budget as you're shopping.
The beauty of the Build Your Bundle Sale is that while there are pre-assembled bundles for you to choose from that is NOT your only option! You can build your own bundles by selecting the resources that YOU need and want for YOUR homeschool!
Browse through each of the 20 bundles one at a time (keep reading for a quick synopsis of each of them to get started)
Make sure you take a break after each one, if you click through one after another after another you'll become overwhelmed. I encourage you to look through all of the bundles because often there are resources in different bundles than you would normally look at. Often you can easily adapt resources you're interested in for your kids no matter they're age or what bundle they are in.
Make a final list of the bundles and individual resources you've selected
Don't just hang on to the original list you made because it likely has been erased, scratched out and rewritten countless times…if you're like me it has. Create a fresh list featuring your NEEDS and your WANTS. Be sure to separate them so that you can easily make a decision if you must choose between one item or another. Don't forget — the Build Your Bundle Sale offers Buy Two Get One Free for ALL bundles (including  Build Your Own)! 
Take a day (or two!) to pray about your selections
This year's Build Your Bundle Sale ends at 11:59pm EST on May 14th. While I do not suggest waiting until the last day of the sale, I do highly recommend you taking time to pray and talk with your family about the digital homeschool curriculum you're considering purchasing before clicking buy. There's nothing worse than making an impulse purchase and finding that 1) your kids don't like the topics or subjects you've selected and 2) spending money you didn't need to. Remember — the Build Your Bundle Sale offers Buy Two Get One Free – if you buy two pre-assembled bundles you get one free and if you buy two build your own bundles you get one free. 
(Optional) Have your kids look through them with you 
There have been times when I've seen a digital homeschool curriculum and thought that my kids would for sure love it and I've been wrong. So, now I always have them look through everything with me before making my final decision. I've been surprised by topics and subjects they have actually picked out on their own as well! 
The Short Version of the 20 Bundles, Memberships and Courses in the 2018 Build Your Bundle Sale
Please note, there is A LOT of information below. Take your time to go through and process it. If you'd like more specifics on a bundle's details simply click the title of the bundle to be taken to its page on the Build Your Bundle site. 
The Brother and Sister Bundle is designed to be a convenient resource for homeschool moms with both sons and daughters. Inside this years Brother and Sister Bundle you'll find:
Bible study for siblings
2 Skill Trek mini bundles

Featuring life skills like – cleaning a fish, checking the oil, making a pie from scratch, candle making and more.

Mommy 'N Me eCookbook
Real Men 103: Leadership

A one-credit high school life skills course designed to raise sons to be strong leaders it encourages weekly mentoring time with dad.

Soccer Unit Study
Proverbs to Live By Paper Dolls Set
American Girl Kirsten History Unit
American Girl Molly History Unit
Pink Butterflies Student Planner
God's Girls 105: Homemaking

In addition to weekly mentoring time with mom this course teaches young women how to manage their future homes through Bible study, living books, hands-on projects and more.
The Character Bundle is full of high-quality Biblical resources to use in your personal Bible time, family Bible time or homeschool Bible class. 
12 Week Missionary Study
Bible Parable Study
Proverbs 31 Bible Study Toolkit
What God is Doing: 26 Old Testament Object Lessons for Kids
Praying Through Proverbs: 31 Days of Marriage Strengthening Prayers
Seeking Him – Moms In the Word: A 3 Week Video eCourse
Valiant & Biblical: A Bible Study on Being a Godly Wife
The Omni-God: A 9 Week Personal Character Bible Study
The Way I Should Go Vol. 2

Biblical character studies covering attentiveness, peacefulness, joyfulness, goodness, flexibility, gentleness, generosity, fairness, orderliness, forgiveness, thoroughness and discretion.

A Surrendered Heart

Bible based workbook, journal and printables to enable you to take steps to grow in love for your husband.

Beautiful Worship: A Christian Faith and Scripture Study Guide

Over 800 pages of resources including Scripture reading plans, prayer selections, faith journaling and hymn study pages, Scripture reading plan study pages and much more!

The Armor of God (Leader's Guide and Student Workbook)
The Prayerful Homeschooler

Pray through 8 areas of your family and homeschool life using the worksheets, prayer journal, Scripture coloring pages and 30 day prayer calendar included in this eBook.
The Charlotte Mason Bundle features a full history curriculum for ALL grades, nature studies, copywork, a Shakespeare online unit study and much more! 
Wayfarers: Revolution Term 1

A full curriculum History guide for all grades following a classical rotation and Charlotte Mason inspired with a focus on living books, copywork and narration.

Charlotte Mason Inspired Kindergarten Curriculum
The Mystery of History Vol. 3 Audio Mp3s (Quarters 1 and 2)
The Mystery of History Vol. 3 Folderbook (Quarter 1)
K-2 Primary Unit Program

This curriculum will take your student from K-2nd grade in history, language arts, science and fine arts.

Shared Wonder Nature Study Vol. 1 and Vol. 2
BiblioPlan's Year 3 U.S. and World History Mp3 Audiobook
Level 2 History Cursive Writing Curriculum
Charlotte Mason Planning Guide
Tea Time Vol. 1 and Vol. 2

A Modern Charlotte Mason offers 180 daily lesson plans incorporating poetry, picture study, Shakespeare, recitation and composer study into an afternoon "tea time".

Patriotic Songs and Sayings Cursive Copywork
8 Historical Biographies

Featuring: Eve, Noah, Gilgamesh, Imhotep, Daniel, Cyrus the Great, Eratosthenes and Constantine.

Shakespeare Course

A self paced, online unit study for students in 2nd-6th grade, but it easily adaptable for older students too!

Character Copywork
Claude Monet Artist Study
The Charlotte Mason Complete Homeschool Planner
The Early Learning Bundle #1 includes Skill Trek's express Preschool mini bundle, a complete Preschool phonics curriculum, craft resources, Kindergarten math and much more!
Skill Trek Express Preschool Mini Bundle

Including life skill lessons on stranger danger, tying shoelaces, washing your hands,  making your bed and more.

Phonics with Penmanship – Year One

A full year preschool age program that teaches your child each sound that every letter makes combined with penmanship skills. This curriculum includes a Teacher's Manual, Student Workbook and Phonics Cards.

A-Z Maze Filled Handwriting Fun
Level A Reading Program
No Prep Craft Pack
Kindergarten Math Unit One (Numbers 1-10)
ABC Letter Mats
Sight Word Worksheets: Pre-Primer Edition
Learning Puzzle Pack
DIY Calendar and Weather Center
Child-Led Learning Activities for Toddlers and Preschoolers
PreK-K Traceable Bible Sampler
Morning Work for Kindergarten 1st Semester
Sight Word Mini Fluency Books
The Early Learning Bundle #2 includes a full year Kindergarten phonics curriculum, reading curriculum, montessori game pack, playdough mats, interactive flip books and much more! 
Kindergarten Math Unit 2 (Numbers 11-20)
Through the Bible A-Z (NIV format)
Level B Reading Program
Hands-on Alphabet for Preschoolers
Phonics with Penmanship – Year Two

A full year Kindergarten age program that teaches your child each sound that phonetic combinations make combined with penmanship skills. This curriculum includes a Teacher's Manual, Student Workbook and Phonics Cards.

Teaching Reading Made Easy – Teacher's Manual
Montessori-Inspired Preschool Game Pack
Animal Alphabet Do-a-Dot Pack
40 Sight Word Early Readers
Alphabet Box Labels and Moveable Alphabet

Manuscript, D'Nealian and Cursive

Preschool Curriculum

Featuring 20 thematic units for preschool children (ages 3-5) aligned to Core Knowledge Standards.

Biblically Focused Homeschool Program for K3-K5 Cursive Edition

Students will focus on the Fruit of the Spirit in Galatians as they master letter sounds, math concepts, color and shapes and more.

Capital Letters Learning Fun for Preschool
ABC Playdough Mats
Interactive Flip Books Bundle
The Early Learning Bundle #3 features a semester of kindergarten curriculum, preschool skills fun book, dotted alphabet pages and more!
Kindergarten Complete Semester One All Inclusive Set
Preschool Skills Fun Book
Confident Homeschool Preschool Bundle

Including a homeschool preschool cheat sheet, preschool skills checklist and preschool supplies checklist.

J is for Jellyfish Dotted Alphabet Pages
M is for Monkey Uppercase Alphabet Tracing Pages
F is for Fox Lowercase Alphabet Tracing Pages
Animal Play

A toddler based program that uses activities about animals to introduce the alphabet, numbers, shapes and colors.

Biblically Focused Homeschool Program for K3-K5 Manuscript Edition

Students will focus on the Fruit of the Spirit in Galatians as they master letter sounds, math concepts, color and shapes and more.
The Elementary Bundle #1 includes hands-on fraction lessons, a history manuscript handwriting program, american history family package, one semester of first grade curriculum, rocks and dirt study, math interactive notebook and much more!
The Mystery of History Vol. 1 Mp3 (Quarter 1 and 2)
Hands On Fraction Lessons
Ancient History Level 1 Manuscript Writing Curriculum
Animals in Time

An A-Z history through the eyes of animals study.

Complete Handwriting Curriculum
First Grade Complete Semester One and Student Workbook
Rocks and Dirt Study
Math Interactive Notebook
1 Year Art Curriculum
Fun with Spelling Grade 4 Vol.1-6
First Grade Morning Work
New Testament Quiz Activity Book
Learning About Science Collection Level 1
The Elementary Bundle #2 features a vocabulary curriculum, solar system study, a 1 year geography curriculum, math cheat sheets, grammar reference bundle, Skill Trek's elementary life skills bundle and much more!
The Mystery of History Vol. 2 Mp3 (Quarter 1 and 2)
The Mystery of History Vol. 2 Folderbook
1 Year Vocabulary Curriculum
Solar System Course
Let's Go Geography Year 1
First Grade Complete Semester Two and Student Workbook
First Grade Bible Verse Charts Semester 1 and 2
The Ultimate Math Cheat Sheets
BIG Grammar Reference Bundle
Skill Trek Elementary Bundle

Includes the following life skills; making sandwiches, not interrupting, learn the months of the year and more!

Simply Cursive Curriculum
4 Week Bible Study on Making Wise Choices (Junior Level)
Continental Map Pages
Beginner Hebrew Learning Notebook
The Beginner's Guide to Atoms and the Periodic Table
The Elementary Bundle #3 includes complete reading curricula, word family readers, language arts curriculum, presidential notebooking project, united states study, weather study and much more!
Level C Reading Curriculum
Level D Reading Curriculum
Word Family Readers
Language Arts Curriculum
Animals and Habitats Study
Presidential Notebooking Project
United States Research Study
Language Arts Interactive Notebook
100 Bible Quizzes Activity Book
Early Elementary Unit Study Planning Pack
Fun with Spelling Grade 5 Vol. 1-6
Learning About Science Level 2
Hands-On Weather Study
Geography Handwriting and Coloring Activity Book
Mystery Series Book and Literature Guides
The Fine Arts Bundle features art history studies, audiobooks, a famous artists online course, classical music course, poetry courses and much more! 
1 Year Ancient Art History Program
Peter and the Wolf Lapbook, Audiobook and Activity Book
Famous Artists Online Unit Study Vol. 2
100 Classical Music Pieces Mini Course
K-4 Jazz Music Study

Covering five jazz legends; Dizzy Gillespie, Nat King Cole, Ella Fitzgerald, Miles Davis and Duke Ellington.

Renaissance Artists Study and Fine Arts Pages
Great American Poets 1 Course
Great American Poets 2 Course
American History Art Appreciation Course

This course covers; Anthony Van Dyck, Gilbert Stuart, John James Audubon, Thomas Cole, Thompkins Harrison Matteson, Frederic Edwin Church, Winslow Homer and Norman Rockwell.

Note Name Flash Card Game
Musical Terms Flash Cards
Music Symbols Flash Cards
Music Intervals and Key Signatures Flash Cards
The Homemaking Bundle includes a mega organizer, fitness program, Skill Trek's homemaking edition, homemaking planner, audio series for burnt out moms and more! 
Healthy Snacks To Go eBook
Mega Organizer for Home, School and Office
Homeschool Mom Fitness Program
Working from Home Guide
Skill Trek's Homemaking Edition

Includes the life skills; meal planning, budgeting, decorating your home, cooking measurements and more!

Blogging Basics Bootcamp
Stop Running on Empty Audio Series
DIY Breakfast Station
Get Out and Live — G.O.A.L.

A 3.5 hour audio program and eBook teaching you to take steps to get out and live life no instead of waiting for "someday".

2018-2019 Homemaker's Weekly Homemaking Planner
The Unorganized Mom 21 Day Challenge
The Homeschool Helps Bundle #1 features homeschooling methods guide, educational charts, online conferences, homeschool planners and much more! 
Homeschooling Methods Guide
The Ultimate Book of Homeschooling Questions
Educational Charts, Graphs and Templates
Into to Worldschooling – See It In Action

Learn what worldschooling is all about through 32 video lessons spanning 8+ countries!

5 Days to Your Best Homeschool Years Course
Encouragement for the Homeschool Mom Online Conference
Digital Homeschool Convention 2017 Videos
Homeschool Records Organizer Box
Weekly Homeschool Planner
Uncomplicated Homeschool Planner
Encouragement for Homeschool Moms eBook
The Homeschool Helps Bundle #2 includes a loop scheduling workshop, the Essential Year Round Homeschooling Planner, Lifeschooling conference videos, encouraging eBooks, homeschool budget course and more!
Education: Does God Have an Opinion eBook

Discover the true purpose of an education, Biblical philosophy of education and how to apply a Biblical worldview to core subjects.

Confidence Building Secrets to Becoming More Successful in Your Homeschool eBook

Receive practical tips and encouragement to help you refocus on your why of homeschooling.

Homeschool Convention Planner and Journal
Simply Homeschool: Have Less Fluff and Bear More Fruit eBook
Loop Scheduling Workshop
Homeschool Budget Transformation Course
Homeschooling That Works Course
The Essential Year Round Homeschooling Planner

Includes pre-planning pages, homeschool curriculum shopping section, monthly/weekly and quarterly planning pages, grading charts, monthly, weekly and quarterly review pages and MUCH MORE!

How to Totally Transform Your Life…Before Breakfast

This course includes a 1.5 hour audio program and workbook.

Flexible Homeschool Planning
The Organized Homeschool Life eBook
2017 Lifeschooling Conference Videos
Focused Homeschool Student Planner
The Parenting Bundle includes a family Bible study on friendship, screen time training course, parenting helps, family vision boards and more! 
Family Bible Study on Friendship
The Routine Approach: Removing Daily Chaos

Learn how to find the natural flow of your family, identify routine robbers, create a routine rhythm and much more!

Motivate Your Child Action Plan

This course includes 12 audio presentations that will walk you through the process of identifying an area of weakness and then naming the character quality that needs to grow in your child's hear.

A Biblical Perspective of Leadership Education
Ending the Struggle Over Screen Time Course
A Parent's Ultimate Guide to Smartphones
Using Family Vision Boards to Strengthen Family Culture
How to Fund Family Travel Course
Dealing with a Difficult Child
Kids' Character Charts
Stay-at-Home Mom's Spring, Summer, Fall and Winter Wardrobe and Outfit Guides
The Special Needs Bundle includes a memory skill workbook, workshops and more! 
Midline Workshop

Through this workshop learn why it's important to cross the midline, 5 midline movement exercises and more!

Working Memory Workbook
Processing Memory and Executive Function Parent Course

Through these four classes you'll learn about the core underlying weaknesses associated with many learning struggling such as dyslexia, dysgraphia, dyscalculia and ADHD.

Behavior and Social Skills Mega Bundle
The Thematic Units Bundle features a US geography and history study, book report pack, Bible quizzes, themed writing prompts, North America ELA unit and much more!
Fraction Building Block Task Cards (Adding and Subtracting)
US Geography and History Study Pack
Interactive Learning Grammar Unit (2nd-4th Grade)
Book Report Pack
Compare and Contrast Unit Resource
200 Bible Quizzes and Word Search Puzzles
Themed Writing Prompts
Famous Scientist Mini Quiz Pack
Exploring Black History Coloring Book Collectino
North America ELA Unit
Vocabulary Geography ELA Unit
Johnny Appleseed Unit Study
Christmas Unit Study
Country Research Study Pack
Earth Day Activities
Arrival of a King Lapbook with Study Guide
Death and Resurrection of a King Lapbook with Study Guide
Thanksgiving Lapbook with Study Guide
Valentines Lapbook with Study Guide
Fourth of July Lapbook with Study Guide
Movie Review Report and Drama
The Unit Studies Bundle includes country study notebooking pages, Manatees unit studyartists lapbook, Veteran's Day unit study and more! 
Country Study Notebooking Pages
John Adams Unit Study
Unit States Study Unit
Hands-On Americas and Oceania

A fun notebooking project the helps students learn the countries of North and South America, the West Indies and Oceania.

Artist Lapbook with Study Guide
Human Body Science Set

This resource includes materials to create 6 differeng lapbooks for the circulatory, nervous, respiratory, skeletal, muscular and digestive systems.

Veteran's Day Unit Study
Thanksgiving Unit Study
Vikings Interactive Unit Study
The Twelve Sons of Jacob Unit Study
Ancient Egypt Matching Cards and Games
Branches of Government Study (3rd-5th Grade, but easily modified)
Manatee Interactive Unit Study
The Upper Grades Bundle #1 features a percents resource, world religions course, online book club, art history curriculum, high school vocabulary, Skill Trek's Jr. High edition and much more!
Practical Percents
World Religions and Cults Vol. 1
College Prep Writing Curriculum
Design Your Own Literature-based High School Courses eBook
A Wrinkle in Time Online Book Club
Periodic Table of Elements Notebooking Pages
Art History Through the Ages Vol. 2
Skill Trek Jr. High Edition

Includes the following life skills lessons; smoke detectors, hiking safely, good nutrition, how to unclog a sink and more!

High School Vocabulary Vol. 1
Paul's Journeys

Teach your students all about the life of Paul the Apostle using the Bible quizzes, maps, creative writing and coloring activities in this book.

The Golden Ratio and Fibonacci Numbers Unit Study
The Homeschool Planner
The Upper Grades Bundle #2 includes graphing calculator activities, essay styles course, a one year Bible curriculum, math skills review, Skill Trek's High School Edition, an Ancient Rome study and much more!
Graphing Calculator Activities
50 Word Roots Every Child Should Know Before High School
Philosophers At A Glance with Ancient History TImeline
Essay Styles for High School Course
Teach Your Child "How to Think" with Mentoring and Study Guide
Bible Road Trip Year 2 Curriculum
4 Week Bible Study on Making Wise Choices (Youth Level)
Math Skills Review for Middle School
Introductory Shakespeare Course (7th-12th Grade)
M.C. Escher and Tessellations Unit Study
Beethoven Who?

A program designed with easy to follow directions for teaching the basics of pitch, rhythm, dynamics and more!

Skill Trek High School Edition

Life skills included: how to get out of debt or avoid debt, mowing a lawn, simplifying complex tasks, serving your community, giving 110% and checking a car's fluids.

Ancient Rome Study
2018-2019 Middle and High School Planners for Boys and Girls
Tried and True: Family Time Activities for Teens
While I can't tell you exactly what is in the mystery bundle, I can tell you that a little bit…
There two history resources, a geography bundle, a full reading curriculum, copywork, two homemaking resources, a themed unit study, language arts supplements and math products.
This bundle is geared elementary students with some resources suitable for early learners as well, but there are no upper grade materials in the mystery bundle. 
Online Courses
For Students
This live online interactive course is taught from a Biblical perspective to Middle and High Schoolers and the classes are 60/minutes once a week for 4 weeks.
Enhance your children's music class with the access to online games, song and activity sheets that coordinate with over 180 online video lessons. You can read about how we've used Hoffman Academy in our homeschool here.  
This full year, online Chemistry course is 50% off and it features 18 lessons with quizzes and test scripts. The curriculum is worldview neutral and provides audio-visual technique to teach in a step-by-step manner. (It is recommended that students take these courses in the following order; Chemistry, Biology and Physics)
This full year, online Biology course is 50% off and it features 18 lessons with quizzes and test scripts. The curriculum is worldview neutral and provides audio-visual technique to teach in a step-by-step manner. (It is recommended that students take these courses in the following order; Chemistry, Biology and Physics)
This full year, online Physics course is 50% off and it features 18 lessons with quizzes and test scripts. The curriculum is worldview neutral and provides audio-visual technique to teach in a step-by-step manner. (It is recommended that students take these courses in the following order; Chemistry, Biology and Physics)
Through the Unbreakable Faith course you'll learn of the infinite excellence of God's perfections, it will expose unbelief as irrational and unscientific blind faith and demonstrate the impossibility of life and the universe without God. Your high school students can at completion of this course receive a full credit.
For Parents
With this all access, lifetime pass you get 25+ videos (and lots of bonuses!) from top Christian homeschooling and parenting speakers. You'll receive exclusive, Christ-centered parenting, encouragement to help you homeschool.
This online video course features 18 short videos to enable Christian parents to build a strong foundation. You'll receive a workbook, printable prayer journal and a bonus video on First Time Obedience.
The lifetime, all access pass lets you view the 40+ expert interviews whenever is convenient for you, from the comfort of your home. Discover winning strategies, mistakes to avoid and experience to help you parent your teens toward a lifelong relationship with Jesus.
Extend your Teach Them Diligently experience to year round! Weekly video content, audio recording library access, monthly "virtual meetups" with other members of the TTD365 community and much more!
This is a 6 week class featuring 30+ lessons filled with hands-on activities, group coaching and mentoring and much more!
Over the course of 4 weeks busy moms will be receive weekly video lessons that teach you how to blend your styles, choose the best colors for your body type and create a closet of clothes designed uniquely for you. You'll also have access to a private Facebook group with the creator, receive a workbook and more!
Memberships
This 6 month membership featuring the entire Skill Trek software is ONLY available through the Build Your Bundle Sale. There are 18 categories covering a wide range of life skills for kids of all ages!
There are over 300 self paced, online classes grounded in a Biblical worldview available to every student in your home through this 1 year membership at 50% off.
With a 1 year access to this music program you'll be able to expand your child's musical skills from the comfort of your home. You'll have access to all of the series within the membership including; Preschool Prodigies, Primary Prodigies, Recorder Prodigies, PsP Melodies and Holiday Prodigies, featuring 200+ video music lessons, printable workbooks, songbooks, lesson plans and more!
Bring your kids (ages 1-7) together through 90+ musical activities featuring song, dance and rhyme with a 3 or 6 month membership at 50% off.
Making your homeschool plans, keeping records and printing reports are easy with 50% off a 1 year membership.
Phew! I know that is A LOT of information, but I hope that having a synopsis of all the bundles, courses and memberships in one place will make this year's Build Your Bundle Sale a lot easier for you! It may even be a little bit more fun for you if you use the tips I shared too!
What do you love (or dislike) about the Build Your Bundle Sale?