**Please note resources mentioned in this post may have been received for free or I may have received monetary compensation to write this post. However, the reviews are my personal opinion. For more information, please see my disclosure page.*
I love finding new movies that my children and I can sit down and enjoy together. This is becoming increasingly difficult for me because I tend to be strict about topics like boyfriends/girlfriends and crude humor. When I find a new movie (or even better a series!) that teaches them about the Lord that is true blessing!
Today I'm excited to share a brand new movie that is perfect for the upcoming Christmas holiday!
Iesodo Joy is the newest movie in the Iesodo series.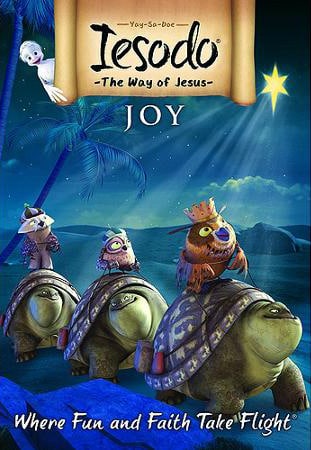 About Iesodo Joy
In Iesodo Joy you'll fall in love with Iesodo, Maggie, Barry, Rocky, Tom, Jack and Jacob again! This time their sharing the story of Iesodo's birth, which is the story of Jesus' birth because Iesodo is a picture of Christ.
Throughout the movie you'll be surprised to hear familiar Christmas carols with fun new lyrics added that fit the movie's characters and theme. Your children will love learning the new lyrics so they can sing along!
What I Really Love About Iesodo Joy
I love that the movie is set as a time of story telling
The vibrant colors are eye catching and mesmerize young children and older kids alike
The Christmas carols are a great way to tie in and the new lyrics are fun
Who Will Really Enjoy Iesodo Joy
These DVDs are geared towards kids from the age of 1 to approximately 10 yrs. My 11 y r. old watched it with me for this review with no complaint and watched it in it's entirety, but I don't think he would watch it of his own choosing alone.
This series is a great way to bring the entire family together and after watching any of the movies you can have wonderful conversations about the Bible stories that it represented.
Be sure to swing by the "Iesodo" website for sneak peeks, music videos, fun & games and more!
Now it's time for the Hearts for Home Link Up! Please link up your family friendly posts below!
The most viewed post from last week was from Jolene at Monster's Ed Homeschooling Academy with their post, 2014/2015 Curriculum – Our Final Decision.