If you're a homeschooler, you've surely been asked what brought you to make this decision for your family. It might have come in the form of a question like "What on earth possessed you to do THAT?"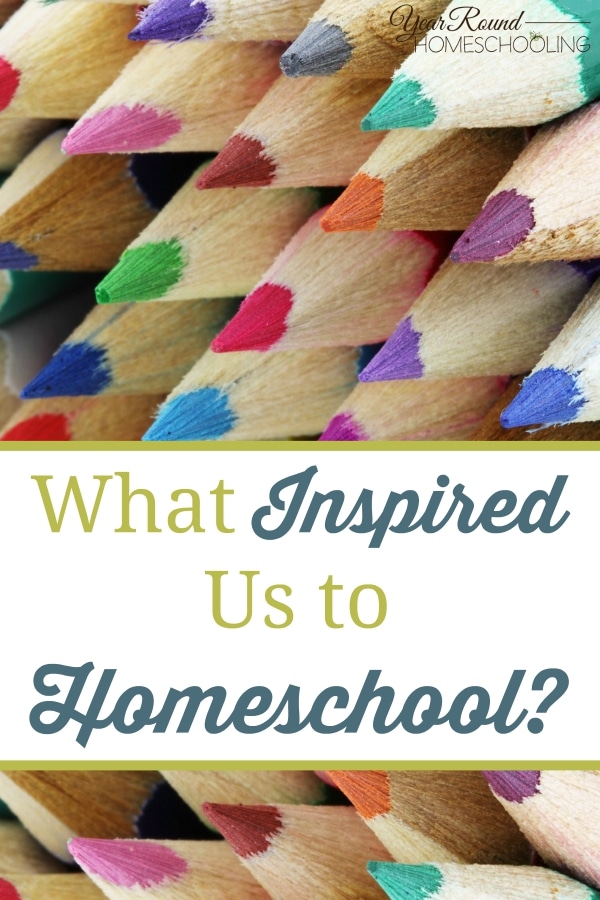 The truth is, I never pictured myself homeschooling. In fact, I'd never even heard of such a thing, until my oldest child was getting ready to enter kindergarten and I wasn't sure it was a good idea. I was NOT ready for my baby to be gone all day, 5 days per week. When I was growing up, we had half-day kindergarten, which seems appropriate for a 5-year-old child. Full-day kindergarten does not. Unfortunately, many families have two working parents, so full-day K has become the rule rather than the exception. There were no options for a half-day program where we lived at that time, beyond a very expensive private school.
Thankfully, a fellow ballet mom told me about homeschooling. She even let me come to her house and peruse her books. There was a meeting at her church during which people shared about homeschooling and why they chose that path for their families. My husband and I went, and we knew when we left there that we wanted to homeschool our children. We started that fall with my oldest in kindergarten at home, and haven't looked back since. I've dreamed fondly of the big yellow bus on many occasions, but at the end of every day, good, bad or ugly, I'm glad my children are home with me.
We fell quite naturally into year-round homeschooling, because we live quite a long distance from any of our family, and homeschooling allows us the flexibility to see them when they're available without worrying about our schedule too much. I plan for a certain amount of time off around the holidays, and for each child's birthday, and that leaves us with some slack time to squeeze in extra visits with grandparents if they want to come down to see us. We used to live in an area with year-round schools, which made this plan pretty simple. We now live in an area with schools on a traditional calendar, but we don't have a ton of kids in our neighborhood, so mine don't feel too terribly put-upon when we do school in the summertime. It's too hot to be outside for much of the day, anyway. We'd rather have longer breaks in the spring and fall when the weather just begs us to come outside and play.
The other benefit of year-round homeschooling is that shorter breaks give kids less time to forget things. Even when we are on break, if we don't have anything going on, I try to get my kids to do a tiny bit of math, just so they don't come back to the table brain-dead when break is over.
When it comes down to it, I'm thankful my children are learning with me at home. I hope they're having half as much fun as I am – I'm learning so much along with them! As my oldest enters 9th grade this year (please don't make me call it "high school;" I'm not ready!), I can see all too clearly how little time I have with each of these beautiful people God graciously loaned to our family. I don't want to miss a minute of it.
Follow all our encouraging year round homeschooling stories by visiting our Pinterest board below.
Follow Misty Leask's board Homeschooling Year Round Stories on Pinterest.