The beauty of Mansfield Park is that Fanny Price is unlike any other heroine that Jane Austen penned. Her life isn't a storybook romance, in fact she comes from an impoverished family. This Mansfield Park Movie Study provides a fun way to incorporate a movie night into your homeschooling.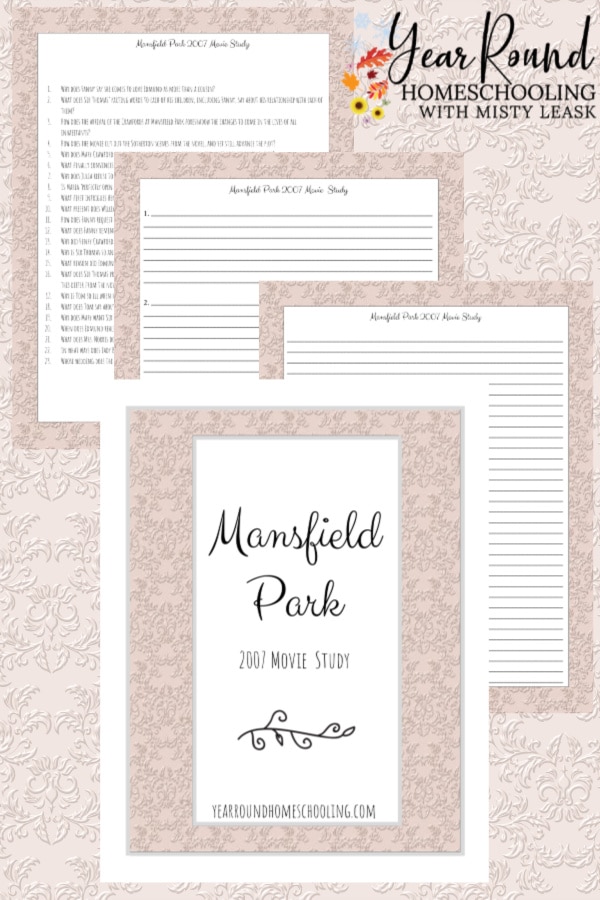 The Mansfield Park Movie Study Pack contains questions that can be used as discussion topics if you're watching the movie together as a family or your students can simply complete them on their own.
There are also several different styles of paper included to provide you the utmost flexibility to customize the study to your students.
What I love about Mansfield Park is that it is different than many of Jane Austen's other books. It requires you deeper reflection into each character to discover exactly who they are.
For those of you that may not enjoy the level of romance found in many of her books, I encourage you to read and complete the Mansfield Park Book Study prior to watching the movie and completing this study.
The books that Jane Austen has written are loved by many today. In fact, in England, they have a yearly celebration where fans dress up and gather to celebrate their love for her and literature.
If you enjoy Jane Austen as I do, continue to keep an eye out for new resources based on her books in my store.
If you haven't read the book, Mansfield Park, remember that you should always read before watching. You can grab the Mansfield Park Book Study here.