Many times we leave Bible teaching to Sunday School teachers and Pastors in our churches, but the responsibility to raise Godly children falls our shoulders as parents. God gave us our children as a great gift and we need to be faithful to teach them through the Word of God. Teaching our children about Jesus through the gospels which tell the story of His life on earth is a great place to begin!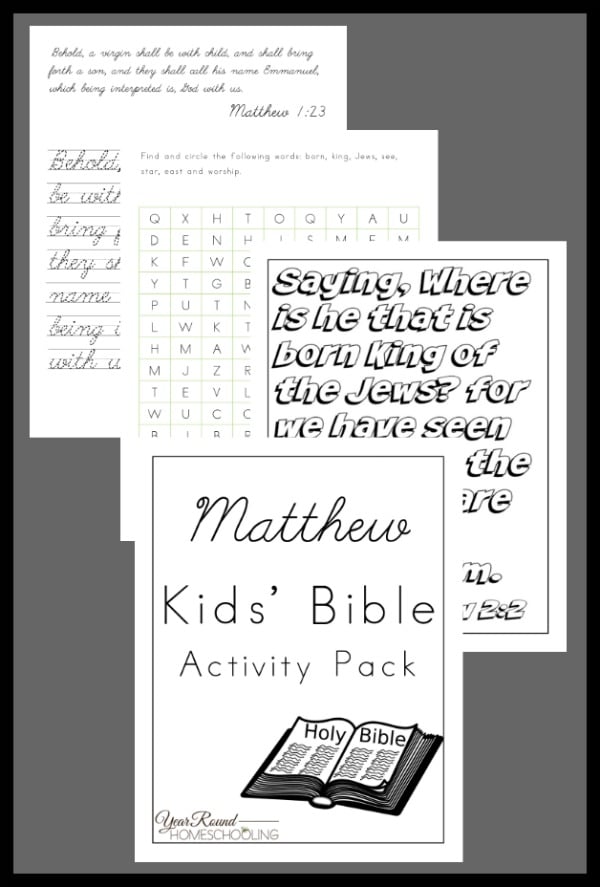 Inside this fun Matthews Kids' Bible Activity Pack you'll find over 250 pages including; penmanship pages, memorization games, word searches and more!
You'll find all current and future Kids' Bible Activity Packs that I create here! 

To receive this Matthew Kids' Bible Activity Pack you MUST sign up to receive our emails below.
Be sure to check your spam for the file. It will be coming from [email protected]
I didn't design this Bible activity pack to be used alone for your Bible classes, but to aid in the memorization and love of God's Word. Please ensure that you take time to read through the books of the Bible with your children as you utilize these Bible activity packs in your home and homeschools.