This Mend My Broken Heart craft is a great activity for your preschoolers. It is the perfect activity to kick start conversations regarding feelings and the importance of choosing words carefully.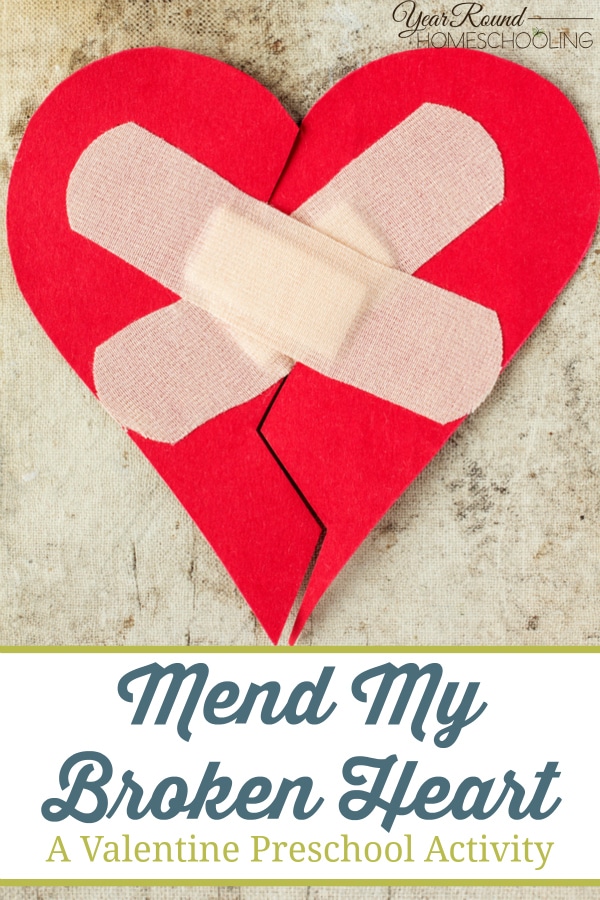 Mend My Broken Heart Valentine Preschool Activity
1) First print the Valentine Heart Printable by clicking here.
Ideally, you will want to print it on card stock. If you do not have any card stock then you can print it on regular paper. To make it more durable, simply glue the paper to a sheet of cardboard (a cereal box works great as well).
2) Cut out the heart and cut along the lines given.
If you want to customize your pieces, then the second sheet in the Mend My Heart printable can be used.
3) If this is the first time your preschooler is doing a puzzle, then demonstrate how it is put together first.
On the second try, the both of you should do it together. On the third attempt, perhaps your preschooler will be brave enough to try it on their own.
4) Once the heart is put together, you need to mend it with bandages. Grab a few bandages and have your preschooler place them on the heart.
Other Valentine Preschool Activities Suggestions
1) Read a few Valentine books. Some of our favorites can be found here.
2) Create a Valentine sensory bin.
3) If you are crafty, have your preschooler make Valentine cards. You can even make Valentine snacks.
What is your preschooler's favorite activity for Valentine's Day?