As children get older it becomes more important to note what books they are reading and how long they read throughout a homeschool year. I designed these Middle and High School Reading Charts to help you do just that!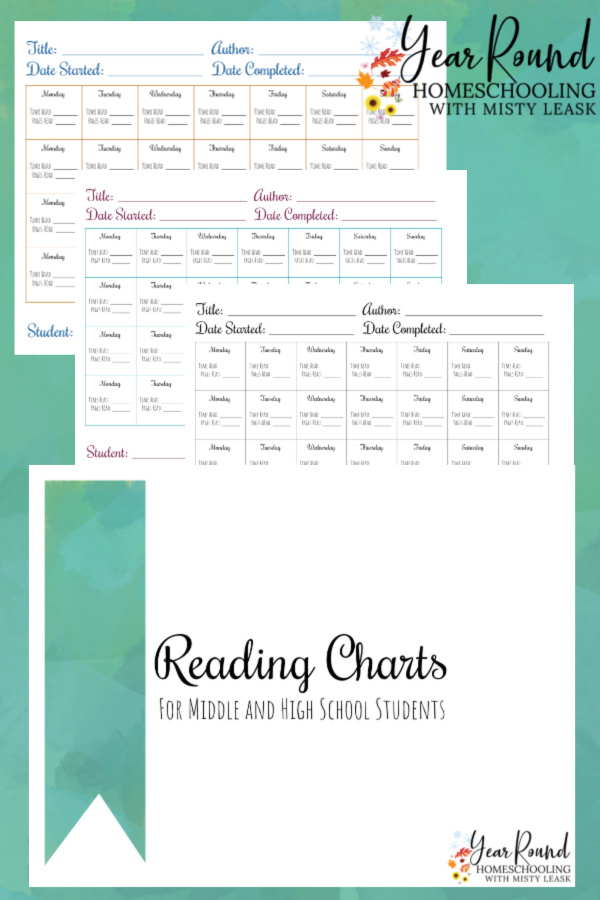 Once my children reached middle school, I took a step back from their studies. Since they were young, I had been preparing them to be independent learners.
When they entered the tween years, I knew it was time to let them spread their wings a bit. I needed to make them more responsible for their education.
Perhaps your tweens and teens aren't quite ready to be independent, but you'd like to start moving in that direction.
These reading charts are a great first step. By printing them and handing them over to your students, you are making them responsible for one part of their homeschooling journey.
Each of the reading charts is designed to track four weeks of your student's reading. There are a few different color options and a black and white option as well.
These Middle and High School Reading Charts provide a simple way for you to keep track of both the books your tweens and teens have read and how often they read.
This is an easy way to tally hours and books read for homeschool records and even high school transcripts.