The study of sharks can be both a fun and educational experience. With scientists continually learning more about these fascinating creatures, there is always something new to learn. This makes sharks a fantastic science study that can be completed time and time again.

This collection a great addition to a unit study or Shark Week for tweens that are truly interested in learning about sharks. They'll spend a considerable amount of time researching more than 50 shark species as part of their research project.
Researching is a skill that your children will need in high school and college years. Middle school is the perfect time to begin incorporating research projects into their homeschooling.
The easiest way that I've found to prepare tweens for research projects is by allowing them to either select a topic of study or choosing one that I know interests them. All children will do their best when studying something that they enjoy.
Providing tweens with the opportunity to dig into a topic of interest to them will likely inspire them to dig deeper than they ever have before. This middle school shark learning collection will encourage them to do so. It is also a great addition to Shark Week for students that are truly interested in learning about the latest research in sharks.
Middle School Shark Learning Collection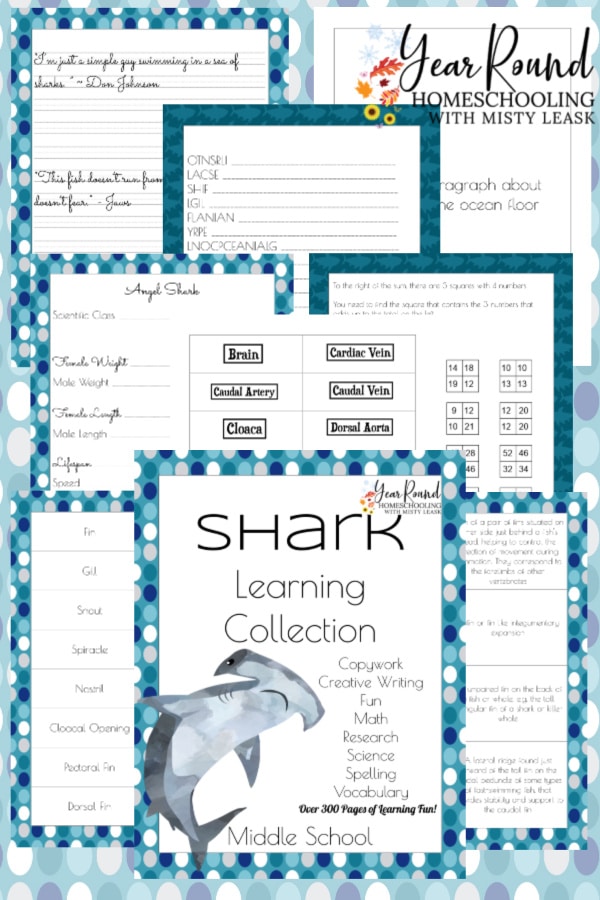 This Middle School Shark Learning Collection is filled with more than 300 pages of fun and educational activities! They've been placed into 8 individual packs for ease of use. You can easily pick and choose the activities that your children want and skip those that they don't need or won't enjoy.
There are tons of activities to keep your tweens busy learning about sharks and more! Inside you'll find over 300 pages including…
Science Pages
Creative Writing Exercises
Vocabulary Activities
Math Resources
Copywork Sheets
Research Projects (featuring 50+ sharks species!)
Spelling Practice
and lots more fun stuff!
You can encourage your tweens to enjoy learning by using this collection that is filled with fun activities designed just for them. They'll soon discover that you can have fun and learn at the same time! It really is a win-win situation – for you, the homeschool parent and them, the homeschool kid.
The Middle School Shark Learning Collection is filled with everything you need to give your tweens a fun-filled summer of learning!
Your tweens won't even realize that they're "doing school" when completing the activities inside this collection. They'll be too busy having playing games and learning in fun new ways!
$5 for the entire Middle School Shark Learning Collection! (But hurry this is a limited time offer! The sale ends August 8th!)