In today's digital age, we have amazing resources to help kids have fun learning. These online educational games and apps help your child learn while making it fun and exciting!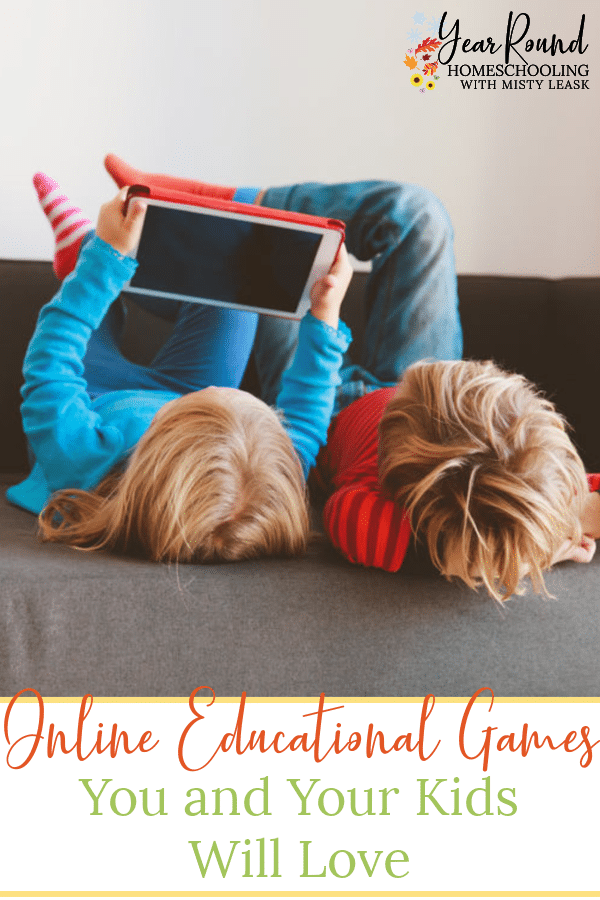 Imagine this. Your kids not only sitting down to complete an assignment without a fight but willingly volunteering to spend time on it!
We all know that our kids do better when they are exposed to different types of learning. Sometimes learning by reading is best, sometimes listening to a lecture works, sometimes they need a hands-on activity, and sometimes a game just helps solidify knowledge. The best thing about a game is they are having fun learning and sometimes don't even realize they are learning.
We all know kids learn well when they are having fun. The lessons stick better, and they are more willing to work on learning when they are having fun.
15+ Online Educational Games for Kids
Teach Your Monster to Read is one of the best reading programs on the market for kids. This free program is sponsored by The Usborne Foundation run by Usborne Books. In this online program, your kids can go through A series of games that help build reading skills while earning rewards for dressing up their monsters. These games build phonic skills and help your child learn reading basics as well as improve their reading skills.
ABC Mouse is a classic that has been popular with young kids for years. This online program puts your child into a virtual classroom where they can explore and learn in a fun and exciting way that keeps kids engaged. In this virtual classroom, your child will go through an entire curriculum using online games, books, music, and other activities designed to teach your child while keeping them engaged.
Adventure academy, a program made and molded after ABC mouse but designed for older children and young teens, takes your kids through a virtual school with over 4000 lessons covering a full curriculum making it a great tool for keeping your kids busy and learning all summer long helping to fill in any gaps from the past couple very difficult school years.
Night ZooKeeper is designed to help kids fall in love with writing as they build strong and effective writing skills. Writing is one subject that many children are reluctant to work on. It is intimidating and can be stressful. This program is set up to make writing a magical game helping inspire them with their own art to write. This is a great way to encourage creativity and learning for your child.
National Geographic Kids offers a wide range of games and activities to explore the world. Here your child can find games that teach science, geography, and history to help keep them occupied and learning. These games are great for summer activities or for working into unit studies to help make learning fun.
Vocabulary Spelling City is packed with fun games and activities you can customize to any word list you have, allowing you to create custom lessons for your child to help them master spelling while having fun playing games. For kids that struggle with focusing on learning to spell, this can be a great tool for getting your child's spelling list to sick.
Where on Google Earth is Carmen Sandiego is a fun google earth game based on the "Where is Carmen Sandiego" series. Just like with the show, your kids will use clues to figure out where Carmen is. This game helps your child learn geography as they interact with satellite renderings of the earth from Google Earth as they interview witnesses for clues.
Gamestar Mechanic is a great web-based game that helps kids learn to code and create their own games. Here they will play, design, and share their games with others as they build on to their skills through engaging play. Skills like coding are becoming more and more valuable by the day. Teaching our children these skills helps give them an advantage in the job market when they are older.
Camp Wonderopolis is an online summer camp program that lets kids explore and learn and have fun. This is designed to help stop summer learning loss and makes a great addition to any summer homeschool program for families that homeschool year-round. Choose between one of 5 camps to explore and learn about many interesting topics. From health and fitness to construction and engineering, there are lessons here anyone can enjoy.
Adapted Mind offers a free month trial of math games for students from skill levels equivalent to first grade with counting and pattern math all the way up to 8th grade with fractions and algebra.
education.com offers free math games for our children to play and learn different math facts.
A book in time's website has a great selection of historical games for your children to explore. It has links to games exploring different decades as well as interactive stories, biographies, and short films. Some are free and some require a subscription fee.
PBS kids has great options for your children to learn about history for free. There are games exploring history, geography, music, and art for your young learners.
Mission US is perfect for exploring US history while role-playing your way through a game as a character from a specific period in time with no fees.
Educational apps for kids
Apps are also a great resource for your kids to learn from while having fun. Kids love them and they are great "entertainment" for road trips.
The Time Tribe – This fun app helps engage kids in the wonders of history. Your child will explore history, archeology, and world cultures in a thrilling and evolving mystery game in this game.
DragonBox apps – The Dragon Box apps are amazing tools for teaching kids math. These games are designed to make learning complicated concepts, like algebra and geometry, in a fun way that doesn't feel like learning. This helps kids work past the apprehension math often causes.
Toca Lab – This app comes in two versions. Elements that teach your child the 118 elements on the periodic table of elements allowing them to experiment combining elements to see what happens. The other version is Plants and teaches how plants grow and change.
If you're looking for subject-specific apps, these are the lists for music, foreign language and American sign language that I've organized for you already.
There are countless educational games out there, these are just a few to get you started. Make learning fun for your kids and you'll be surprised to find them excited to begin each new homeschool day. In the long run, you'll be instilling a love for learning that will last a lifetime.
What are your favorite online educational games?