There are many reasons why we have chosen to homeschool our children, but one of the main reasons is that we want to teach them that their character matters more than anything a formal education can give you. After all, if we, as homeschoolers merely teach the lessons found inside our homeschool curriculum and resources won't we be missing out on the biggest blessing that homeschooling can provide?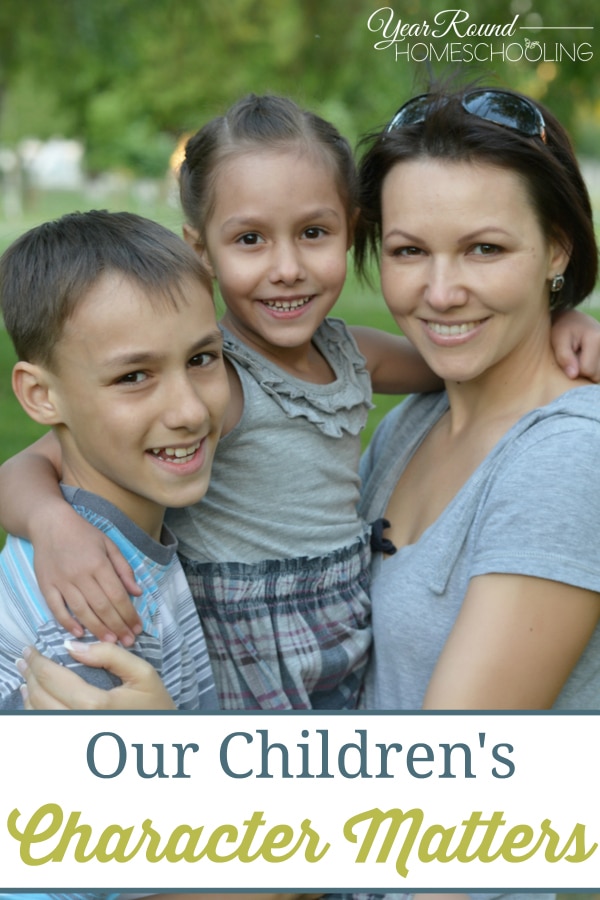 Homeschooling gives both parents and students many freedoms. A few of the freedoms that homeschoolers can take advantage of are; pursuing studies unique to each student, the homeschool schedule that works best for your family, homeschool methods that cater to your student's learning styles and much more!
I believe that the most important blessing and freedom that homeschooling allows is the ability to teach our children that character matters most. An education can give you knowledge, but life will require so much more than textbooks and lesson plans can provide. As parents it is our responsibility to ensure that our children are well prepared for life in the real world, as adults that contribute well to the world they live in.
Often I think we get caught up in ensuring that our kids are educated and we forget that our children's character matters more than the lessons they learn throughout their homeschool journey. I've been guilty of this fact more than once and I know that I'm not alone. We don't want our kids falling behind, so we focus on their education. Unfortunately, providing only a textbook education will not be enough for our children to succeed in life.
Building character through homeschooling has always been a big part of our journey, but as my children are now in middle school I've come to realize that they need a curriculum that will require them to think and apply what they're learning about why their character matters.
My bestie, Stephanie from The Multi Taskin Mom created an amazing new resource that I can't wait to start using in our upcoming homeschool year! It is exactly what I know my children need to truly understand why their character matters and it will help them apply it what they've learned to their every day life.
Inside the My Character Matters: An In-Depth Look at Character Traits Workbook you'll find lessons that cover 30 character traits including; consideration, diligence, forgiveness, humble, obedience and responsibility.
Each lesson gives your children the opportunity to define the characteristic, draw, write and apply the characteristic to themselves. There are two question and answer pages, one of which will require your children to think of someone that does portray the characteristic and someone who does not and the other page will ask questions that your children will have to answer about themselves regarding the characteristic. The final page for each characteristic lesson has your children record two statements regarding their future behavior for that specific characteristic.
My favorite aspect of this resource is that my children will not be reading a lesson and answering a few questions that they can find the answers to inside of the lesson. They will be required to research and record how they will apply what they've learned about each characteristic to their lives. 
This is not just another workbook for our kids to go through, this is a resource that can change our children's lives and our homes! The My Character Matters Parent Book provides a weekly lesson plan guide, monthly calendars to incorporate activities that encourage the character trait our family is focusing on, weekly lesson planning pages and more!
Learning what the specific character traits mean and what their opposites are is easy with the My Character Matters Flashcards! These can be used as a matching game to add a bit more fun to learning about why our character matters!
Our kids will love using the My Character Matters Activity Book probably the most from this character training curriculum! Inside they'll find scrambled word activities, comic strips, matching synonym to antonyms and many more activities that make learning more fun!
My Character Matters: An In-Depth Look at Character Traits will require our children to contemplate and think about their character, behavior and actions. I believe that these steps are essential to teach our children that their character matters. They need to understand each characteristic, recognize the positive when it is portrayed and the negative when it is not in order to fully understand that their character matters more than their education.
How do you incorporate character studies into your family's homeschool journey?