Our family fell into year round homeschooling because I didn't get needed book work done our first legal year of school. So, when we headed into our second year I decided that we ought to give ourselves more time. I looked at different schedules people shared, I saw one that suggested year round schooling and decided to give it a try.

In the end it has been one of the best things we could have done, we discovered that it really helped our children who have various special needs retain what they were learning from year to year.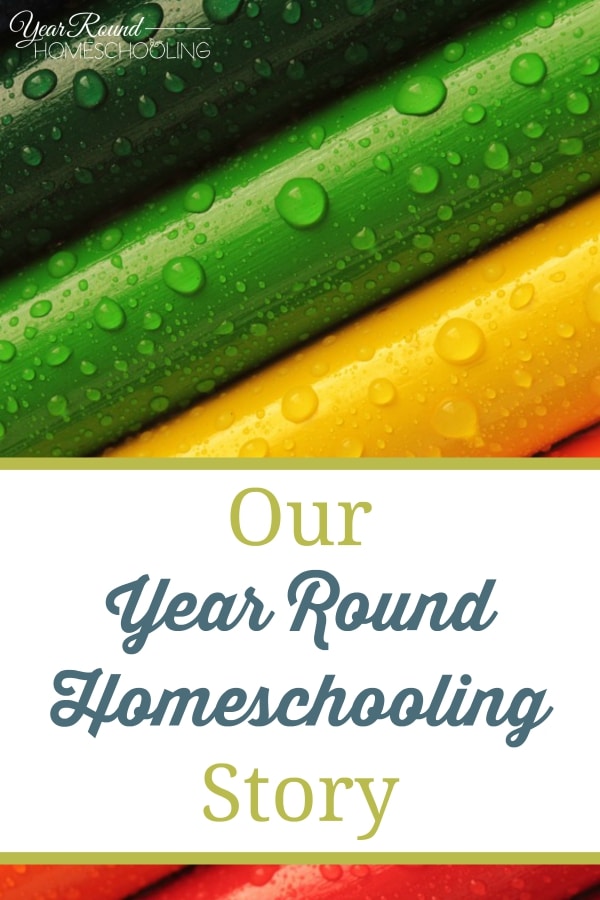 When we took too much time off, both learning-to-read and math took hits big time. If felt like we back peddled a lot and it was then that I realized too much time in between lessons was detrimental to their learning.

Now that we have educated our children at home for almost 7 years I have enjoyed having the breaks spread out immensely. I particularly enjoy extra time off during the winter months, it helps the children and honestly, it helps me. I can stay focused easily for, say 4-6 weeks, take a break and then keep going.

We typically school 6 weeks on and one week off, with at least 4 weeks off around Christmas, a 2 week break in the Spring finishing with 3-4 weeks off in July/August. When we finish depends on how much we accomplished or how many extra breaks we took during the year. If we need it, we will sometimes take more than a week off at a time, which lengthens our time into July. Pacing ourselves helps us all not feel so burned out as the year progresses.

During our "summer break", we usually do a little something each day, like reading, handwriting and a little math. Math, especially for one of mine, must remain consistent or we lose months of work, even if it's just math while playing games or cooking food.

When you have special needs children you very quickly come to realize that their schooling will look different. They often take a lot longer to learn things and finding the right key to unlock their learning takes a while. Year round homeschooling is a great way to ease back some and give them room to learn at their pace.
Follow all our encouraging year round homeschooling stories by visiting our Pinterest board below.
Follow Misty Leask's board Homeschooling Year Round Stories on Pinterest.