Owls are a perfect symbol for fall. The nights get longer, so we get to hear more of their distinctive hoots, especially when they're out on the hunt.
By the way, did you know that different species of owls hoot in different ways? That's just one of the things you and your kids can learn from the video in this owl unit study! There are also books, crafts, and activities that are all about owls!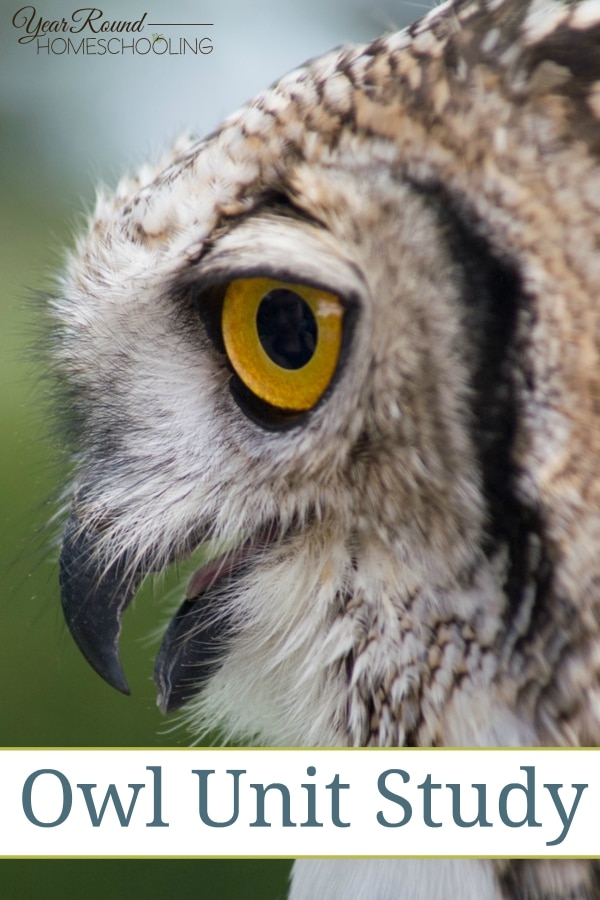 All About Owls Video
Watch the following video and then try to answer the questions below with your kids.
When do owls hunt for most of their food? (Answer: At night)
How many species of owl are there? (Answer: Over 200)
Which continents do owls live on? (Answer: Every continent except Antarctica)
Name three features that all species of owl have. (Answer: 1. Sharp talons; 2. Hooked bills; 3. Heads that can swivel around)
How does having soft plumage help owls to hunt prey? (Answer: Their feathers absorb sound, which helps them to fly quietly when hunting.)
How do owls eat and digest the animals they hunt? (Answer: They swallow them whole and then regurgitate the meal one pellet at a time.)
Owl Activities and Crafts for Kids
Bark Owl Craft – Fireflies and Mud Pies: Learn about owls and trees at the same time by making adorable owl crafts out of tree bark!
Printable Bird Flashcards – Look! We're Learning!: This printable pack includes identification cards for all kinds of birds, including owls!
Owl Finger Puppets – Playing with Words 365: Use the free template here to make super cute felt owl finger puppets for little hands!
Kids' Books about Owls
Keep the owl learning fun going with these children's books about owls!