Sense and Sensibility. The title says it all. The story of Elinor, Marianne and Margaret is one that will capture your heart from the very beginning. They're faced with loss and heartbreak, but through it all they have each other. This Sense and Sensibility BBC Movie Study brings them to life and provides a fun way to bring literature into your homeschool.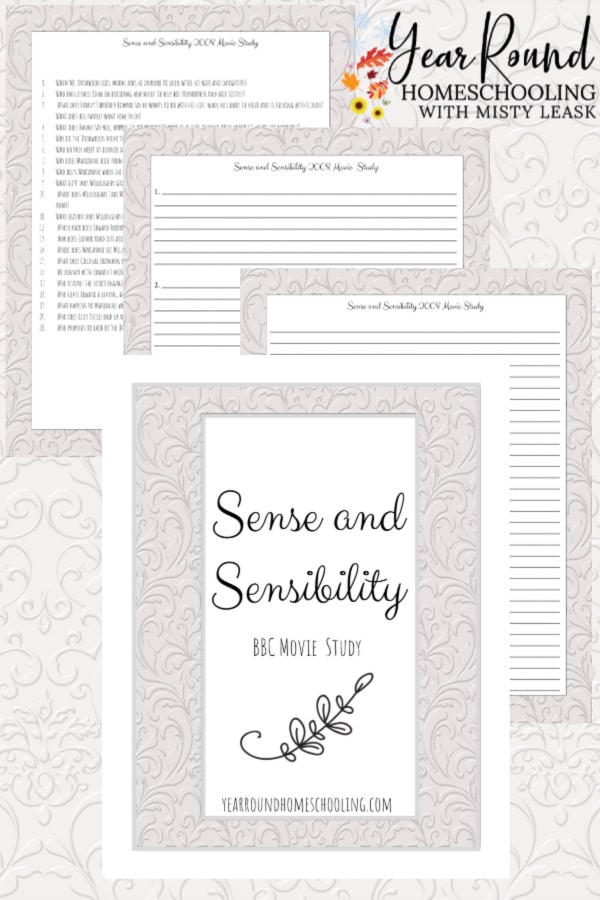 Inside this Sense and Sensibility BBC Movie Study Pack, you'll find questions that can be used as discussion topics if you're watching the movie together as a family or your students can simply complete them on their own.
There are also several different styles of paper included to provide you the utmost flexibility to customize the study to your students.
Sense and Sensibility is probably that second-most well-known of Jane Austen's books. It is one that many can identify with because there is so much real-life included in it.
The beauty of Jane Austen's novels is that they are heartwarming stories that teach lessons along the way. There is so much to learn from the stories of the Bennett sisters, Fanny Price, Emma and many more.
My love for all things Jane Austen is keeping me busy creating resources based on her works, so be sure to keep an eye out for new items in my store.
If you haven't read the book, Sense and Sensibility, remember that you should always read before watching. You can grab the Sense and Sensibility Book Study here.