After the fun of the holidays the winter blues tend to come along, for both homeschool moms and kids. There are long days when homeschooling is the last thing anyone wants to do, but these are the days when we can change things up a bit in our homeschool and make learning fun! So, the next time the winter blues have hit your home, the snow is no longer fun, it is too cold to play outside or a cold has your little ones inside, your kids from PreK through Middle School will love working on their math skills with this Snow Fun Math Pack!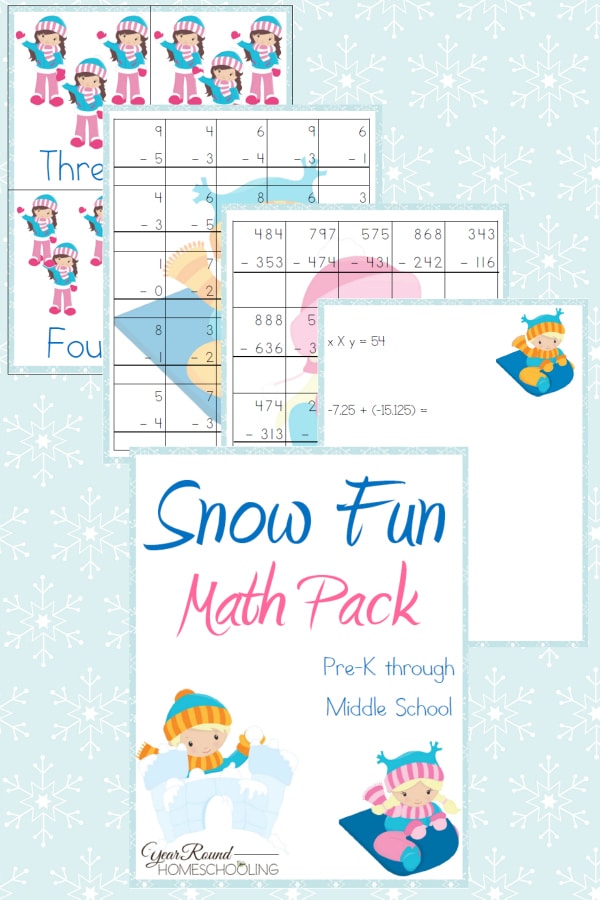 Inside you'll find over 120 pages of math fun for your kids in preschool through middle school! From addition and subtraction, to multiplication and division, to decimals and pre-algebra, your kids will have fun changing up math class with this fun math pack!
These Snow Fun Math Pages can be found in our Snow Fun Activity Pack! This pack has over 275 pages of snow fun activities! 
Inside our Snow Fun Activity Pack you'll find over 275 pages including Penmanship and Notebooking Pages for PreK through Middle School, spelling and vocabulary worksheets, matching games, bingo cards and coloring pages!