Learning about the solar system is a fun way to study science. While not every child has an interest in learning how the human body works, understanding Chemistry or delving into Physics. A Solar System unit study can be enjoyed by the entire family.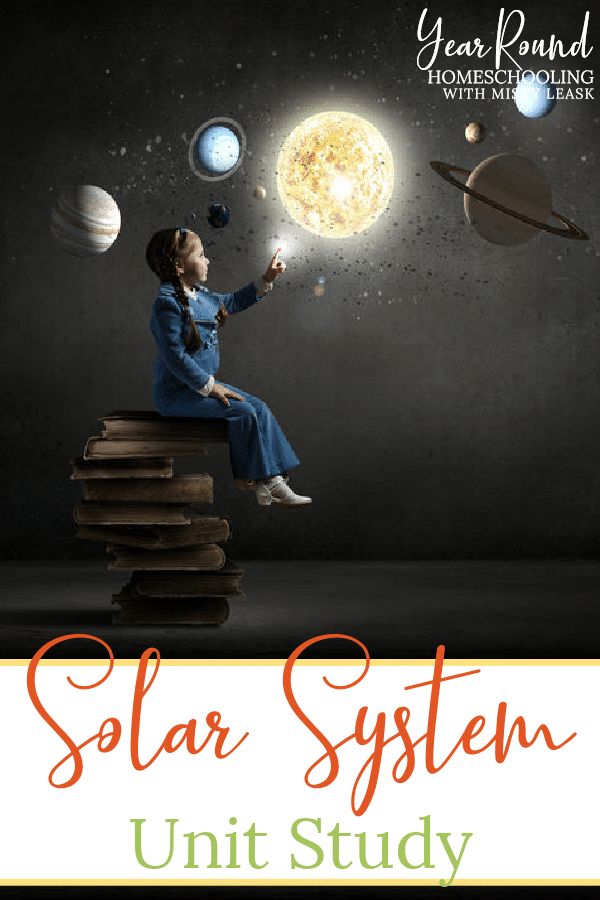 Gazing up into the night sky is a lovely way to spend an evening. I've spent many a night laying out underneath the stars and they never cease to amaze me.
If you live in the city, it might be more challenging to see the beauty of the night sky. That doesn't mean that you can't teach your kids about the solar system, planets, stars and more though. You could head out into the country for a few nights to experience the night sky untainted or utilize books and the internet to give your children a complete solar system education.
To truly enjoy studying the night sky, a telescope might be a great addition to your homeschool supplies. They allow you to see so much more of the universe than you can with the human eye.
Solar System Unit Study
One of my favorite memories from my homeschool years and my children's homeschooling journey was completing a solar system study.
Whether you spend a month learning about one planet at a time or complete an entire study of the solar system in a month; children of all ages are filled with wonder when discovering the majesty of the galaxy!
Spend time together learning about each of the planets, the Sun and the Moon using the lessons linked below.
Articles
Videos
Printables
Constellations Pack & Game Idea
Crafts
Snacks
Constellation Cheesecake Tarts
Games & Activities
Learning about the planets, stars, sun and moon is a subject that everyone in the family can enjoy. The best way to end a solar system unit, in my opinion, is to complete a mobile.
Being able to look at a small version of the planets that are held in space is a constant reminder of the amazing work of God.
What was your kids' favorite part of your Solar System Unit Study?