Rainy April days lie ahead in preparation for May flowers. That means you will likely encounter a few rainy homeschool days throughout the spring season. This Spring Writing Challenge is a fun resource to have on hand for those days!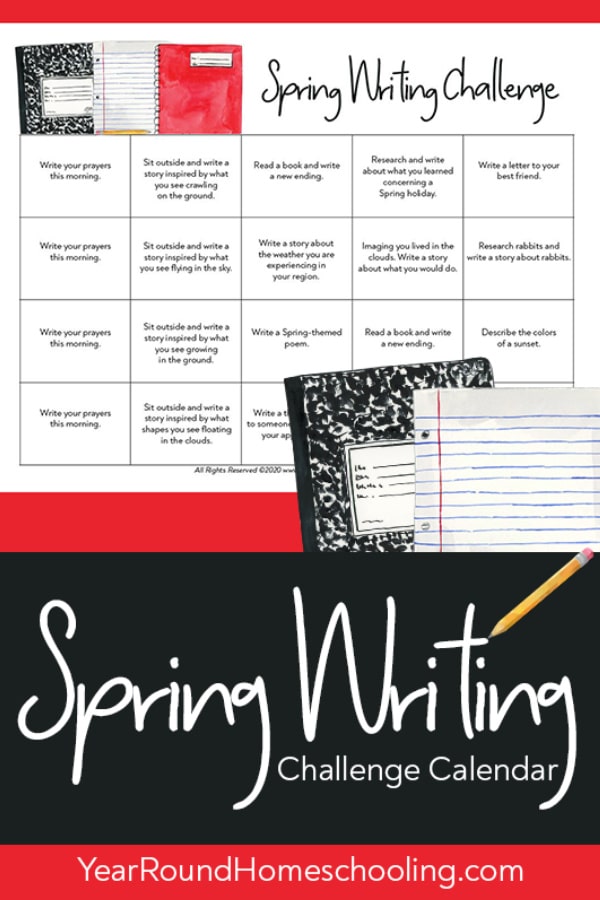 Finding ways to make writing fun is important. It shouldn't just be a task your children have to complete. Even the most reluctant writers can be encouraged to write when given the correct inspiration and motivation.
My son has never loved writing, but when I've allowed him to choose the topic of his papers and reports, there has been less resistance to completing the task.
Writing may not be your children's favorite activity, but a new season can provide inspiration!
While spring does bring rainy days, there are plenty of beautiful, sunny spring days as well. You can easily take a notebook on a picnic or hike and have your children complete their writing challenge as well as any rainy day inside.
Inside this Spring Writing Challenge Calendar, your children will be given writing assignments that include prayers, weather, letters, things they see and much more!
For even more monthly challenges to use throughout the coming year, be sure to check out my store page here.