I never intended to homeschool year round. As a product of the public schools I always figured you did school (regardless if you sent your child to school or homeschooled) on an August-May time frame. However, when it came time to formally start kindergarten with my son this past fall I looked at our calendar and had a dilemma.
Starting school in August wasn't going to work for us…not with my husband returning from a 6 month deployment. I knew there was no way my son was going to want to sit and do school with daddy home and I wasn't going to want to do school either. I knew both of us were going to want to be able to spend as much time hanging out with daddy while he was on R&R as possible.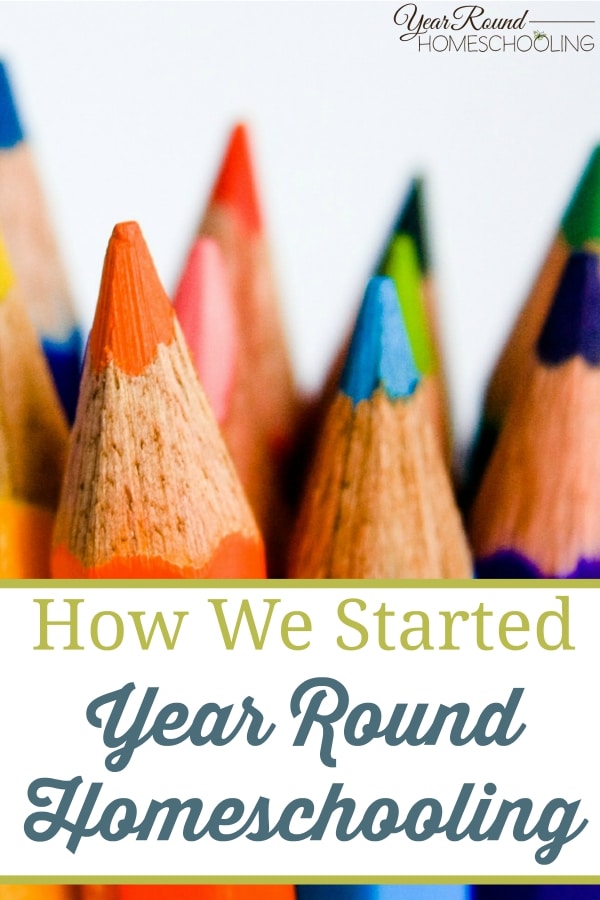 The dilemmas just kept adding up….we had an out of state wedding to go to in October, another out of state family event in November and then there was the upcoming holidays. The more I looked at the calendar the more it seemed like a traditional school schedule wasn't going to allow us to live life the way we wanted to as a family. So, I started considering less traditional schedules and that is how we ended up year round homeschooling.
It really is great for us and the thing I like about it the most is that there isn't any set schedule we have to be on. Just because we took off a week in October last year doesn't mean we have to take off a week in October this year. It allows our school schedule to flow with real life. For example this year if you were to just look at our schedule over June-August you would think we adhered to a normal school schedule. We are schooling very lightly this month and than taking off all of July and August due to welcoming a new baby into our family in July and then moving in August. The plan is to start school up again mid-September after we get settled into our new home. However, if it turns out to take us the entire month of September to get settled instead of the 1-2 weeks that I am hoping it takes to get unpacked it isn't a big deal. We can start school in October. 
Follow all our encouraging year round homeschooling stories by visiting our Pinterest board below.
Follow Misty Leask's board Homeschooling Year Round Stories on Pinterest.