**Please note resources mentioned in this post may have been received for free or I may have received monetary compensation to write this post. However, the reviews are my personal opinion. For more information, please see my disclosure page.*
As my children get older I believe that it is important for them to do their homeschool work independently, so I am always looking for homeschool curriculum that is easy for them to use and requires very little involvement from me as the teacher. Since we follow a child led homeschooling method my kids get to help choose their own curriculum to ensure that learning is both fun and educational. We enjoy shopping and trying new homeschool curriculum for them to try throughout the year.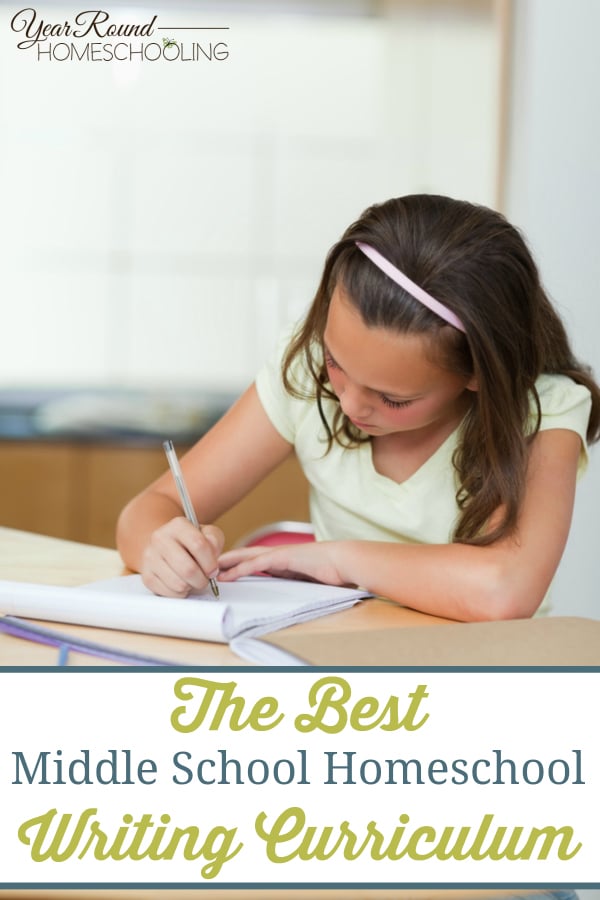 My daughter loves to write and since she will be entering middle school this fall, I knew it was time to start looking for a writing curriculum for her to use. I've seen quite a few and even tried one this last year with my son, but so far we weren't happy with any of the homeschool writing curriculum that we'd seen and/or tried. One of the biggest struggles that I found while looking for a homeschool writing curriculum was finding one that didn't include grammar as part of the curriculum. We already have an English curriculum that we love, so using a writing curriculum that included grammar was very frustrating for my kids because it was double the work for them.
I'm fairly confident that writing is in my daughter's future since she loves to write, so it isn't a subject that we could just find a curriculum to make work. We had to keep looking and trying different writing curricula until we found one that she loved and that I approved for educational purposes. This turned out to be quite a feat, but thankfully this year the search ended when we discovered Cover Story!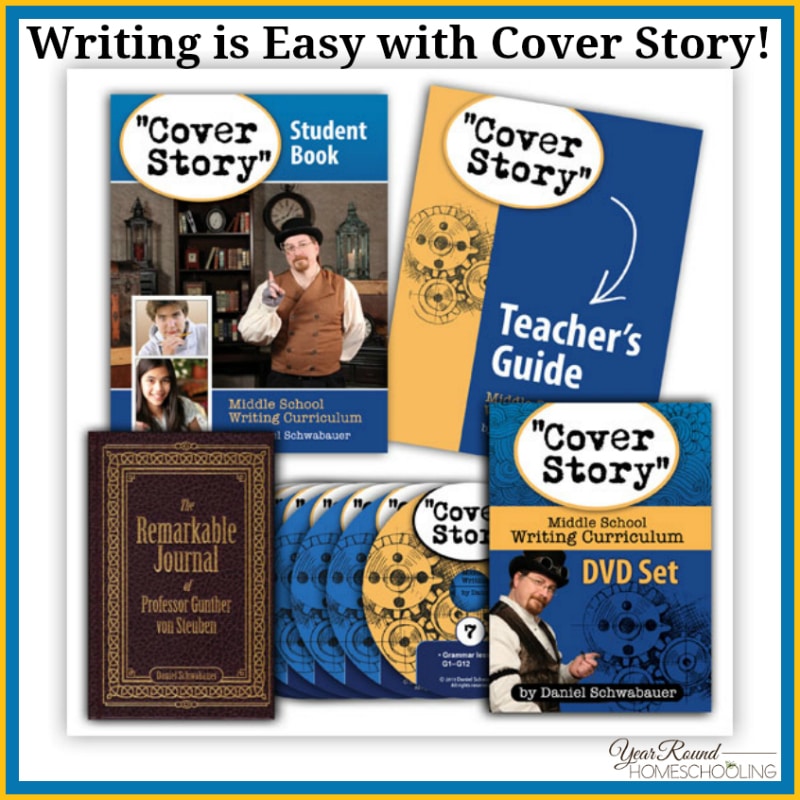 Cover Story is a video based homeschool writing curriculum for Middle School that takes a creative approach to teaching students how to write without worrying about their grammar too much throughout the process. The curriculum includes several key components that will make learning how to write more fun for your students and at the end of the year they will have created a magazine with a theme of their choice!
Cover Story Videos – Each lesson throughout the curriculum includes a short video that your student will need to watch before completing their lesson for the day. Kids will be pulled into the interesting and engaging video lessons that include humor, intriguing facts and more! You have the option to purchase either the DVD set or a Cloud Streaming package for the video portion of this curriculum.
Cover Story Teacher's Guide – This is one of my favorite teacher's guides ever! The explanations on how to use the curriculum are simple and straight forward. There is no guess work as to what you and your student need to do for each lesson and there are even weekly lesson guides inside if you like to follow a pre-set plan. Also included in the Teacher's Guide are your student's assigned readings which include discussion questions for you to use if you choose, unit tests and answer keys.
Cover Story Student Book – After watching each video lesson students will read a short written lesson, answer questions, brainstorm themes, write concept and movie sentences, poetry, letters to the editor, conduct interviews, write non-fiction, humor, blog posts and much more!
The Remarkable Journal of Professor Gunther von Steuben – This journal is unique in that there are some entries already written inside and your student will write in between the included entries 5 days a week. Their entries will range from questions to details and from paragraphs to real-life dialogue, the end of the story from the journal is determined by your student!
My daughter is a visual learner, so because this is a DVD based curriculum, it is the perfect writing curriculum for her! She loves that she is able to pick up her writing curriculum and head upstairs to complete the entire lesson on her own without needing instruction from me. Her favorite part of the curriculum is taking part in building the story inside of The Remarkable Journal of Professor Gunther von Steuben!
After she finishes her lesson, I enjoy listening to what she has learned and checking on her progress through the student book and watching her magazine begin to take form! She chose horses as her magazine theme and I know that she is going to thoroughly enjoy all of the research and writing that will be part of this curriculum!
I'm thankful that we were able to find a homeschool writing curriculum that works beautifully with our child led homeschooling method and that my daughter enjoys! If you are looking for a middle school homeschool writing curriculum that is both fun and educational, I encourage you to learn more about Cover Story here! They have a High School homeschool writing curriculum for your older students as well, I have no doubt that we will be using the One Year Adventure Novel writing curriculum in High School!