Studying the Solar System makes for an amazing homeschool science class. These Uranus Notebooking Pages are a fun way to have your kids share what they've learned!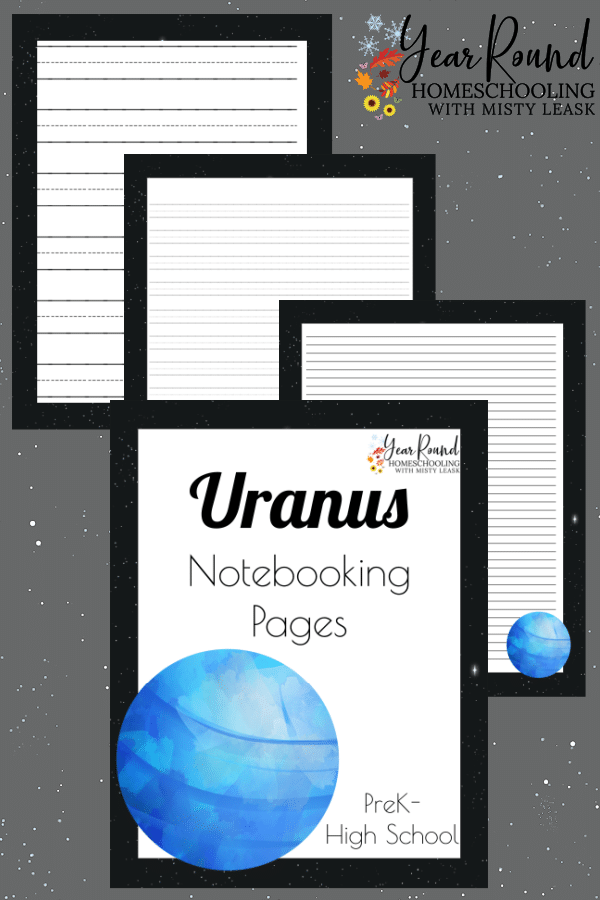 Do you know what makes Uranus a blue planet? How about the planet's nickname? These are just a couple of facts that your kids will learn while studying the planet Uranus in science.
Science is not my favorite subject to study or teach, but over the years I've found topics that both my kids and I have enjoyed. The Solar System is one of them.
There is always something new to learn about outer space as scientists continue to study the night sky. Encourage your kids to study it too! Grab a telescope, lay out a blanket under the stars and see what constellations and planets you can find!
The beauty of homeschooling during the internet age is that there are countless resources at your fingertips. You no longer have to put a curriculum together on your own.
I've organized everything that you'll need to study Uranus as part of your homeschool science class. You don't have to put anything together at all! My Uranus Unit Study features a lesson, videos, online articles, literature options, art projects, games and much more.
The layout of this unit study makes it easy for you to pick and choose which you'd like to use, designing the perfect Uranus study for your homeschool.
This pack includes Uranus-themed lined pages for all your students from Preschool through High School.