How well do your kids (or you!) know the geography of the United States? Teaching children about the world they live in — not just their hometown and state is important. This US Geography Challenge will make studying the USA fun!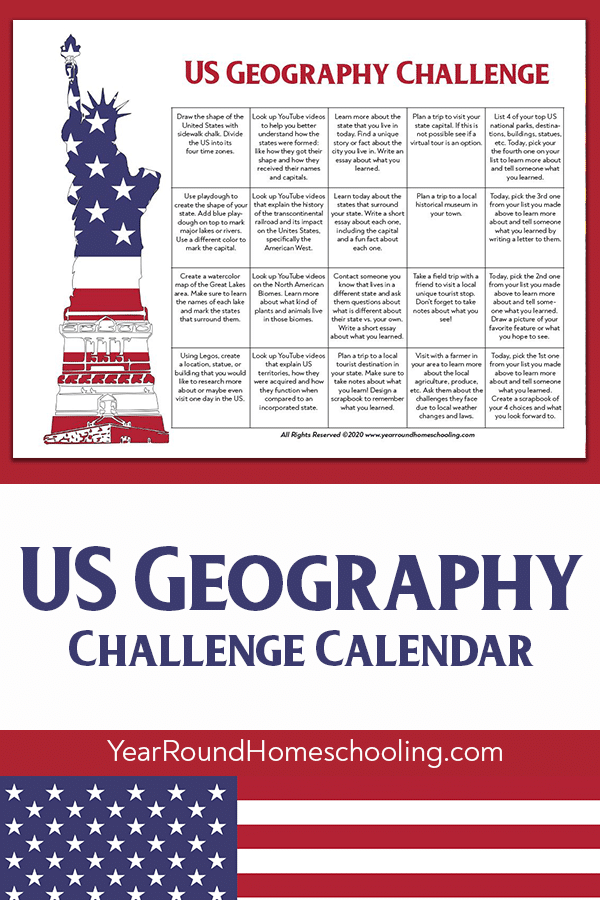 I've traveled up and down the east coast of the US as a Navy Brat and back home to Texas over the years.
Road trips are one of my favorite things! I love the adventures you get to experience when you travel by car vs. airplane. There is so much you miss when you're up in the air!
While visiting all 50 states is probably not something that many of us will ever do, that doesn't mean we can't cover travel the US as part of our homeschooling journeys.
This US Geography Challenge Calendar includes many different activities that you can complete together as a family or have your kids complete on their own. Through this challenge your kids will learn about US geography through field trips, art, writing, Lego® and more!
Ready for a bit more USA geography fun? Check out these free printable games!
For even more monthly challenges to use throughout the coming year, be sure to check out my store page here.