The geo tip that my son selected was by far his favorite part of the North Star Geography lessons this month. It was time for him to take the lesson quiz which is never his favorite part of school, but I try to use them just to gauge what he is grasping vs. actually grading the quiz itself. Once the quiz was completed I gave him the opportunity to look over the recent geo tips that we had received and allowed him to choose which one he wanted to complete. I wasn't surprised with what he selected. When my daughter heard what we were going to be doing for geography, she jumped right in!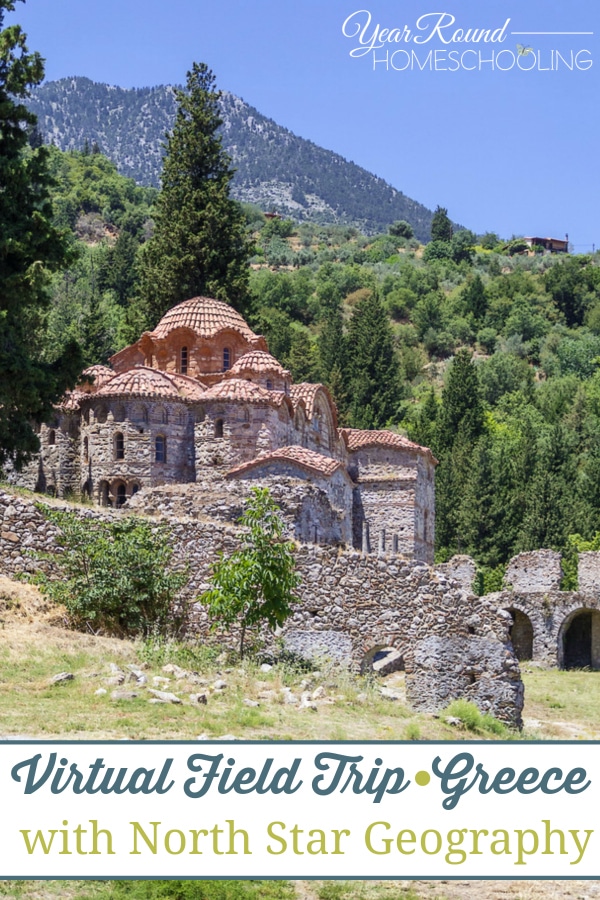 We spent the greater part of an afternoon researching and touring the countries of Greece and France. It was amazing to watch my children get to see lands so very far away with the click of a mouse. I got to see places I'd never seen before, it was a wonderful learning experience for the entire family.
After touring the sights of Greece, learning about Greek food, their language and the origin of their country's name, my son wrote a paper. His paper includes all of the things that he would like to do when he visits Greece, as well as things that he learned while taking this virtual field trip.
When I am in Greece I want to see the Temple of Zeus and I want to eat Loukoumades.

Greece is famous for it's historical sites. A famous landmark is the Temple of Aphrodite.

Greece was founded in the 3rd millennium. It's name came from the Latin word, Graecia. You can get to Greece by air, automobile and boat.

A famous person from Greece is Homer. The most common music in Greece is folk music. The language of Greece is Greek. Greece is also famous for the Trojan War.
In Tyler Hogan's geo tip, he suggested creating a Pinterest board where the students could keep track of the things they learned while on their virtual field trip. I thought this was a fun idea and my kids enjoyed using Pinterest, you can visit their virtual field trip Pinterest board here.
Next month we're moving into the study of maps, projections, directions and more! I'm excited to see what we'll learn in the coming weeks and what geo tips that Tyler is going to send our way next!
If you're interested in seeing more of North Star Geography in use, check out our past posts here.
Now it's time for the Hearts for Home Link Up! Please link up your family friendly posts below!
The most clicked post from last week was, Montessori Madness ~ Totschool ~ My Little Pony Trays.
<div align="center"><a href="http://www.marriagemotherhoodandmissions.com/hearts-for-home-blog-hop-hosts/" title="Hearts for Home Blog Hop" target="_blank"><img src="http://www.marriagemotherhoodandmissions.com/wp-content/uploads/2014/03/CoHostH4HButton300x300.jpg" alt="Hearts for Home Blog Hop" style="border:none;" /></a></div>