Ready or not winter is here! What plans do you have to keep your kids busy this month? Are you prepared enough to ensure that you don't hear the words, "I'm bored", this winter season? If not, don't worry! I have got you covered, this Winter Boredom Buster Challenge is filled with ideas, resources and activities that your kids will have fun doing!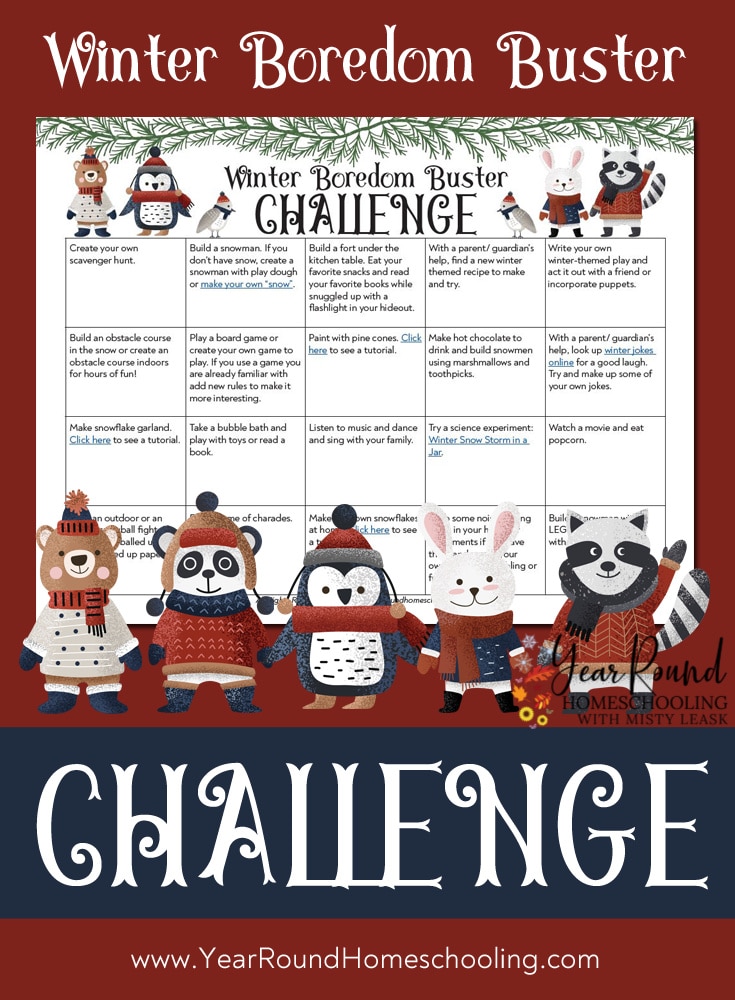 I love creating monthly challenges for you to use with your family because I believe that homeschooling should be fun for everyone. It is so easy to get lost in the midst of all the things that need to be done, the checkboxes that have to be checked, etc.
Adding monthly challenges to your homeschool allows you and your children to step away, breathe and have fun. Learning isn't just done through textbooks, in fact, I wholeheartedly believe that most learning is done outside of them.
This Winter Boredom Buster Challenge Calendar is full of ideas that will keep you and your kids busy all month long! A few of the activities included are have a snowball fight (indoor or outdoor), paint pinecones, make snowflakes as a family and much more!
Have a writer in the family? Check out the writing challenge I created for January last year.
For even more monthly challenges to use throughout the coming year, be sure to check out my store page here.