I remember when my boys were little and several snooty moms told me that if I gave my boys high quality books to read, they would become natural spellers. I believed them for a season and then cried at my failure. They were terrible spellers. It didn't occur to me at the time that there was little logic in the idea. Why would well written books help them read any better than poorly written books? Would poorly written books contain bad spelling?
Thankfully, I attended a homeschooling conference with an encouraging speaker who debunked this premise. She pointed out that only 30% of the population are "natural" spellers. The other 70% have to work at it. Natural spellers are usually visual learners who soak up the words they read and are able to recognize when a word is misspelled because they can see the proper spelling in their head. The other 70% of the population? Not so much.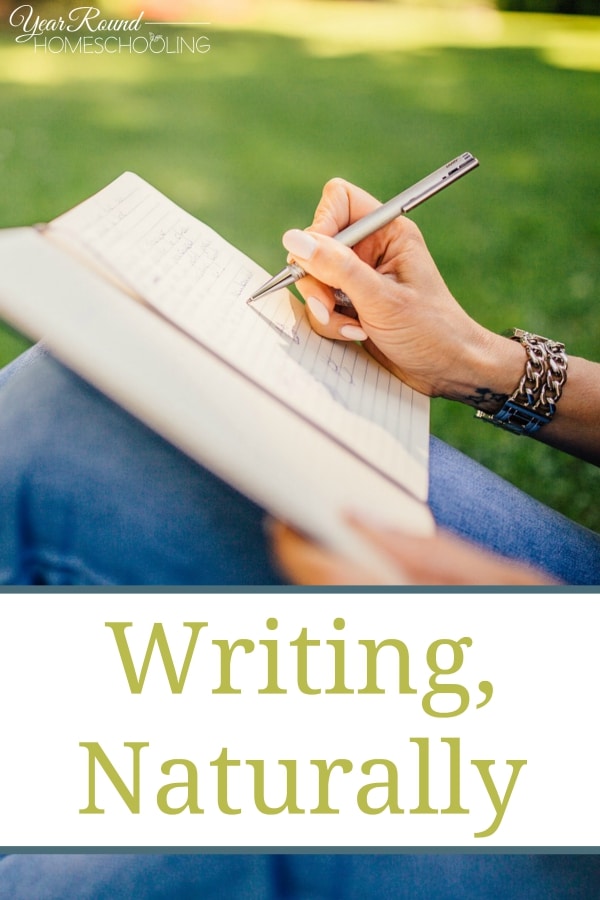 Keep the above in mind when I discuss writing naturally. I am not referring to a "natural writer", I am referring to learning the technique of writing in a natural, organic way. I think there are natural writers out there who seem to know instinctively how to put their voice to paper, but that voice itself is part of the writing process.
Many students struggle with organizing their thoughts or even knowing how to think for themselves.
These are integral parts of the writing process. To force writing assignments on students still struggling to compose thoughts in their head, let alone on paper, is developmentally inappropriate. Then again, some students will always struggle to organize their thoughts unless they are able to do so on paper. You know your child and you know what they are ready for better than any syllabus or person.
To help your child grow up with writing being a natural part of their life, you do not start with the written word. Instead, you begin with Brown Bear, Brown Bear. I am betting many of you moms are already excellent writing teachers and you don't even know it! As you read to your darling every night and you go over that book for the umpteenth time, they know what comes next and they jump in enthusiastically. "Brown Bear, Brown Bear, What do you see?" It's been 8 years, but I can still tell you that "I see a yellow duck looking at me." And even though you are very intelligent and not the least bit curious, you ask, "What does a duck say?" At some point, your child begins quacking before you even say the word duck.
There are so many associations clicking in their sweet little brains! Most of all, they are learning the associations that come with the comfort and security of naturally learning the magic of words in your arms. Obviously, Brown Bear is not the only children's book this works with. You have many rich reading traditions already in place. Of course, if your children are like my children at that age, it doesn't matter how many books you own; there are only 5 (very familiar) books in rotation.
For some children, art is the next natural extension of learning writing. Children take something from their head and put it on paper. And you respond beautifully. You may think it is just a technique that helps you avoid admitting that you don't know what on earth they just drew, but these words are the perfect response to developing their writing skills: "Ooh! Tell me all about this picture!" And so they do. They use words to describe to you the image that was once a story in their head and is now in print.
And then come the read-alouds.
These are different than the snuggle-up-and-read books that send them off to sleep. These are books read during the day. These prompt discussions. Fables are an excellent beginning to these conversations. "Oh, my! Goldilocks just walked right in! Why do you think she did that?" It's a great time for discussions. It is not a great time for lectures.
Mom, resist the urge to teach them through constant lectures. I learned this the very hard way. Lectures have a very important place in their upbringing, but only when used sparingly and at the right moments. When Snow White opens the door for a stranger, avoid diving into a ten minute lecture with a visit to the police station for grand effect. Instead, ask questions. Why did she open the door? Did she know the old woman? Should she have eaten the apple? Questions engage thinking. Thinking is good.
And finally come the narrations.
These are the moments you celebrate when your child finishes their first reader. Ask questions. Hop on Pop? What were those children doing to poor Pop? When they transition into early chapter books, ask them to tell you about all the things Frog and Toad did today. When they go just a bit deeper, ask them to tell you what The Littles were up to today. Let them tell you about all that they read.
Sometimes, our darlings can drive us up the wall, recounting every blessed detail of the latest movie or video game they saw. Find patience, especially when it is a book. When they recount the details of an event, they are using words. They are describing things. They are telling you a story. This is especially important when they are discussing books because it helps you gauge how much they are comprehending. Some students struggle with comprehension in various ways and you can find out early on how to help them. My youngest daughter reads and comprehends, but cannot listen and comprehend. She simply cannot. This is an area we work on.
Helping them comprehend and use their own words to describe what they've comprehended is the key to teaching writing.
These beautiful thoughts eventually make it to paper. A natural transition to writing down those thoughts is to draw a picture of their favorite part of a story or to have you write down their description of a story so that they can copy what you write. These things that you are already doing are exactly what they need so that they can find their voice, gain confidence in their words, and learn to transfer words to paper. The rest will come. There may be other struggles (believe me, I've dealt with plenty!) but it will come together in the end.
You're doing a good job, mama. Keep up the good work!
Writing isn't easy for all, while others would love to write all day! Find tips for your reluctant writer and inspiring new ideas for your wanna be authors by following our Pinterest board below.
Follow Misty Leask's board Homeschool: Writing on Pinterest.