My husband and I are public school graduates. We both loved our public school experience and even thrived in our areas interest – music and drama. When we discussed schooling our children, homeschool was never even mentioned. However, over the course of our oldest child's first four years of life, the Lord began planting seeds of homeschooling in my heart and mind. From articles I read online, through people I admired, families we knew and loved, my heart began to see more and more benefits of homeschooling, but I still wasn't convinced it was for our family.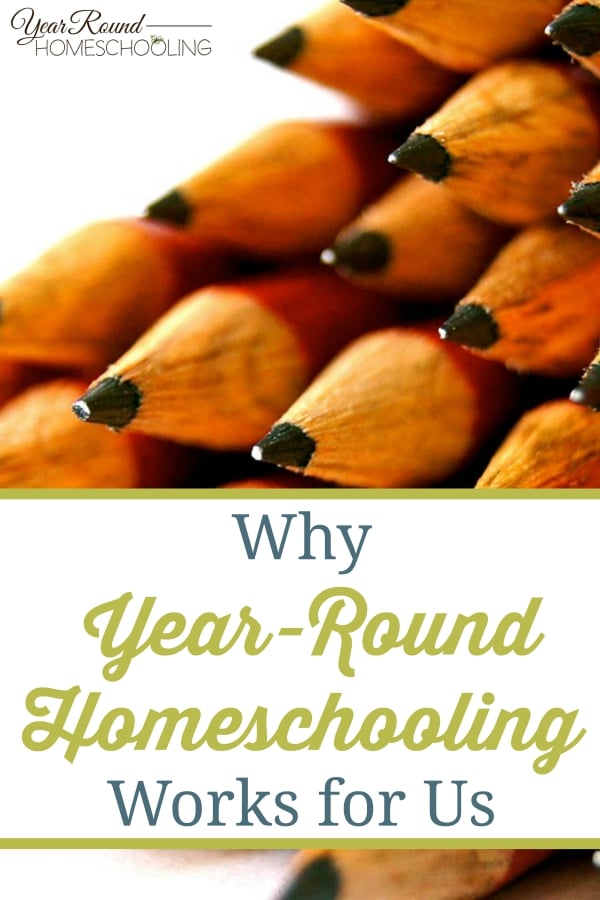 Why Year-Round Homeschooling Works for Us
As the time drew near for us to enroll our oldest in Kindergarten, my heart grew extremely uneasy and I submitted myself to a lot of prayer. It quickly became clear that the Lord was calling us to homeschool our children. When we began, I honestly had no clue what I was doing. All I knew was we needed to start soon and I better be ready. I quickly became a curriculum and manipulative junkie and found myself overwhelmed, unsure of this road the Lord led us down and doubtful that I could actually teach our children at home.
Praise the Lord for His grace!
We survived our first year of "school-at-home" and then my husband's work schedule changed. He began working overnights Friday through Tuesday and was off on Wednesday and Thursdays. My mind began to think about the family time we would be missing if we continued with the "school-at-home" method of Monday-Friday school days. I read more blogs, talked to people and realized it was quite popular to homeschool year round. As I began planning for our next school year, I realized how much more freedom we would have if we schooled 4 days a week and still had time for our family. So our second year of homeschooling, we began year-round homeschooling.
I was still a little skeptical, at first, but we quickly warmed up to the idea and soon fell in love with year-round homeschooling and what seemed like so much more time together as a family.
Now that my husband is in a full-time ministry position, his days off are Friday and Saturday, so we continue with our year-round homeschooling. It has allowed us the freedom to travel and visit our family when needed without extra make-up work or tacking on extra days to our school year. Many times we use Fridays as Field Trip days with Daddy home from work and have enjoyed exploring our new city, county and state, which counts as a BONUS school day!
How do we structure our year-round schooling? For us, we school Monday-Thursday. Fridays are optional Field Trip days and not usually every week. Saturdays are family days and Sundays are mostly spent at church. Typically we start our year after the 4th of July and school through May. We take off from mid-December through the first week of January and the month of June. Those are the months we tend to be the busiest with church functions, camps, VBS, family visits, etc.
This year we will begin our fifth year of homeschooling with a 4th grader (9), Kindergartner (5), PreK (4) and preschooler (3). I love the fact that I can structure our new preschoolers days around what works for them and us. If they want to homeschool all four days in the week, we can – if not, no worries. This summer has been a little different with some major church functions and activities consuming our time, so for the first time in 4 years, we have taken both June and July off. While the break has been nice, I honestly feel lost. Not only do I love the format and freedom of year-round homeschooling, I also love that it keeps in a routine. Routines make everyone in our house much happier. I will be so excited when we begin schooling again and get ourselves back into a regular, daily routine.
The year-round format works very well for our family and I find the flexibility relieving. I don't have to stress if something comes up and we need to miss a day of schooling for a church function or emergency.
Follow all our encouraging year round homeschooling stories by visiting our Pinterest board below.
Follow Misty Leask's board Homeschooling Year Round Stories on Pinterest.