Spanish is rapidly becoming a popular language in the US. In fact, there are some places where Spanish is spoken more often than English!
Now is a great time to teach your kids Spanish, especially if you can find good resources for teaching kids Spanish. Here are a few resources that I've found to be especially helpful for kids who want to learn to speak español!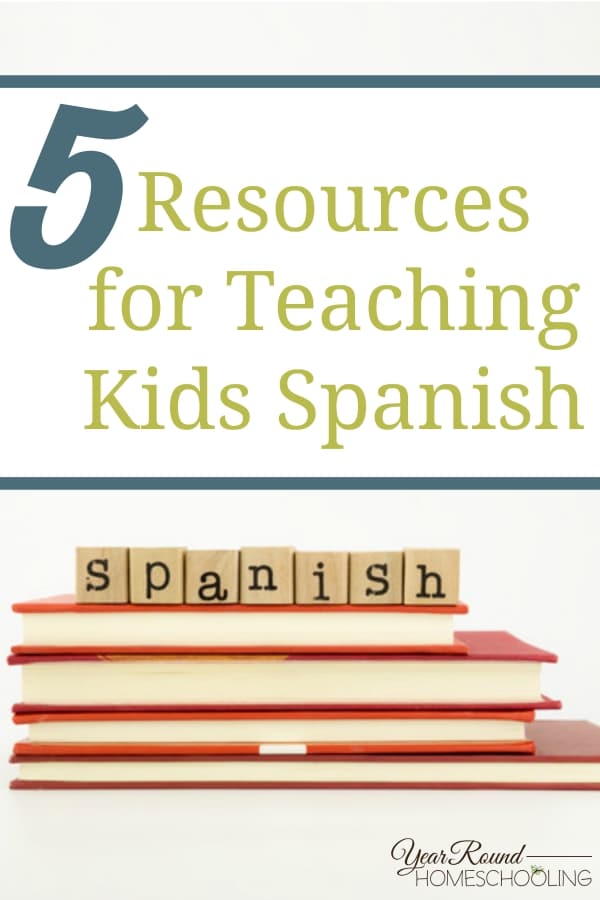 5 Resources for Teaching Kids Spanish
1. Spanish Learning Websites: There are several websites for kids who want to learn Spanish. SpanishTown is a good one for kids who need to learn the basics, such as counting and vocabulary. 123 Teach Me features games, videos, and vocabulary activities for Spanish learning. Or you can help your kids learn Spanish with some of their favorite PBS characters with the Spanish games at PBS.org!
2. Spanish Flashcards: Young children can often learn Spanish with drills and memorization, which makes Spanish flashcards a wonderful teaching tool. At Look! We're Learning!, you can get several sets of free printable flashcards for learning Spanish, including English and Spanish season words, Spanish food words, Spanish opposite words, Spanish months of the year, and how to count to 10 in Spanish!
3. Kids' Books for Learning Spanish: A simple way to include Spanish in your homeschool is to learn it from a book. Some of our favorites include 52 Weeks of Family Spanish and Vistas (the book I used to learn Spanish in college). Vistas is an excellent Spanish curriculum for middle and high school students, plus, the Supersite has audio and video lessons that help a LOT with pronunciation. Usborne Books has a great selection of Spanish beginner books too!
4. Online Spanish Curriculum: LiveMocha is a FREE online portal for learning all kinds of languages, including Spanish. You and your kids can listen to native Spanish speakers and practice your conversational skills. If you want to purchase a program, Mango Languages and Rosetta Stone both offer similar conversational skill practice with programs specifically designed for homeschoolers.
5. Spanish Media: Watching Spanish television, reading books in Spanish, and listening to Spanish music is the easiest (though a slower) way to learn Spanish for kids. Hulu features several children's shows that have been dubbed in Spanish. If your kids like Sesame Street, let them try watching Plaza Sésamo, an international version of the show recorded entirely in Spanish.
Want to learn even more languages with your kids? Don't miss our post "The Ultimate Guide to Foreign Language Lessons for Kids" at Look! We're Learning!