Road trips hold some of my favorite childhood memories. I loved driving across the country with my family growing up. Along the way my mom was sure to find field trips for us to enjoy to make them even more fun. I don't have the opportunity to take my kids on as many road trips as I'd like because of our family business. However, every couple of years we do a road trip when we head back home to Texas to visit my family. It is because of my love for road tripping that my mom and I created USA Road Trip Adventure Journals!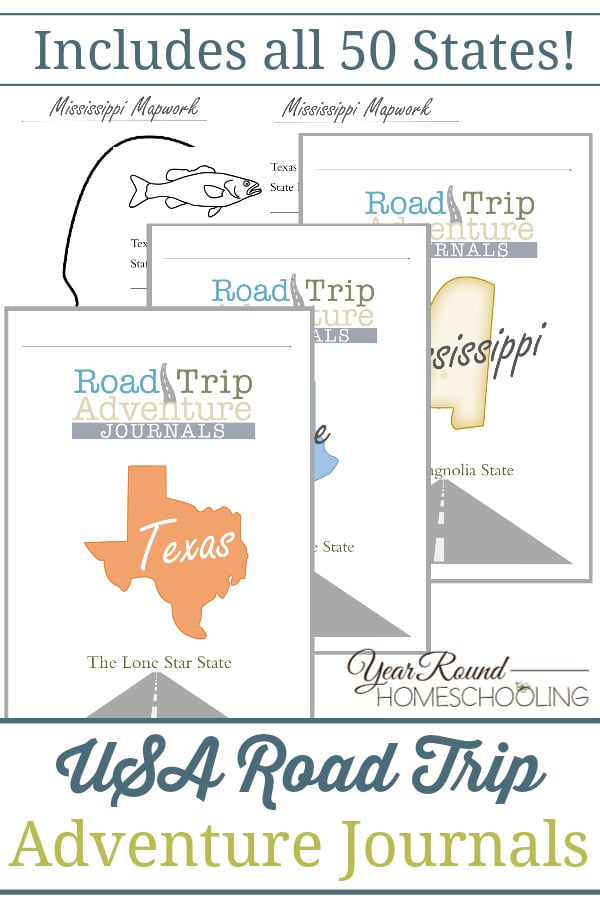 Make learning USA geography more fun by taking road trips instead of jumping on a plane to your next destination. Geography class should be filled with experiences that make learning fun and educational and road trips do just that!
Don't just plan on having your children entertained by devices the whole way, make road tripping fun for them! You'll hear, "Are we there yet?", a lot less often if you take steps to ensure your kids have activities to keep them busy!
Each of the USA Road Trip Adventure Journals are full of activities to keep your kids busy and learning while you're on the road!
Inside each of them you'll find…
Writing prompts
State fact information pages
Coloring pages
Map activities
and more!
Right now you can purchase the USA Road Trip Adventure Journals bundle pack (featuring ALL 50 states!) for $35!
Don't wait because this sale price is only good through 10/22! 
The USA Road Trip Adventure Journals are also available individually here! Whether you're heading out on a cross country road trip like we are or just across the state for a field trip, USA Road Trip Adventure Journals are filled with fun activities to keep your kids busy along the way.
The following two tabs change content below.
Misty Leask
Misty is a Daughter of THE King, Texas girl always, Navy brat at heart, loving Fisherman's wife, blessed mother of 2 and founder of Year Round Homeschooling. She is passionate about being real throughout all of life's struggles, successes and dreams. Her heart is full of ideas and passions, but the hours in her day never multiply to get it all done. Misty loves writing and reading in her spare time. Music and photography are favorite past times of hers as well. You can find her on
Facebook
,
Twitter
,
Pinterest
and
G+
.
Latest posts by Misty Leask (see all)