My 6 year old was 11 months old the first time he visited a zoo. He spent most of the time riding on grandpa's shoulder while we pointed out the animals. He was two when we took him and his new baby brother to see the National Zoo in D.C. That trip started an obsession with animals. When we went to the library he gravitated towards books about animals. We fed his interest in animals by purchasing a family membership to our local zoo. He never tired of going to the zoo. He wasn't thrilled about this last move we made and while talking up the area I told him they had a big zoo. A much bigger zoo than we had. He grudgingly told me if they had such a bigger zoo than he would be willing to move. I knew that I wanted to encourage my son to explore his interest in animals. I wanted to fan that spark. So, if you like me have a budding zoologist here are some of our favorite resources.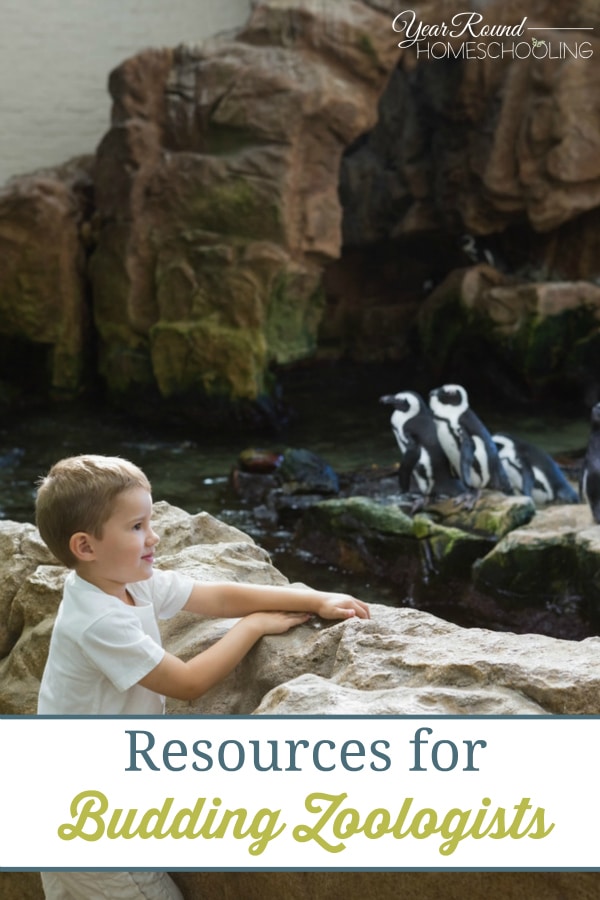 Resources for Budding Zoologists
Video Resources:
Wild Kratts: Wildest Animal Adventure – We originally found this on Netflix. They were such a hit that we bought them to lessen the amount of streaming we were doing. They have been watched over and over and my kids are retaining so much information.
Live Animal Cams a lot of zoos have these now. Some of our favorites are:
National Zoo in D.C
San Diego Zoo
Toledo Zoo
Other non-zoo animal cams/videos:
Explore
National Geographic
Animal Planet (Depending on your comfort level this one needs adult supervision. For our family we don't feel like things like pit bulls and parolees is something we want our young kids to watch, but they do have some great videos/cams.)
Books and other written resources
Zoobooks– I remember loving these as a child. Zoobooks frequently run specials on their subscriptions, so be sure to check Groupon, Living Social and other deal sites like that. I recently scored a year long subscription for $10 through Groupon. Each magazine is dedicated to learning in depth about a particular animal. You get 10 magazines in a year. Zoobooks also offers magazines tailored for the younger toddler crowd! The bonus of this resource is if your kids are anything like mine they will love getting something in the mail.
D.K. Eye Witness Books- We use these books a lot in our homeschooling. We mostly check them out from the library. They cover a wide variety of topics- from history to science. Every title we have checked out has been a great resource. We are especially fond of their mammal, amphibian and fish books. They even have books that are about specific animals like elephants.
GeoSafari Undercover Series- This series is great but can take a bit of searching to find. I bought our first one at a thrift store for a few bucks. Since, then I have found several other titles here at Teachers Paradise.
Also don't forget your library. It isn't untypical for us to leave the library with 2-3 books about the same animal. If my son had his way we would check out every single book the library had on which ever animal we are currently studying. However, I am trying to teach him to be polite and not clear a library shelf. I tell him we can always come back for other titles on the animal after we read the titles we already have.
Hands on Activities:
Beanie Babies and Webkinz- We have quite the collection of these little stuffed animals (mostly bought at thrift stores). I love the fact that they don't take up a ton of space and my kids love playing with them. We use them to help illustrate all sorts of concepts. You can group them together by common habits or if they are nocturnal/diurnal/cathemeral animals. You can practice taxonomy with the animals as well. You can illustrate food chains too. You can do all these activities with plastic play animals as well.
Birdhouses/feeders- If you are studying birds you can make a bird house or an easy bird feeder; like this one using toilet paper rolls, peanut butter and birdseed.
Insect Studies- You can raise butterflies, do an ant farm or make an insect collection. We raised butterflies this past spring and it was a lot of fun. You can find great affordable kits to raise insects on Amazon such as this butterfly kit or this lady bug kit.
In order to keep track of what animals we have studied we have an animal notebook. We use these notebooking pages that I found online to chronicle our studies.
I hope these resources will help you follow the lead of your budding zoologist and bring learning about animals into your homeschool.
Check out different homeschooling methods by following our Pinterest board below.
Follow Misty Leask's board Homeschool: Methods on Pinterest.