Education is more than what is learned in the classroom or read in the textbook. Perhaps no one knows that more than a homeschool parent. We can take changing a household light bulb and turn it into a unit study on electricity or use a zoo day to study Bengal Tigers. We are on a first name basis with all the librarians at our local library and we've used snow days to study the works of Wilson Bentley, make snow ice cream, and build igloos. Extracurricular learning is no match for the creativity of a homeschooler.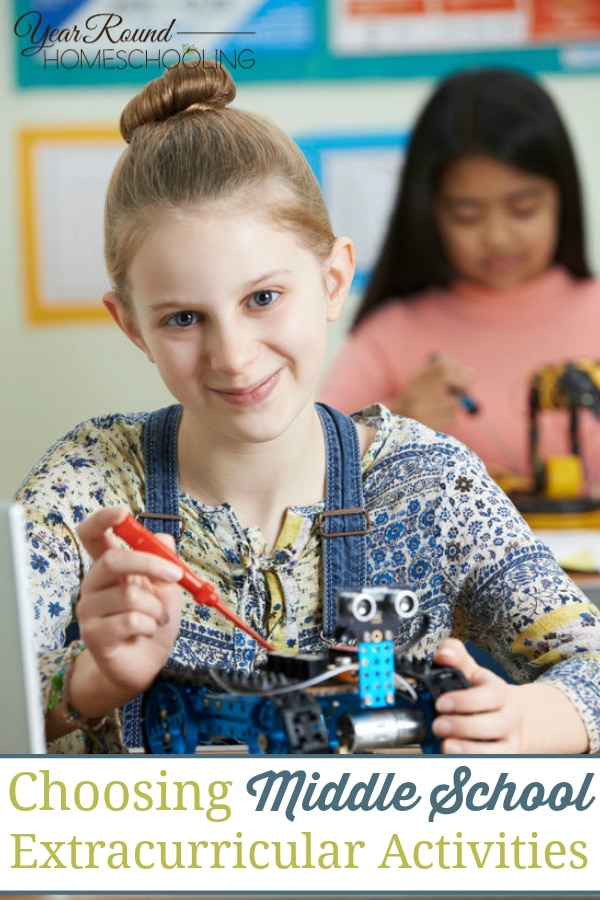 For many of us, it seems that extracurricular learning happens easily in the elementary years and then when we find ourselves homeschooling middle school students, we've run out of ideas, energy, and enthusiasm… or maybe it's just a few of us. Regardless, finding extracurricular activities that will intrigue your middle school student isn't rocket science. It just takes communication, cooperation, and creativity.
Communication
Consider sitting down with your teen in a casual, relaxed setting. Perhaps taking them out for coffee or ice cream or going on a hike together. Choose a time when you can ask questions and listen to their answers without being interrupted. Your teen will be more likely to share their thoughts and ideas if they know they have your undivided attention. Consider asking them these questions and then listen carefully to how they answer.
What extracurricular activities would you most enjoy? Why?
Who do you know that could help you with that?
Which extracurricular activities would you least enjoy? Why?
When do you most enjoy learning? Early morning? Late at night?
Where do you see yourself in five years?
How are you going to get there?
Cooperation
After you've had a chance to talk to your teen about which extracurricular activities they most want to pursue, work out a plan with them on how to accomplish this goal. If they want to learn more about engineering, help them find a local Bridges Civil Engineering Club or if they enjoy agriculture, help them find a local 4H Club. Give them some responsibility, but don't expect them to be able to do it all on their own. Part of cooperation is working together toward a common goal.
Creativity
Some of the best middle school extracurricular activities are the extraordinary ones. Perhaps your student has an interest in aviation. Many municipal airports offer flying lessons or tours of their tower and hangars. If your student has an interest in pathology, consider contacting a funeral home and inquiring about an internship. Or, if your student has an interest in nursing, nursing homes are often looking for volunteers to read to residents, play games with them, or help deliver mail.
Extracurricular learning in middle school is truly no match for a creative homeschool parent The sky is the limit when it comes to innovative ways to incorporate extracurricular classes for middle school students, especially with some communication and cooperation between you and your student.
Here are some other ideas that might intrigue you and your middle school student.
Join a Civic Club: 4H, Kiwanis Builder's Club, Generation Joshua,
Contact your local animal shelter, hospital, or community organization for volunteer opportunities.
Join a athletic team at your local Y or community softball, basketball, bowling league.
Middle school is the perfect time to give our children the opportunity to spread their wings. We need to ensure that we give them not only the best education possible, but also the freedom to grow in order to become the man or woman God designed for them to be!
What types of middle school extracurricular activities has your child enjoyed?