Taking our kids shopping at Christmastime is one of our favorite Christmas traditions. We all go shopping together at the same time and my husband and I switch kids around throughout the night to ensure that everyone's gifts are purchased. It's a fun time of sneaking around, hiding selected gifts while making a dash for the register and taking a couple trips to the car to keep the gifts a secret until Christmas morning.
Before heading to the store for our Christmas shopping I take time to have a Christmas math lesson with our kids. This is not only a great time to remind my kids to remember the true meaning of Christmas throughout our shopping trip, but it also gives me the opportunity to talk to them about money!
Christmas math in the store is a fun way to incorporate learning into your holiday homeschooling season, especially if you're on a formal homeshool break! You don't have to pull out lesson plans or textbooks, simply take a bit of time to sit down and have a Christmas math lesson before you head to the store and continue it while you're shopping.
Before you get started with your Christmas shopping math lesson, have your kids make a list of the gifts they'd like to purchase and how much money they have personally saved up. Make sure they note who each gift is for, this information is necessary when you have to help them determine if it is something they need to purchase or not. It will also be helpful when you work on a budget for their Christmas shopping trip.
My kids are visual learners, so when we have a hands-on money lesson I let them use real money to practice. This adds a bit more fun to their not so favorite subject and helps keep them interested in practicing their money skills longer than a worksheet would any day. Your kids may enjoy your Christmas shopping math lesson if you incorporate real money into it as well!
Below you'll find just a few ideas to help you get started having fun with Christmas math in the store this holiday season!
Work up a budget based on things like; the quantity of gifts they need to purchase, the amount of money they have saved up, the amount of money you're willing to contribute, how much money do they want to donate to charity, etc.
Using store sales ads and online sales price match the specific gifts they need to purchase
Discuss sales tax
Take along a piece of paper and pencil (or calculator) to keep track of the price of unexpected gifts picked up throughout your shopping trip to ensure they stay on track with their budget
Making your family Christmas shopping trip a fun learning experience is easy when your children are taught and understand the importance of math skills before and during the event! Kids tend to remember more when they have hands-on learning opportunities, so be sure to incorporate them as much as possible throughout their homeschool journey!
How do you find fun ways to teach math in your homeschool during the Christmas season?
If you're looking for another way to add math learning fun to Christmastime, check out my Christmas Math in the Kitchen post here!
For more math practice at Christmastime your kids can keep track of their budget, shopping list and more with our Christmas Prep Activity Pack for Kids!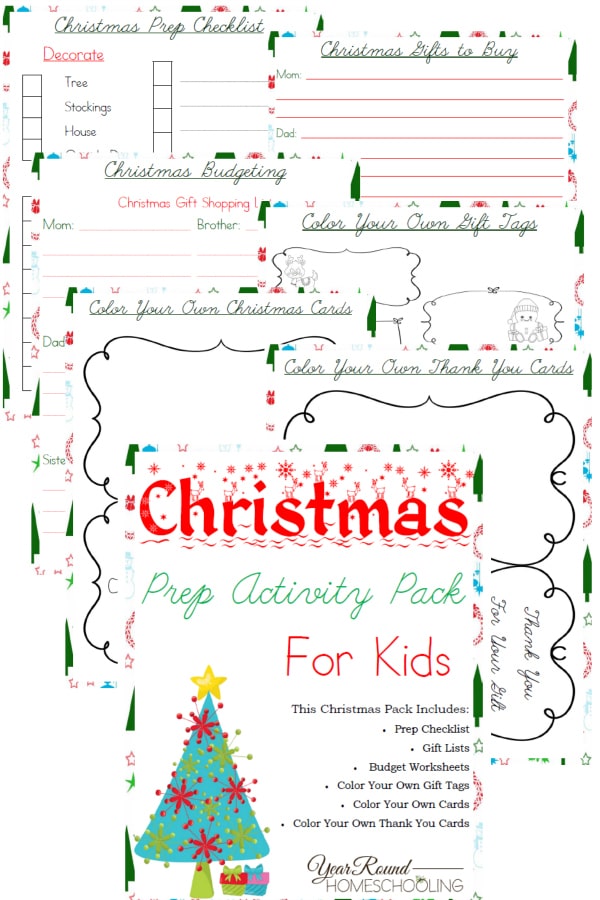 The following two tabs change content below.
Misty Leask
Misty is a Daughter of THE King, Texas girl always, Navy brat at heart, loving Fisherman's wife, blessed mother of 2 and founder of Year Round Homeschooling. She is passionate about being real throughout all of life's struggles, successes and dreams. Her heart is full of ideas and passions, but the hours in her day never multiply to get it all done. Misty loves writing and reading in her spare time. Music and photography are favorite past times of hers as well. You can find her on
Facebook
,
Twitter
,
Instagram
and
Pinterest
Latest posts by Misty Leask (see all)