This Copywork Challenge will help your students work on their handwriting skills, spelling, grammar and more!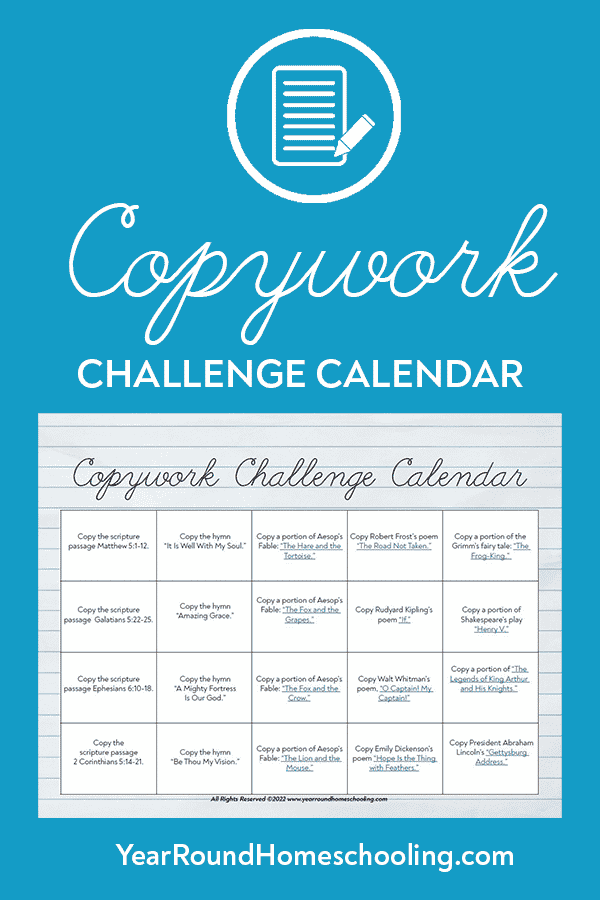 My mom has beautiful handwriting that she cultivated in school growing up because she admired one of her teacher's style of handwriting.
However, not everyone enjoys working on their handwriting skills. In fact, in this day and age, most kids will likely tell you it isn't necessary.
You and I both know though, that there will be times when our children need to write things out by hand vs. typing.
So, we need to ensure that we include handwriting practice as part of our children's homeschooling journey.
As with everything educational, it might not be fun for everyone, but handwriting can be more fun if we think outside of the box.
Copywork is a great activity for students to work on their handwriting, but it is so much more.
Through copying the written works of others, students are taught spelling, grammar, poetry, history and much more, in addition to working on their handwriting skills.
When my children worked on their handwriting skills through copywork, I often printed fun notebooking pages that coordinated with their assignment in some way.
It is often the little things that we do as homeschool moms that make learning more fun for our kids.
This copywork challenge will have your children practicing their handwriting while writing out Scripture, poetry, hymns and more!
You'll find more fun monthly challenges to use throughout the coming year, be sure to check out my store page here.